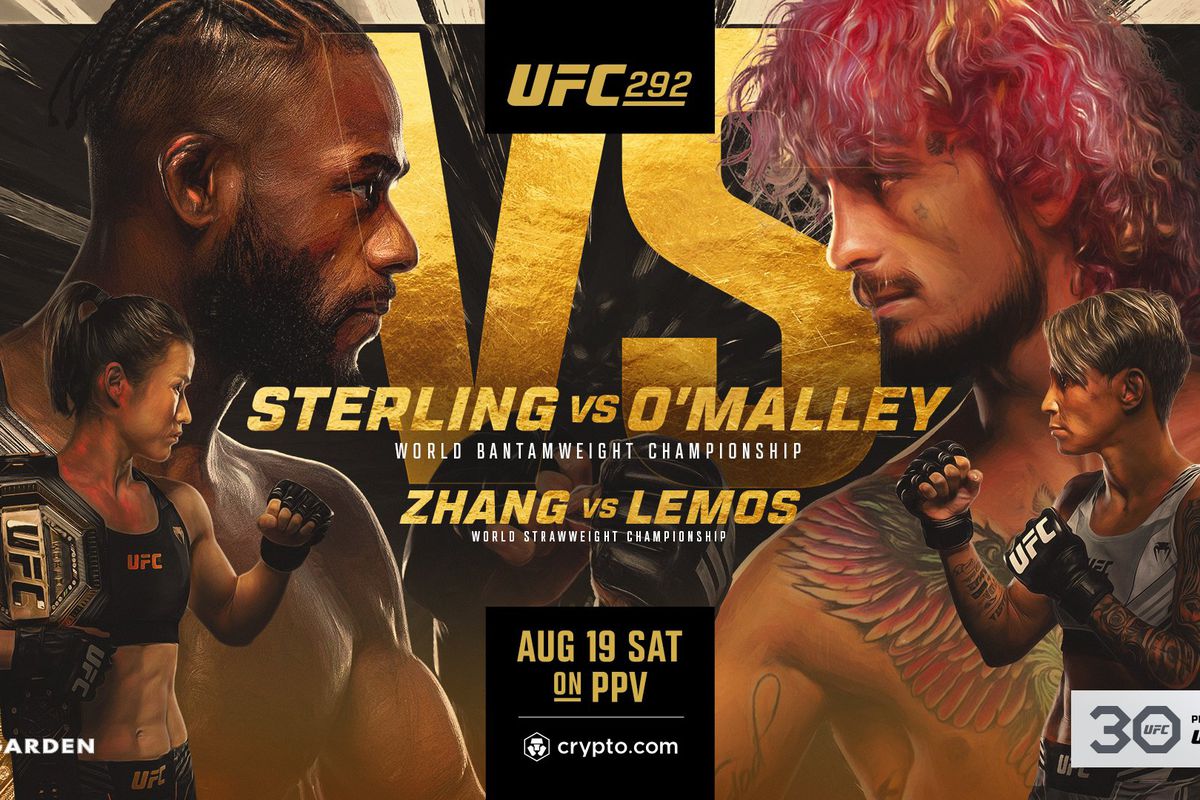 Violence! This card has seen some wear and tear since it was first announced but it is still pretty strong top to bottom. There aren't many close lines here but that's vegas' fault, some of these fights seem a lot closer than the bookmakers think. Let's take advantage of their ignorance of the Chris Weidman resurgence and all the other dogs I took today. I am pretty damn excited to finally see Aljo vs Suga, let alone all the other fights we got tonight. Weilli defends her gold, Ian Garry continues his climb to the top, Blackshear looks to have a record breaking quick return, and Chito looks to get back into the title picture. I am going to Italy tomorrow and won't be able to gamble for 2 whole weeks so I need to make the most out of this card. Way more 2 unit bets than I have put in in a while, time to get rich. Alright, enough nonsense, let's get into these picks.
Main Card
Aljamain Sterling vs. Sean O'Malley Bantamweight Championship Bout
This line is pretty fair. Everyone and their mother knows that Suga only has one path to victory here. He has to stuff takedowns early (which he couldn't do against Yan) and then knock Aljo out. I do not see a world where Sean is able to win this on the score cards. Unfortunately for Suga, Aljo is going to be too strong and too good to allow him to stay standing. People are talking about that knee to the head when Aljo has a sloppy entrance, which is possible, but no one has been able to land that clean since Moraes. Expect a lot of boring wrestling and backpacking with no submission or ground and pound. This one will be a slow burn.
Aljamain Sterling by Decision (SGP over 1.5 Rds) -110 2 units
Zhang Weili vs. Amanda Lemos Strawweight Championship Bout
I often stick to my convictions on fighters whether I like them or not. There are only 2 fighters that I can think of that I did a full 180 on. They are Michael Bisping, who I used to despise, and Weilli, who I just disliked because I liked Joanna and Rose more. Now I am here, a huge Weilli fan, ready to ride this train into the GOAT conversation. I have never seen a strawweight as strong as her, she made Andrade look like a child in their fight. Amanda Lemos also has that strength and power, but it pales in comparison to Weili. Anything Lemos tries to do from the outside will immediately be eaten while Weilli presses forward and bombards her with Chinese power. I don't see this being competitive.
Zhang Weilli by 3rd Round TKO (SGP over 1.5 Rds) +110 1 unit
Ian Machado Garry vs. Neil Magny Welterweight Bout
Neil Magny has cemented himself as the gatekeeper of all gatekeepers. I probably write this everytime Magny fights but it has become a bit insane. Any prospect that comes through has to be tested by Neil Magny before they take their next step to the top. Phil Rowe, Daniel Rodriguez, and Geoff Neal? Fun fighters to watch but will never be champions or in title contention. Gilbert Burns and Shavkat? They can and likely will be challenging for the title within the next couple of years. Now we must ask the questions if Ian Garry is at that level. I truly believe he is, he can start a bit slow against grapplers but when he gets his standup going, it is better than anyone else in the weight class. Look for Garry to get off the cage quickly when Magny tries to hold him there. After that this will just be a battering until the ref has to stop it.
Ian Garry by 1st Round TKO (Prop TKO Line) +100 1 unit
Da'Mon Blackshear vs. Mario Bautista Bantamweight Bout
This is awesome, a one week turnaround for Blackshear who is coming off the 3rd Twister win in UFC history. That is absolutely clouding my judgment and picking him is purely off of wanting to see someone win 2 fights within 7 days. Now if this fight had a full camp the line would likely be a lot closer but here we are seeing a decently large line. Bautista is a great grappler in his own right, but I do not think he can stand with Blackshear if it comes to that. If this does go to the ground, I do not think Bautista is better enough to sink in any submissions or ground and pound. This will be a war that Blackshear is able to squeak out due to his grit.
Da'Mon Blackshear by Decision +180 1 unit
Marlon Vera vs. Pedro Munhoz Bantamweight Bout
This one had me flip flopping a bunch. I don't think Chito should be this big of a favorite after his last performance. Pedro Munhoz is a tough fighter who keeps it close with everyone he fights against. Chito looks his best when he takes his time and lets the strikes come to him. Pedro will make that very difficult as he is always moving forward. Chito has very good counter striking and often likes to be on the defensive which should help him in this matchup. That being said I am very worried he gets that deer in headlights look due to the volume that Munhoz is putting out there. Still rocking with Chito tho.
Marlon Vera by 2nd Round TKO -185 2 units
Prelims
Chris Weidman vs. Brad Tavares Middleweight Bout
Chris Weidman by Decision +200 1 unit
Gregory Rodrigues vs. Denis Tiuliulin Middleweight Bout
Gregory Rodrigues by 1st Round TKO (Win in Rds 1-2) -200 2 units (Likely going to put in a parlay)
Austin Hubbard vs. Kurt Holobaugh Lightweight Bout
Austin Hubbard by Decision -180 1 unit
Brad Katona vs. Cody Gibson Bantamweight Bout
Brad Katona by Decision -170 2 units
Early Prelims
Andre Petroski vs. Gerald Meerschaert Middleweight Bout
Gerald Meerschaert by 2nd Round Submission +200 1 unit
Andrea Lee vs. Natália Silva Flyweight Bout
Natalia Silva by Decision (SGP over 1.5 Rds) -150 2 units
Karine Silva vs. Maryna Moroz Flyweight Bout
Karine Silva by 1st Round Decision -142 1 unit
DraftKings Lineup:
That is all I have for this beautiful evening of violence. I can't wait to melt into my couch with a bunch of drinks or weed depending on how I'm feeling and win some sweet cash. I think regardless of our monetary outcomes, this will still be a fun watch. Weidman is pretty much the reason I am as big of an MMA fan as I currently am, so I am always excited to watch him, hopefully he can win and retire and stop all that title run mumbo jumbo. Remember to bet responsibly and stick to your units. As always, may luck be your lady tonight.