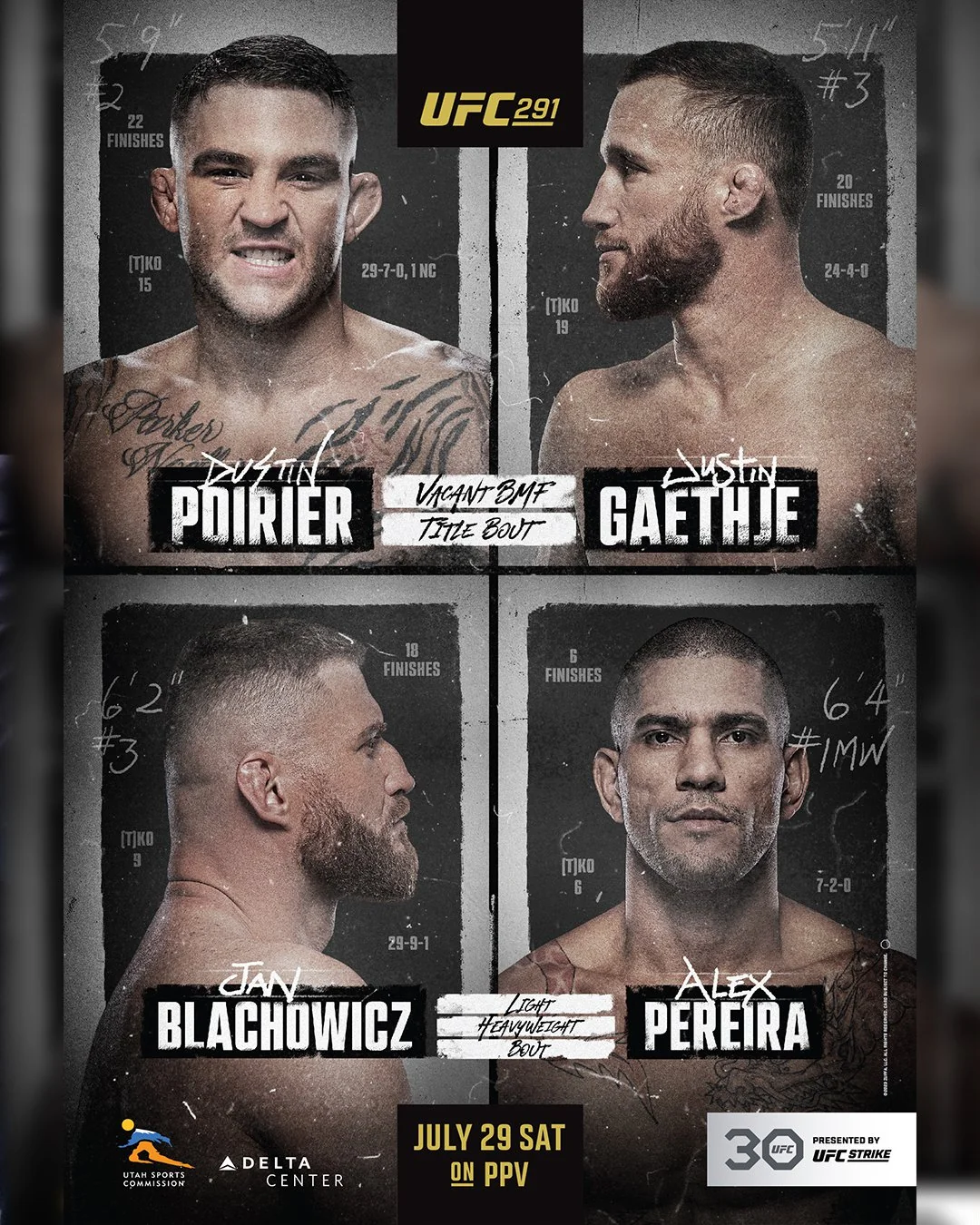 Alright Mormons are you ready for some sanctioned violence?!?!?! UFC returns for a card in Salt Lake City where the booze aint flowing and everyone in the crowd got married at 18 so they can finally bang. Why do a PPV in a city that could not give a flying fuck about the UFC? Beats me but Dana put together a pretty awesome card other than there being no real title fight and Wonderboy's fight getting canceled. Poirier Gaethje II has me wet and ready, Pereira vs Blachowicz sets up the next title fight, Black Beast has abs, Tony Ferguson tries to get back in the win column against delusional Bobby Green, and Chiesa gets to wrestlefuck another rising contender. Didn't have to rely too much on any method of victory bets for this card, but have a lot more big underdogs than usual which makes me nervous. Whatever, let's get into these picks.
Main Card
Dustin Poirier vs. Justin Gaethje Lightweight BMF Bout
Alright, I did this before when Charles fought Dariush and it did not work out as planned. Everyone and their mother knows this is going to be a slugfest. But what they don't know is that these dudes saying it won't go the distance usually means it'll end up going the distance. Look at both of their fights with Michael Chandler, they were 3 round fights that either went the distance or ended in the 3rd round. With this being a 5 round fight and both guys being a win away from the title, I see them playing it smarter and not going for broke early in the bout. Poirier won't lose on Gaethje's leg kicks, and Gaethje's chin is too strong to go down early. This will be a bloodbath but it will go on for a while. (I love both so refuse to take a side).
Over 2.5 Rounds -130 1 unit
Jan Błachowicz vs. Alex Pereira Light Heavyweight Bout
I am a square foolish, foolish boy. Everything in the world is telling me to take Jan. Better wins, way more experience, has a grappling background while also being a phenomenal striker, and he has been the destroyer of 185ers that move up for years. But man how awesome would it be for Pereira to win this to set up the title fight with Izzy? There is no way Dana could have planned for Jamahal to go down like that but now all he needs is Pereira to win this fight and he can set up a vacant title fight with Izzy Pereira 3. Jan will probably throw a wrench in these plans, but I don't care, I am rocking with Poatan.
Alex Pereira by 2nd Round TKO -110 1 unit
Derrick Lewis vs. Marcos Rogério de Lima Heavyweight Bout
Derrick Lewis has abs?!?!?! Let's fucking go Black Beast. Lima will get the takedown early and try to get the sub but Derrick is too strong. He will pick up Lima every single time and Lima will gas out and Lewis will pummel him. The line here is absolutely baffling. Lewis is bad against fast high energy fighters. Put him up against a one dimensional slow guy and he will get the win. Let's make this an exclamation point on an awesome career and leave the octagon with dignity. Or win this and make me think you're back till you disappoint me next fight.
Derrick Lewis by 1st Round TKO +180 1 unit
Tony Ferguson vs. Bobby Green Lightweight Bout
I really don't like Bobby Green. Maybe if he was better I would enjoy his trash talk more but the dude is a journeyman that immediately loses to any contenders he fights. He won't ever even reach gatekeeper status let alone a title fight. Dude is one dimensional and his biggest claim to fame is winning the 3rd round against Fiziev. Is he going to beat Tony? More than likely yes. Will I bet on him and cheer for him to win? Absolutely not. CSO brothers Tony is in his prime and gonna make this fool eat his words.
Tony Ferguson by Decision +295 1 unit
Michael Chiesa vs. Kevin Holland Welterweight Bout
This is my heartbreaker for the evening. I am a big Kevin Holland fan. He is everything that Bobby Green wishes he was. He can talk, he can scrap, and I get excited for every one of his fights. The issue is we still don't know how much his wrestling improved. Holland is up against a man who has a turtle shell for a back. He will get held up against the cage, taken down, and always have to be thinking about the take down. His only path to victory is stuffing things early and making Chiesa stand. I do not think he has what it takes to do that. Chiesa even when he fails the takedowns keeps hold of you and wears you down until you end up on the mat. The only guys who stop him from doing this are other very good grapplers. Sorry Kevin, I am going with Chiesa here.
Michael Chiesa by Decision +125 1 unit
Prelims
Gabriel Bonfim vs. Trevin Giles Welterweight Bout
Gabriel Bonfim by 2nd Round Submission (SGP over .5 Rds) -160 2 units
C.J. Vergara vs. Vinicius Salvador Flyweight Bout
CJ Vergara by Decision -175 1 unit
Roman Kopylov vs. Claudio Ribeiro Middleweight Bout
Roman Kopylov by 2nd Round TKO (SGP over .5 Rds) -150 1 unit
Jake Matthews vs. Darrius Flowers Welterweight Bout
Darrius Flowers by 1st Round TKO +230 1 unit
Early Prelims
Matthew Semelsberger vs. Uroš Medić Welterweight Bout
Uroš Medić by Decision +170 1 unit
Miranda Maverick vs. Priscila Cachoeira Flyweight Bout
Over 2.5 Rounds +100 1 unit
DraftKings Lineup:
That is all I have for you this beautiful evening of violence. I really hope these dogs I picked win but I will temper expectations to only win a few of them. The Main card is absolutely stunning and I can't wait to sit in the comfort of my home and watch grown men beat the ever loving shit out of each other. Remember to stick to your units and bet responsibly, and as always, may luck be your lady tonight!