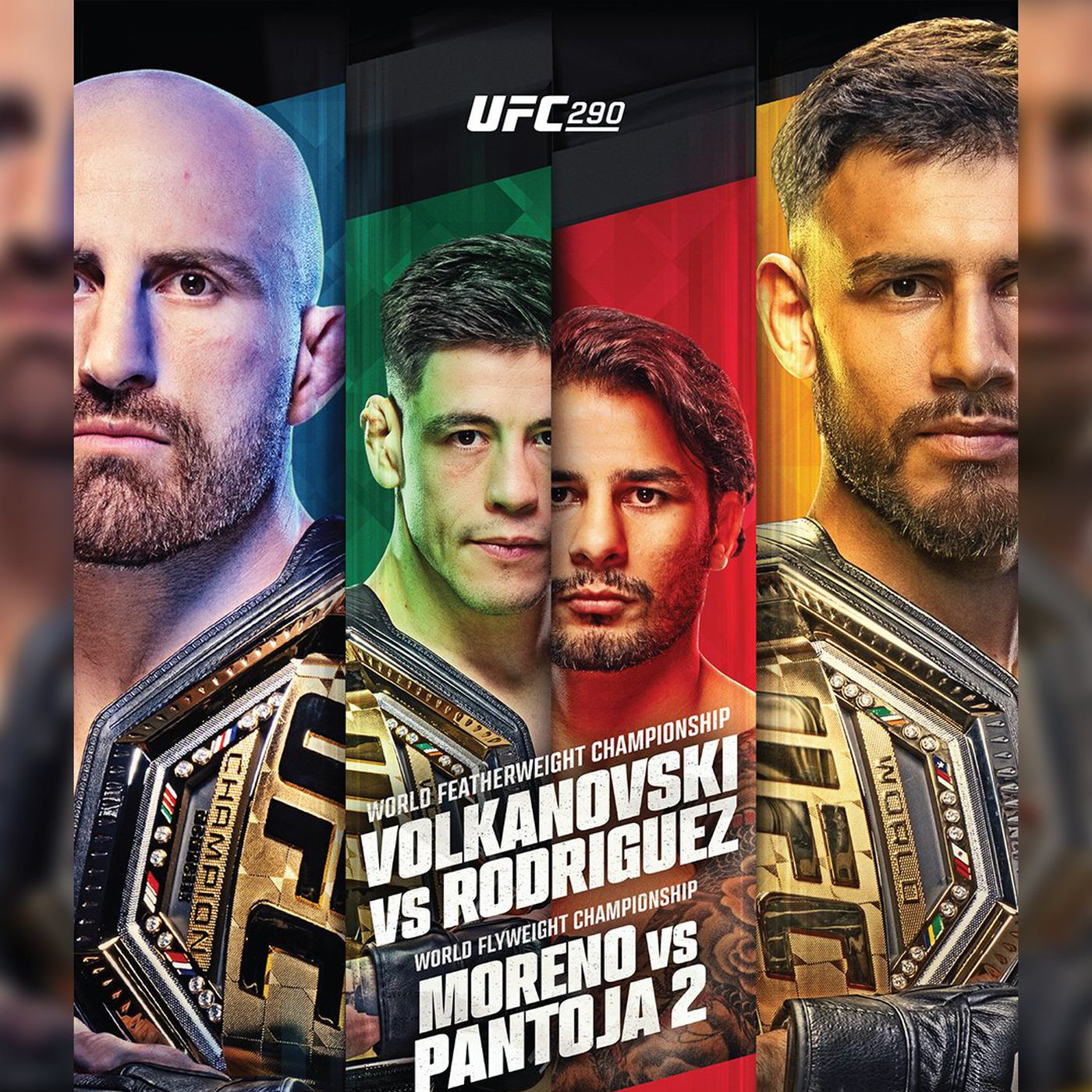 After probably the worst PPV lineup ever put together, Dana said never again (well at least not during International Fight Week) and gave us one of the most beautiful cards I have ever seen on paper. 2 title fights, 2 fights with potential title implications (or close enough), and a super prospect to round out the main card. The prelims are filled with interesting prospects and veterans that love to fucking brawl. I stare at this card and it nearly brings tears to my eyes how perfect it is. With that being said, the lines all fucking suck. Nearly every fight has a heavy favorite and I am employing such a gross shitty strategy because I love nearly all of the favorites. I had to force myself to pick Kamuela Kirk over Ribovics because of how many favorites I took on this card. If these fights have a quick finish, I am toast. So I am cheering for some absolute wars in this one, let's let the judges do some crazy shit. I expect Volkanovski and Yair to put on a show, Moreno Pantoja 2 has the potential to break my heart, Bobby Knuckles is always a pleasure but it will be tough to see him beat down the UFC's best African fighter, Jalin Turner vs Dan Hooker is an insane matchup, and Bo Nickal has new undefeated fodder to demolish. Oh boy strap in because tonight is going to be a movie.
Main Card
Alexander Volkanovski vs. Yair Rodríguez Featherweight Championship Bout
Pretty much for my whole UFC fandom the Featherweight strap has been held by men who do not lose. Aldo held the belt for like 4 years, McGregor, then Holloway held the belt for 3 years, now Volkanovski ever since. These guys do not lose to just anyone. Yair Rodriguez is a very interesting fighter, dude is unpredictable and has some pretty solid UFC wins. The big issue is that Volkanovski is so much better than Yair's best win. Obviously MMA math is a bs thing to talk about but Holloway beat Yair comfortably, TKZ was 5 seconds away from winning, Ortega dislocated his shoulder, Emmett is a faker, etc. Volkanovski is going to dominate this fight in every single aspect and this will not be close. The only thing I feel confident about is that Yair will not be finished.
Alexander Volkanovski by Decision (SGP over 2.5 Rds) -120 2 units
Brandon Moreno vs. Alexandre Pantoja Flyweight Championship Bout
These dudes have fought before in a very close bout that saw Pantoja with his hand raised over a very young Brandon Moreno. Since then they've both gone through some wars with some flyweight monsters. Between the both of them, I see way more improvement in Moreno since their first bout which was pretty close to begin with. Pantoja is a great fighter and this is probably the closest I got to any of the larger underdogs, but right now Moreno has such an unstoppable aura around him I don't see anyone taking him out. Expect more standing from Moreno than you'd anticipate early and a lot of grappling later in the fight. I see Moreno winning in both aspects.
Brandon Moreno by Decision (SGP over 1.5 Rds) -130 2 units
Robert Whittaker vs. Dricus du Plessis Middleweight Bout
Dricus du Plessis is a pretty funny dude from what I've observed. He likely did enough with his mouth to wait out a title shot with Izzy. But Dricus isn't that kind of dude, he wants to get back in that cage and prove he is the best in the world. The big flaw with that plan is that he isn't and he has had a very fortunate lineup of fights given his abilities, Bobby Knuckles is not one of those fighters. Dricus has good grappling and heavy strikes, which has nullified his more one dimensional opponents up until now. Whittaker is better in both areas, maybe with a bit less power. We are going to see Bobby take all the gas out of Dricus and just pick him apart for 15 minutes. This will look like legend vs a journey by the time the final bell rings (if it even does).
Robert Whittaker by Decision (SGP over 1.5 Rds) +110 1 unit
Jalin Turner vs. Dan Hooker Lightweight Bout
Dan Hooker shocked the hell out of me in his bout against Claudio Puelles, but I should not have been surprised. Puelles has one tool in his bag and a fighter like Dan Hooker should be able to beat fighters like that. Jalin Turner has way more than one tool in his bag. He showed up to the fight heavy (which sucks ass), has high level grappling, and very good striking. Jalin is the tallest lightweight on the roster and has looked great in his last 6 bouts, even including his loss to Gamrot. I don't think Hooker has enough to stop Turner anywhere and see him having to play defense for as long as this fight lasts. This is one of the few fights I am taking a finish in because I really see this one just being a domination.
Jalin Turner by 1st Round Submission (Win in Rds 1-2) -135 1 unit
Bo Nickal vs. Val Woodburn Middleweight Bout
This bet is stupid, I couldn't find a single thing I liked. I nearly went under .5 rds but figured that being stuck against the cage can take up 2 and a half minutes out of nowhere so I am gambling that it lasts a little longer. This will likely only go into a parlay or something but look out for my tweets in case I change my mind last minute. Bo Nickal will eat.
Bo Nickal by 1st Round Submission (SGP over .5 Rds) -210 2 units
Prelims
Robbie Lawler vs. Niko Price Welterweight Bout
Robbie Lawler by Decision +190 1 unit
Tatsuro Taira vs. Edgar Cháirez Flyweight Bout
Tatsuro Taira by 2nd Round Submission (SGP over 1.5 Rds) +170 1 unit
Yazmin Jauregui vs. Denise Gomes Strawweight Bout
Yazmin Jauregui by Decision (SGP over 1.5 Rds) -155 2 units
Jimmy Crute vs. Alonzo Menifield Light Heavyweight Bout
Alonzo Menifield by 2nd Round TKO +120 1 unit
Early Prelims
Vitor Petrino vs. Marcin Prachnio Light Heavyweight Bout
Vitor Petrino by 1st Round TKO (Prop Finish Line) -150 1 unit
Cameron Saaiman vs. Terrence Mitchell Bantamweight Bout
Cameron Saaiman by 3rd Round Submission (SGP over 1.5 Rds) +225 1 unit
Shannon Ross vs. Jesús Santos Aguilar Flyweight Bout
Jesus Santos Aguilar by Decision -145 1 unit
Kamuela Kirk vs. Esteban Ribovics Lightweight Bout
Kamuela Kirk by Decision +125 1 unit
DraftKings Lineup:
That is all I have for you on this beautiful day of violence. I actually have written beautiful like 10 different times in this blog and had to rewrite sentences so I don't sound too horny. Maybe it's been because of how lackluster the cards have been lately but I am just so fucking stoked for this slate. Of course I have to go to a friend's bday dinner tonight but I will have my phone out the entire time like an asshole to watch these bad boys. I am worried about the gambling aspect of tonight, but am hoping the fights will be fun enough that I can not go down too much and still have fun watching. That being said, stick to your units and bet responsibly. As always, may luck be your lady tonight!