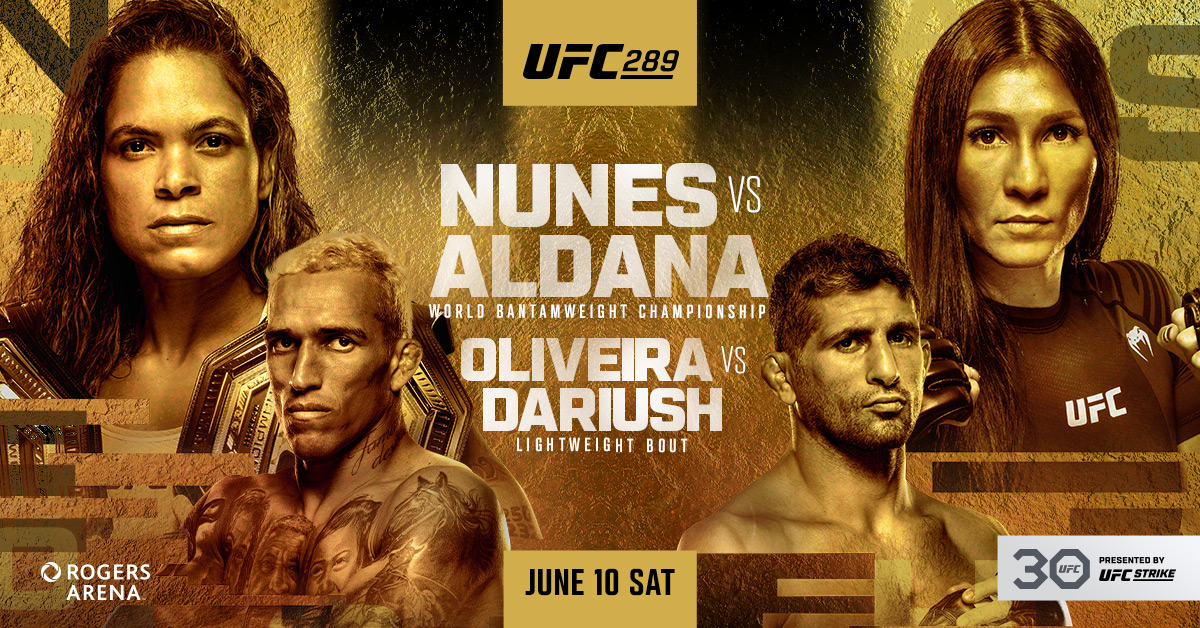 Man this card is absolute booty cheeks. Very unfortunate with all of the pullouts because it could have been decent but the 3rd fight on a PPV not having a ranked fighter is bananas. If this card didn't have Charlie Olives vs Beneil it would be the worst PPV the UFC has ever produced. But they do have that fight so who cares. We get to watch Nunes defend her belt against a fighter who people are pretending deserves this shot, the lightweight title eliminator, then Canadians Mike Malott and Marc-André Barriault are the bread to a Nate Landwehr fight sandwich. This card is also only 11 fights which feels like one of the smallest cards in a long time. That gives us less opportunities to win money (or lose money) so we have to be smart. Let's get this show on the road and dissect these picks.
Main Card
Amanda Nunes vs. Irene Aldana Bantamweight Championship Bout
People seem to have forgotten who Amanda Nunes is. She is the GOAT. This woman's only loss in the last 8 years was because she over exerted early, and she beat her convincingly in the rematch. Irene Aldana is good and all, but her best wins haven't even been near title shots. I think that Nunes is going to play with her food and have a dominating performance. I don't see Aldana getting aggressive enough to force Nunes into a position to finish the fight. I like Nunes with any form of over or by decision.
Amanda Nunes by Decision (SGP over 1.5 Rds) +100 2 units
Charles Oliveira vs. Beneil Dariush Lightweight Championship Bout
This is my biggest cop out of all time. I love both of these guys too much to make a decision on who is going to win. I just want to go in their cheering for both of them to be happy. This will be my new strategy going forward because I am tired of ruining how I watch my favorite fighters due to my gambling addiction. So for this fight, and fights in the future between lovable lads, you will see me take overs and unders. I took over in this one because I think that Dariush is too good on the ground to get submitted early nor do I think he has the tools to finish Oliveira early. I am sure that there will be at least 20 moments before the 7.5 min mark that make me sweat, but this will take longer to finish.
Over 1.5 Rds -125 2 units
Mike Malott vs. Adam Fugitt Welterweight Bout
I had to take a few Canadian fighters while they are fighting in Vancouver. Mike Malott is a dog too so it doesn't hurt too much to take him. He has been finishing his opponents left and right and looking dominant while doing so. Fugitt has a great name, but he is just fodder at this point to make Mike Malott a bigger name. I see Malott wanting to make a statement in front of his countrymen and making this a quick one. Don't think Fugitt has anything in his arsenal to stop it.
Mike Malott by 1st Round Submission (Prop Finish Line) -135 1 unit
Dan Ige vs. Nate Landwehr Featherweight Bout
Dan Ige is a great fighter and incredibly hard to get out of the octagon. All of his losses in the UFC have been to top competition and he still always is right in there with them. That being said, he hasn't come up against the Nate Train yet. Nate Landwehr fights like his life depends on it, and that has given him great wins and awful losses. He has gotten some more experience now though, and he will put that to use to just bombard Ige with relentless pressure and strikes until the refs are raising his hands at the end of the fight.
Nate Landwehr by Decision +220 1 unit
Marc-André Barriault vs. Eryk Anders Middleweight Bout
This was a coin flip to me. Both guys like to go on little streaks then buckle to pressure once they get a high level fighter. I wanted to go with Barriault since it's in Canada and he should perform a little better with the crowd on his side, but alas I couldn't. It could be my bias since Eryk Anders is an SEC football alum, or it could be that Barriault takes way too many strikes to stay awake against Anders. If Barriault's defense is just as bad as it's been in his last few bouts, expect a big KO from Anders here.
Eryk Anders by 2nd Round TKO +115 1 unit
Prelims
Nassourdine Imavov vs. Chris Curtis Middleweight Bout
Chris Curtis by Decision +135 1 unit
Miranda Maverick vs. Jasmine Jasudavicius Flyweight Bout
Miranda Maverick by Decision (Prop Line) -125 1 unit
Aiemann Zahabi vs. Aori Qileng Bantamweight Bout
Aiemann Zahabi by Decision +100 1 unit
Kyle Nelson vs. Blake Bilder Featherweight Bout
Blake Bilder by 3rd Round Submission (SGP over 1.5 Rds) +125 1 unit
Early Prelims
David Dvořák vs. Stephen Erceg Flyweight Bout
Stephen Erceg by 2nd Round Submission +140 1 unit
Diana Belbiţă vs. Maria Oliveira Strawweight Bout
Maria Oliveira by Decision +100 1 unit
DraftKings Lineup:
That is all I have for Saturday's slate. Really small card with really mid fights, hoping that changes my luck and can cash me some bets. Last weekend I ended up putting like 6 units on Amir Albazi just to be up a unit on the night. As I tell you that, I also tell you to bet responsibly and stick to your units. Chasing only works when you get crazy split decisions on your side (see Aljo vs Yan, Aljo vs Cejudo, O'Malley vs Yan). As always, may luck be your lady tonight!