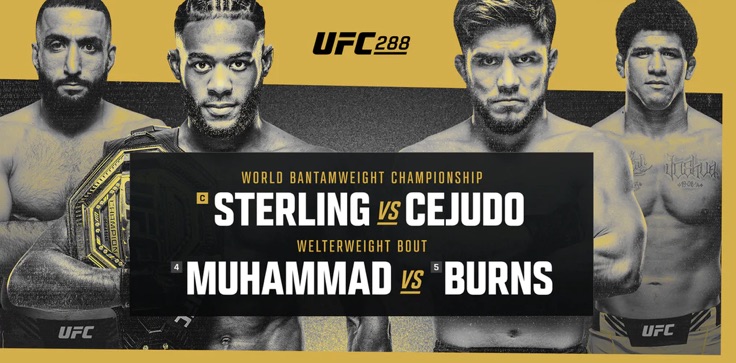 Violence in Newark, NJ tonight? Don't worry this time it's sanctioned. Pretty solid card Dana put together even with so many dropouts and cancellations. Not a card I would pay $200+ to sit in the nosebleeds, but a solid card nonetheless. I have had a rollercoaster of a 24 hours, got intel last night that Cejudo was seen plastered at a bar in Jersey City just to find out it was actually Kelvin Gastelum. He must be taking the move down to welterweight very seriously. This card gives us the return of Triple Cringe up against the always underrated Aljo, Belal "I will make you remember my name whether you like it or not" Mugammad against my potential savior in Gilbert Burns, Andrade vs Xiaonan, Movsar Evloev nearly had a fight to take him to the top but comes in against late replacement Diego Lopes, and the return of Kron Gracie against Charles Joirdain. This should be a fun one and I like my picks so hopefully that makes it even more fun. Alright, let's get into these picks.
Main Card
Aljamain Sterling vs. Henry Cejudo Bantamweight Championship Bout
Aljo will always be hated for what happened in that stupid Yan fight, even after winning a fair fight afterwards. People hating on him for having a long layoff after needing neck surgery, the dude just has so many damn haters. Cejudo was an olympic wrestler and had an awesome run at the end of his last stint. He's lucky he never had to face DJ again after the questionable decision and that EPO Dillashaw made the division fall apart. Ok now I sound like Cejudo hater but it's just who I am. Cejudo isn't going to be strong enough to do anything to Aljo. This will be a standup fight and after Cejudo gets a little tired Aljo will take over and just ragdoll him. Free money on this one.
Aljamain Sterling by Decision +100 2 units
Belal Muhammad vs. Gilbert Burns Welterweight Bout
Man do I fucking hate Belal Muhammad. At least his last fight wasn't a snooze fest and he got a real win. But fortunately for us, if this is full strength Gilbert Burns, he should absolutely wipe the floor with Belal. There isn't a single part of his game that Belal is better at. Maybe he has better takedowns, but he isn't going to be able to hold him down to just hump him to a decision. I picture Gilbert stopping the early takedowns, eating a few soft jabs then BAM… Belal is asleep and the Prudential Center rejoices.
Gilbert Burns by 2nd Round TKO -140 1 unit
Jéssica Andrade vs. Yan Xiaonan Strawweight Bout
Going to have to rush through the rest here because I literally just found out I got tickets halfway through writing this blog. Yan is mid and Andrade was filthy at 115 outside of the Weili fight. Andrade is the obvious pick.
Jessica Andrade by Decision -170 1 unit
Movsar Evloev vs. Diego Lopes Featherweight Bout
Movsar is fighting a late replacement in Diego Lopes. For this one it really is just deciding how Evloev wins it. The dude loves to wrestle to a long decision so I am going to ride with that but hedge incase of a late submission.
Movsar Evloev by Decision (Prop over 2.5 rds) -105 1 unit
Kron Gracie vs. Charles Jourdain Featherweight Bout
KRON IS BACK! Ok it's not that exciting but he was going on a tear before losing to Cub back in the day. Hopefully Kron has learned the other parts of MMA and can hold his own if he doesn't get an immediate takedown. Let's ride with the fun pick.
Kron Gracie by 1st Round Submission +145 1 unit
Prelims
Drew Dober vs. Matt Frevola Lightweight Bout
Drew Dober by 1st Round TKO (Prop Line) -115 1 unit
Kennedy Nzechukwu vs. Devin Clark Light Heavyweight Bout
Kennedy Nzechukwu by 2nd Round TKO -175 2 units
Khaos Williams vs. Rolando Bedoya Welterweight Bout
Khaos WIlliams by 1st Round TKO (Prop under 2.5 rds) -140 1 unit
Marina Rodriguez vs. Virna Jandiroba Strawweight Bout
Marina Rodriguez by Decision -130 1 unit
Early Prelims
Braxton Smith vs. Parker Porter Heavyweight Bout
Braxton Smith by 1st Round TKO (Prop 1st Round TKO) +300 1 unit
Phil Hawes vs. Ikram Aliskerov Middleweight Bout
Ikram Aliskerov by 2nd Round Submission (Prop Finish Line) -105 1 unit
Joseph Holmes vs. Claudio Ribeiro Middleweight Bout
Joseph Holmes by 1st Round Submission +145 1 unit
DraftKings Lineup: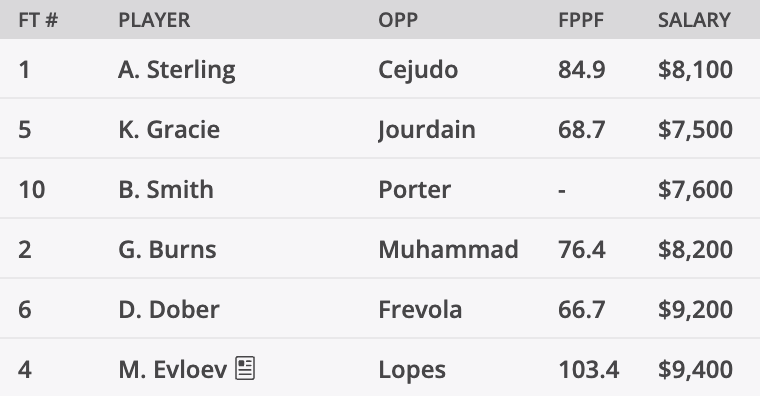 Alright trying to get this posted quickly so you know the gist. Stick to your units. Gamble responsibly. And as always, may luck be your lady tonight!