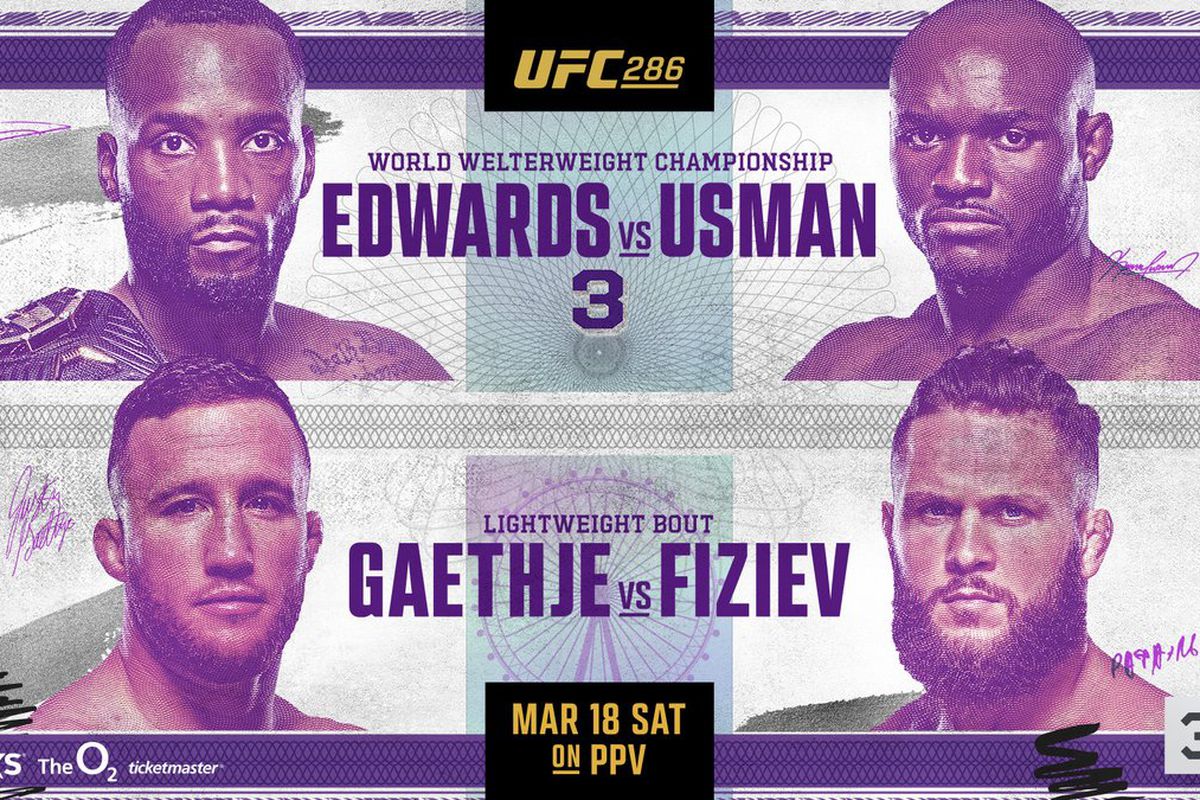 Ello bruvs we have a banger of a card today innit? I love when there are cards across the pond because then I don't have to stay up till midnight and there is a much smaller chance that I am blackout drunk while gambling. This is a pretty solid lineup of fights Dana put together for us, only one title fight but all of the matchups are pretty solid even if the lines are a bit lopsided. I have a bunch of underdogs picked today which means that no underdogs will end up winning, yet I will still hold out hope. Usman Edwards 3 should have an awesome build up to an inevitable ending, Gaethje Fiziev is just pure violent madness, Gunni returns against Barberena in what feels like a fight to keep him in the win column, boring chick fight but Casey O'Neill is undefeated which is fun, and Marvin Vettori returns against a guy who will hopefully beat his ass. Alright enough of all that, let's get into these picks.
Main Card
Leon Edwards vs. Kamaru Usman Welterweight Championship Bout
The last fight between these 2 took the money straight out of my pocket and beat the shit out of me in front of my friends. I will not allow this fight to do the same. Leon Edwards had one of the coolest comeback wins in UFC history, and being nicknamed Rocky only added to it. Kamaru was cruising to another easy win, likely up 3-1 and rounds and was winning the final round then BAM… Kamaru was the one having the nightmare. This time around the only people giving Leon a shot at winning are people that think this mentally broke Usman. I do not think it did, I think this will make him more cautious and we will just see a wrestle fucking for as many rounds as it takes. I went with the safe route and am only taking the line down to -165 with over 1.5 rounds for Usman, but that may change as the night goes and I may just bring it all the way to over 3.5 rounds. Take Usman it's the obvious choice.
Kamaru Usman by Decision (SGP over 1.5 Rds) -165 3 units
Justin Gaethje vs. Rafael Fiziev Lightweight Bout
It is hard to beat Justin Gaethje into submission. Only people that have done it are Poirier and Alvarez. Both of those fights were when Gaethje was at his old gym before moving to Colorado. Since then Gaethje has been much smarter in the Octagon beating Tony and Chandler, and really only ever being in danger once at the bell in the former. Sure he has 2 losses to grapplers in between there but this fight he doesn't have to worry about that. Fiziev could be the best striker in this entire division. The man has incredible offense and defense with matrix-like dodges and a near impossible pace.The only time we have seen him in trouble in the UFC was his fight with Bobby Green when he gassed out towards the end and Bobby was landing with ease. Now all of that would make you think it has to be Fiziev, but it is so clearly Gaethje. Fiziev can land all he wants on Gaethje and may even put him in trouble, but Gaethje will keep moving forward and keep landing brutal leg kicks and shots. This will be the Homer Simpson fight for the ages as we see Fiziev gas out and Gaethje take over until his hand is raised with Rafael sitting by the cage trying to remember what happened.
Justin Gaethje by 3rd Round TKO +200 1 unit
Gunnar Nelson vs. Bryan Barberena Welterweight Bout
Gunni is back and it feels like he wants to keep fighting consistently which is fun. He broke my heart against Soto because I took him by finish, so let's make the same mistake again. Bryan Barberena has had some recent success until running into RDA, winning 3 out of his last 4. He is able to stand and bang with nearly everyone as of late, but when he runs into a grappler he falls apart. Gunni is going to get him down early and wear on him until he wants to give up. Barberena has no quit in him but once this submission is locked in he is going to have to tap, or go to sleep.
Gunnar Nelson by 2nd Round Submission (Prop Finish Line) -105 1 unit
Jennifer Maia vs. Casey O'Neill Flyweight Bout
One of these 2 girls is going to have to get their hand raised at the end of the bout. These girls like to grapple and are both very strong. Maia is a solid underdog pick, but this division is changing and I am going with the undefeated rising star to get the win. There is no fun in seeing a gatekeeper stop another good prospect from climbing to the top and getting a shot at whoever the champ is going to be (it'll be Valentina again soon).
Casey O'Neill by Decision -165 1 unit
Marvin Vettori vs. Roman Dolidze Middleweight Bout
Fuck Vettori, the dude is such a clown. I hate what he did to my boy Paulo, I hate his style, and I hate how he thinks he wins when he clearly loses. He is a whiny loser and I can't wait for him to lose relevance. Roman Dolidze has been a monster while climbing up the rankings. Since his loss to Trevin Giles (no idea how that happened) he has won 4 straight, finishing 3 of those fights. I don't see him being able to finish Vettori, but I do see him neutralizing the grappling and winning all striking exchanges. This is my favorite underdog on the card, but that also could be fueled by my dislike of Vettori.
Roman Dolidze by Decision +230 1 unit
Prelims
Jack Shore vs. Makwan Amirkhani Featherweight Bout
Jack Shore by Decision (SGP ove 1.5 Rds) -110 1 unit
Chris Duncan vs. Omar Morales Lightweight Bout
Chris Duncan by 1st Round TKO -115 1 unit
Sam Patterson vs. Yanal Ashmoz Lightweight Bout
Yanal Ashmoz by 2nd Round TKO +235 1 unit
Muhammad Mokaev vs. Jafel Filho Flyweight Bout
Muhammad Mokaev by 1st Round Submission (Prop Finish Line) -150 2 units
Early Prelims
Lerone Murphy vs. Gabriel Santos Featherweight Bout
Lerone Murphy by Decision -175 1 unit
Christian Leroy Duncan vs. Duško Todorović Middleweight Bout
Christian Leroy Duncan by 1st Round TKO (Prop Line) -120 1 unit
Malcolm Gordon vs. Jake Hadley Flyweight Bout
Jake Hadley by 2nd Round Submission (Prop Finish Line) -135 1 unit
Joanne Wood vs. Luana Carolina Women's Bout
Joanne Wood by Decision -175 1 unit
Jai Herbert vs. Ľudovít Klein Lightweight Bout
Ludovit Klein by 2nd Round TKO (SGP over .5 Rds) -135 1 unit
Juliana Miller vs. Veronica Macedo Flyweight Bout
Juliana Miller by 1st Round Submission (Prop Finish Line) -110 1 unit
DraftKings Lineup:
That is all I have for you this morning. I really do not want to lose money today so I am banking on all of my bets hitting. Be careful with the underdogs I picked and there is no shame in parlaying some favorites together to make manageable lines. I see me going up early and being able to coast into the main card with house money. Remember to stick to your units and bet responsibly. As always, may luck be your lady tonight!