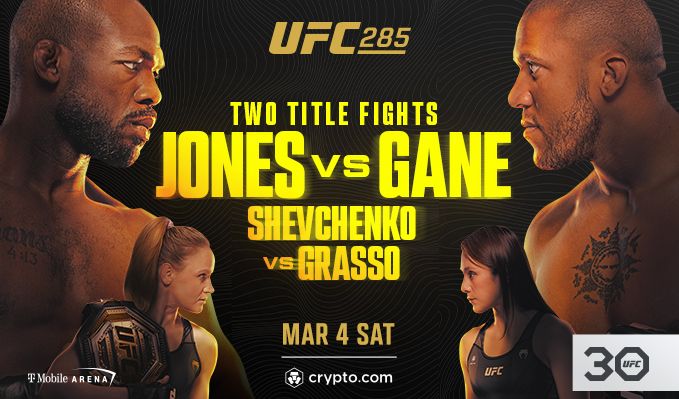 Heeeee's baaaackkkkkk!!!! Jon Jones is back after 3 years away from the octagon to challenge Ciryl Gane for the Heavyweight belt. What a fucking awesome night of fights Dana gave us. I nearly cried yesterday when I saw Dana said that Ngannou will likely never be back in the UFC, but he already made me forget by putting together this beauty of a main card. This is the type lineup you put together to make people pay $80, not a shit card like UFC 282. I have an open bar tonight so will likely be tweeting gibberish by midnight, but that doesn't take away from what we have in store for us. We have 2 title fights with 2 goats in Jon Jones and Valentina Shevchenko, Shavkat being fed a top contender in Geoff Neal, Gamrot vs Turner in what should be a grappling show, and the UFCs new golden boy in Bo Nickal coming in to destroy a meh Jamie Pickett. I'm a little upset at how lopsided most of these lines are. I had to do a lot of method of victories to get these to be manageable, but by fight time I will likely just start parlaying them to not get frustrated when picking the right fighter the wrong way. Alright, let's get into these picks.
Main Card
Jon Jones vs. Ciryl Gane Heavyweight Championship Bout
If Jon Jones has hundreds of fans, I am one of them. If Jon Jones has ten fans, I am one of them. If Jon Jones has no fans, I am dead. This man has committed atrocities in his storied UFC career and for some reason, I still love this dude. He has done things that if any other athlete has just done one of his mistakes, I likely would shit on them for the rest of their career. Yet I still find myself always cheering for Bones. He is the greatest fighter I have ever witnessed. Sure his last few LHW Title defenses felt like he could have lost, but I do truly believe he was just getting bored. The man used to get fucked up just to give himself a challenge on fight night. This is definitely his toughest test as this is the first time he doesn't have a size advantage over his opponent. Well I guess Gustafsson was close but he didn't have the strength of Gane. Gane is a very quick and methodical striker and has caused problems for everyone not named Francis Ngannou. Even with that, Jones is better than him everywhere, the only chance Gane has is to knock Jones out and I just do not see that happening. Lock in Jones for easy money and put him in your parlays too.
Jon Jones by Decision -175 3 units
Valentina Shevchenko vs. Alexa Grasso Flyweight Championship Bout
Valentina showed that she is human in her last bout, nearly dropping a decision to the very talented Talia Santos. I was shocked by that one, I thought we would see Valentina dominate as she always does. Fortunately, we will see Valentina come back in this one and utterly dominate for as long as this fight lasts. Grasso is not going to be able to beat Valentina with her "Mexican Boxing". This is going to be a destruction, a pure technical clinic that proves there are very few that should be allowed to share the octagon with Valentina. That being said, I don't see a quick finish here, I see this being methodical and embarrassing for Grasso. Take Valentina with over a round and a half or more, I just don't feel too greedy.
Valentina by Decision (Same Game Parlay over 1.5 Rds) -140 2 units
Geoff Neal vs. Shavkat Rakhmonov Welterweight Bout
I love both of these dudes. Just killers looking to get their shot at the belt. I am pretty disappointed in Neal for missing weight by so much, and it makes me even more worried about what he will have in the tank. I see Shavkat just manhandling Neal in the grappling, getting this to the ground and ending it. Neal would need to land early and get Shavkat out of there to have a shot at winning this one. I did not expect that Shavkat would set himself up for a potential title shot quicker than Khamzat, but we are not too far away. I literally could not find a line I liked in this one so it'll have to be thrown in a parlay somehow.
Shavkat Rakhmonov by 1st Round Submission (Prop Finish Line) -150 1 unit
Mateusz Gamrot vs. Jalin Turner Lightweight Bout
These dudes like to be on the ground. Gamrot shoots for a million takedowns a fight, is decent at controlling but gives up dominant position a lot. Jalin Turner's best attribute is capitalizing when on the ground, winning 3 out of his last 4 wins coming by submission. I see Gamrot shooting early and often, then getting his neck caught up in Turner's crazy long arms or legs. Regardless of the outcome of this one, the scrambles will be must watch television.
Jalin Turner by 2nd Round Submission +180 1 unit
Bo Nickal vs. Jamie Pickett Middleweight Bout
What can I really say about this one? Pickett accepted this fight without even knowing who Bo Nickal was. Pickett is training with Weidman which I guess helps a little, but come on this is not going to be even close. Bo NIckal is going to toy around with Pickett for around a minute before shooting and getting him on the ground with ease. After a few submission attempts Nickal is going to say fuck it and just rain down punches until this has to be called. This will be the most lopsided fight on this entire card. Similar to the Shavkat fight, I have no idea how to bet on this one to make any money, will just throw it in a parlay or something.
Bo Nickal by 1st Round TKO (Round 1 Finish Prop) -200 Gonna put in a parlay
Prelims
Cody Garbrandt vs. Trevin Jones Bantamweight Bout
Cody Garbrandt by Decision -175 1 unit
Derek Brunson vs. Dricus du Plessis Middleweight Bout
Dricus du Plessis by 3rd Round TKO (Same Game Parlay over 1.5 Rds) +155 1 unit
Viviane Araújo vs. Amanda Ribas Flyweight Bout
Amanda Ribas by Decision -120 1 unit
Julian Marquez vs. Marc-André Barriault Middleweight Bout
Julian Marquez by 2nd Round Submission +130 1 unit
Early Prelims
Ian Garry vs. Song Kenan Welterweight Bout
Ian Garry by 1st Round TKO (Prop Line) -150 1 unit
Cameron Saaiman vs. Leomana Martinez Bantamweight Bout
Cameron Saaiman by 3rd Round TKO (Prop Finish Line) +130 1 unit
Jessica Penne vs. Tabatha Ricci Strawweight Bout
Tabatha Ricci by Decision (Prop Line) -150 1 unit
Da'Mon Blackshear vs. Farid Basharat Bantamweight Bout
Farid Basharat by Decision (Prop Line) -115 1 unit
Esteban Ribovics vs. Loik Radzhabov Lightweight Bout
Esteban Ribovics by 1st Round TKO +185 1 unit
DraftKings Lineup:
That is all I have for this evening. I probably won't throw too much on anything outside of the main card, the lines are too crazy to really hit consistently here. I find when I have to do a ton of method of victory bets I end up getting crushed, so I will be parlaying most of the early fights to get value. Remember to bet responsibly and stick to your units. As always, may luck be your lady tonight