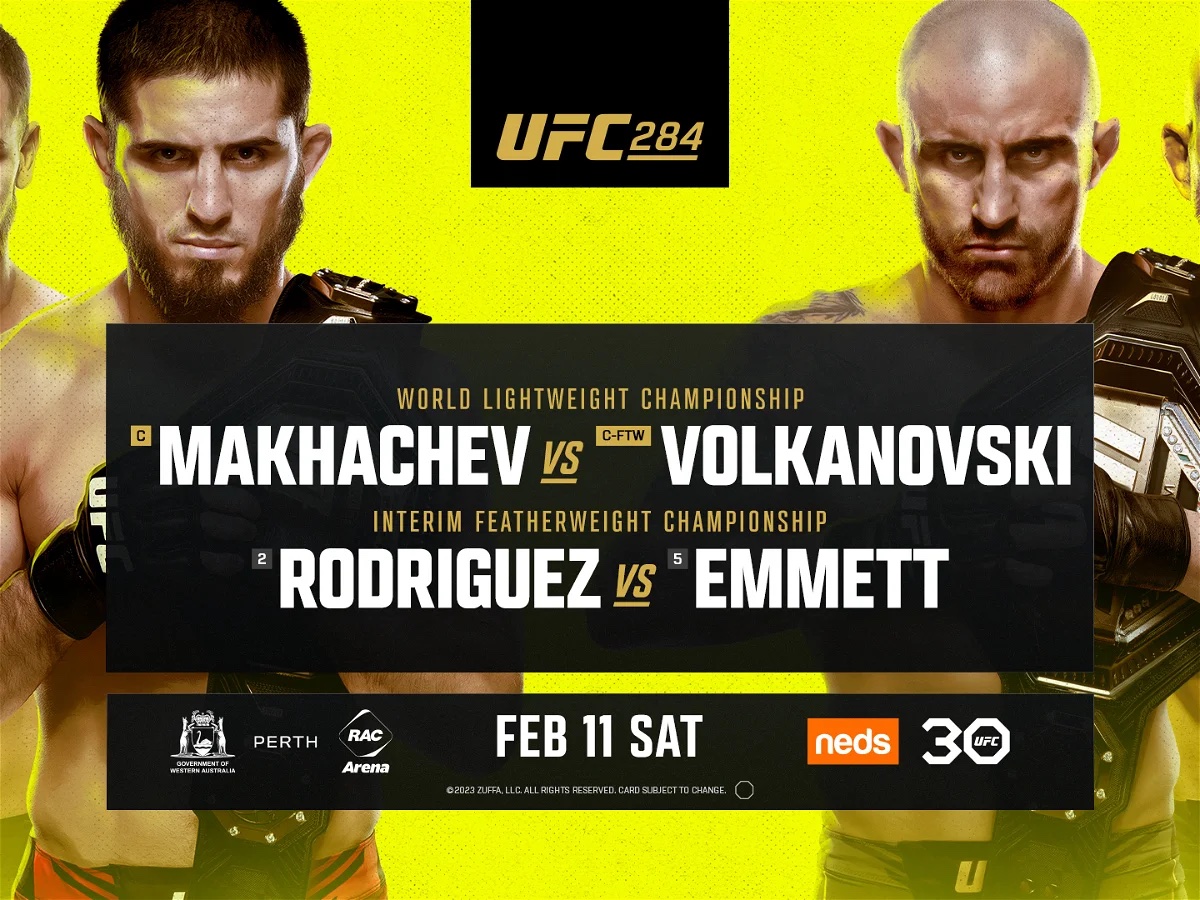 Crikey mates we are in store for some bangers tonight in Perth! This top heavy PPV has been talked about a lot lately by people thinking it has been poorly marketed. That confuses me because it seems like everyone knows about it, how else can it become the most overused joke on MMA Twitter the last month. While I agree the Islam Volk fight is one of the most exciting the UFC has put together in ages, the rest of the card is pretty meh for a big PPV. Josh Emmett and Yair Rodriguez both coming off of pretty bullshit wins but are somehow thrown in the mix for an interim belt. The rest of the main card is a joke of a lineup to pay $80 for, but I am a sheep so will continue to do it or go to a bar and spend well more than that. At least we get to watch Jack Della Maddalena play with his food in his home arena after watching one of the worst PPV matchups in the last 5 years between Tafa and Porter. Crute vs Menifield should be fun at least to kick things off. This is my first PPV ever where I do not have a 2 unit position on anything, which probably means I am going to have a great night. Alright, enough of my negativity, let's get into these picks.
Main Card
Islam Makhachev vs. Alexander Volkanovski Lightweight Championship Bout
This is a matchup of the century… I hope. Since this fight was announced I knew I would be riding with Volk no matter what. I was hoping Volk would put on a bit more muscle moving up a weight class, not quite to the level of Jon Jones but he's looking the same as he did at 145. Islam is looking great and seems motivated to keep his belt and become a dominant champion. Even if that is the case, Islam is fighting in Volks backyard, without Khabib, against a guy everyone in the world thinks he should beat. The pressure is unimaginable for him to get an easy victory here. After listening to Craig Jones' interview recently, he mentioned that surviving Ortega's submission attempts is more impressive than anything Islam can throw at him in terms of ending the fight. If Volk is able to keep getting back up, or not get taken down in the first place in the early rounds, he should be able to take control of this fight on the feet and make Islam uncomfortable. There's no fun in riding with Islam, so you know I am going with Volk.
Alexander Volkanovski by Decision +310 1 unit
Yair Rodríguez vs. Josh Emmett Featherweight Interim Championship Bout
Why is this a title fight? Your guess is as good as mine. I would rather have Holloway vs Arnold Allen be the interim fight if it were up to me. Which it obviously isn't and there is no shot in hell Dana is setting up a 4th fight between Holloway and Volk after he went 0 for 3. But enough of that, let's focus on what we have in front of us. Josh Emmett has won every fucking fight that I bet against him. I really do think that Kattar won that last fight against him, it was one of the worst decisions I have seen in the octagon. All of that being said, I do not think Rodriguez is anything special outside of his unorthodox striking. It will likely confuse Emmett early and he will land, but he is up against a dude that can end the fight at any moment with the bombs he has attached to his wrists. Whether this ends early or late, I imagine this going Yair's way on points but all of the heavy strikes being from Emmett. This will either lead to more damage on Yair giving, Emmett a controversial decision, or it will put Yair to sleep. Let's ride with Emmett.
Josh Emmett by 2nd Round TKO +155 1 unit
Jack Della Maddalena vs. Randy Brown Welterweight Bout
Jack Della Maddalena has been a treat to watch in the octagon since joining the UFC. He has been absolutely decimating his competition, with his only decision in his career being on the contender series. This is the closest I am to taking a 2 unit position, Randy Brown is good and all, but his best win is against a 44 year old Trinaldo. Expect an early onslaught by Jack, making Randy uncomfortable until he makes a stupid mistake and eats a bomb and goes to sleep. Feel comfortable with this pick, or if you don't want to risk doing a method of victory bet, put this in any parlay you please.
Jack Della Maddalena by 1st Round TKO (Prop Finish Line) -135 1 unit
Justin Tafa vs. Parker Porter Heavyweight Bout
Why in the world is this on a PPV. These guys are both awful. Everyone thought that Tafa would be the second coming of Mark Hunt, but instead he is any fat heavyweight that has come into the UFC. If he doesn't land an early KO, he has no shot. Parker Porter is like a gatekeeper to get into the later end of the top 15. He will never win the fight to get in there, but he sure as hell will make sure no one shitty enough is able to make it in either. This will be a lot of flurries of strikes from Porter to back up Tafa then Porter holding him up against the cage trying to take him down. This is a good time for a bathroom break.
Parker Porter by Decision +110 1 unit
Jimmy Crute vs. Alonzo Menifield Light Heavyweight Bout
Jimmy Crute has always looked so close to being the guy, but then all of a sudden proves he is not the guy very quickly. He has pretty good wrestling but has never been great at keeping his opponents on the ground. Menifield on the other hand is a classic big fighter, has heavy hands and is extremely strong but his gas tank is suspect. He has improved his wrestling a ton and is very hard to keep on the ground early. Expect Crute to keep shooting unsuccessfully early then eat some absolute hammers from Menifield and then go to sleep. I am actually pretty excited for Alonzo to be back and hope he can string a few together, dude is a monster.
Alonzo Menifield by 1st Round TKO +155 1 unit
Prelims
Tyson Pedro vs. Modestas Bukauskas Light Heavyweight Bout
Tyson Pedro by 2nd Round TKO (Prop Finish Line) +100 1 unit
Joshua Culibao vs. Melsik Baghdasaryan Featherweight Bout
Melsik Baghdasaryan by Decision -115 1 unit
Shannon Ross vs. Kleydson Rodrigues Flyweight Bout
Kleydson Rodrigues by Decision (Prop Line) +180 1 unit
Jamie Mullarkey vs. Francisco Prado Lightweight Bout
Francisco Prado by 1st Round TKO +230 1 unit
Early Prelims
Jack Jenkins vs. Don Shainis Featherweight Bout
Jack Jenkins by 2nd Round TKO (Prop Finish Line) -135 1 unit
Loma Lookboonmee vs. Elise Reed Strawweight Bout
Loma Lookboonmee by Decision (Prop Line) -135 1 unit
Shane Young vs. Blake Bilder Featherweight Bout
Blake Bilder by 1st Round Submission +125 1 unit
Zubaira Tukhugov vs. Elves Brenner Lightweight Bout
Zubaira Tukhugov by Decision (Prop Line) +120 1 unit
DraftKings Lineup:
That is all I have for this evening of violence. This is probably the most underdogs I have ever taken on a card, which is terrifying. I probably won't invest too much into this card unless I get hot, so take that for what it's worth. I went against a few hometown fighters, which I can see becoming a problem for me, but too many times have I been burned by doing the opposite. Remember to stick to your units and gamble responsibly. As always, may luck be your lady tonight!