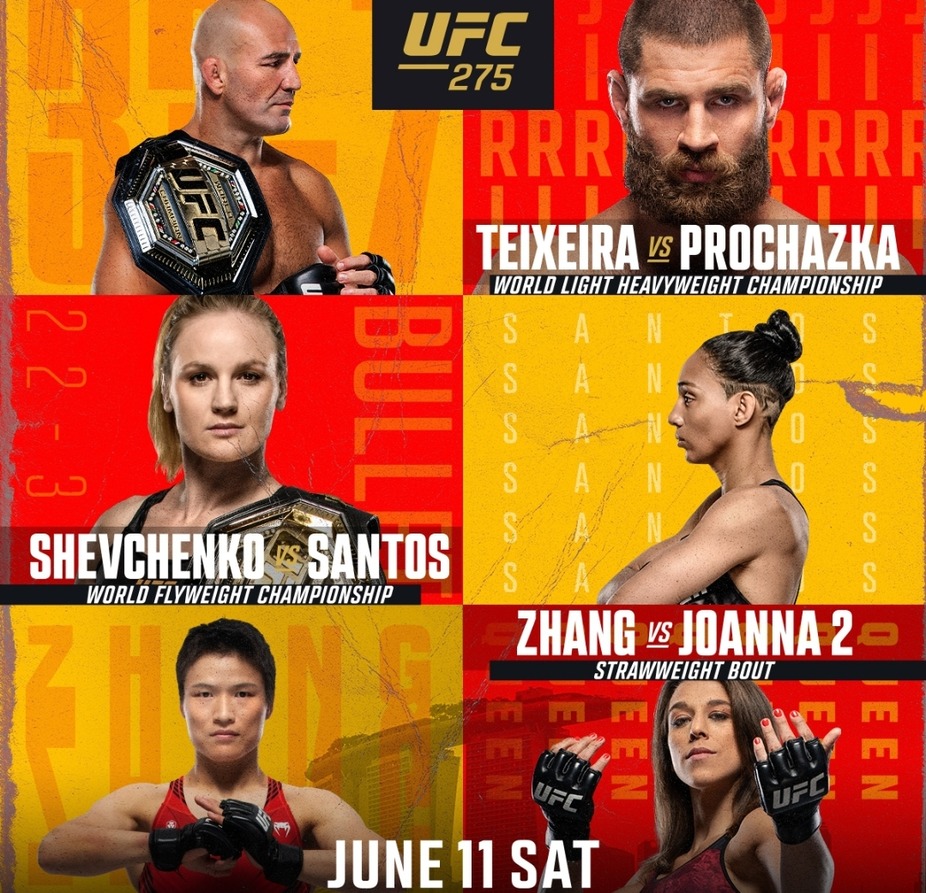 I AM BACK! Had to take a brief hiatus due to be fucking awful last month, but now I have reevaluated by betting style and have come to the conclusion that there is no chance I lose a single bet tonight, or atleast not a single bet on the main card. Alright, there is a little bit of false hubris here, especially since I flip flopped on Glover vs Jiri like 30 times. Whatever, money is just a social construct and we have an awesome card ahead of us. We have a very weird LHW title bout, Valentina ready to take another soul, a rematch of the greatest female fight in UFC history, and some other fun matchups that should end in finishes. I know I say this all the time, but this card should have a ton of finishes, just a ton of killers on deck tonight. That's enough of that bs, let's get into these picks.
Main Card
Glover Teixeira vs. Jiří Procházka Light Heavyweight Championship Bout
I hate this bet so goddamn much, every part of me wants to be on Glover. If Glover gets this to the ground it's over, he wins. The issue is that Jiri is a fucking psycho and will be throwing everything he has at Glover, and I do not see a world where he stays awake. I have had this same logic in Glover's last 6 fights and I clearly have been on the wrong side, but I will not waiver. This will likely be a fight that I am chasing all my losses with and I just know I would not feel safe betting on Glover when I am already down 2 million bucks. It has to be Jiri and it has to be a finish.
Jiří Procházka by 1st Round TKO (Prop Line) -135 2 units
Valentina Shevchenko vs. Taila Santos Flyweight Championship Bout
Should I even write anything here? The only hard part of this pick was deciding which way Valentina will end this fight. After ample research, I have decided that Talia is too tough to be finished, so this will go the full 5 rounds and we will see a 50-45 domination and it will be absolutely glorious. This will also be the fight that sets up Valentina's trilogy against Amanda Nunes and gets her her second belt. ALL HAIL VALENTINA.
Valentina Shevchenko by Decision (Prop Line) +110 1 unit
Zhang Weili vs. Joanna Jędrzejczyk Strawweight Bout
The fact that this isn't a 5 round fight is an absolute travesty, but I am still happy that we are getting this rematch. The only reason Joanna didn't win the first time is because of a head collision that made her head blow up and judges are fucking stupid. This time Joanna will show she is the best 115er in the world when she absolutely picks Weilli apart. This will be an absolute clinic, I don't care that Weilli learned how to wrestle, she won't be able to use any of that against Joanna. This will be the worst thing to happen to China since the 1940s (I can make that joke since I am a jew).
Joanna Jędrzejczyk by Decision +145 1 unit
Jake Matthews vs. André Fialho Welterweight Bout
This was a pretty tough one to pick. Jake Matthews has been pretty good outside of top competition he's faced. The issue is that Fialho is making his way to being one of the better fighters in the division. Also, who can pick against a guy that fights this often? Fialho is at Kevin Holland and Cowboy levels of competing. He might have a million fights by the end of 2022, and all of them will be demolitions. Expect a highlight real TKO in this one that has people wanting him to make a big jump competition.
Andre Fialho by 2nd Round TKO -130 2 units
Jack Della Maddalena vs. Ramazan Emeev Welterweight Bout
Ramazan Emeev is a disservice to his Dagi name. He has disappointed me time and time again. Maddalena on the other hand has been an absolute monster. I am pretty sure I bet against Jack last fight and felt like a big ole idiot. Emeev will try to wrestle fuck but he isn't good enough at it like his brothers so he will get stuffed and destroyed by Maddalena in brutal fashion. This will be where I make my nut for the evening, everything on Jack.
Jack Della Maddalena by 1st Round TKO -165 2 units
Prelims
Seung Woo Choi vs. Joshua Culibao Featherweight Bout
Joshua Culibao by Decision +190 1 unit
Steve Garcia vs. Hayisaer Maheshate Lightweight Bout
Hayisaer Maheshate by Decision +155 1 unit
Jacob Malkoun vs. Brendan Allen Middleweight Bout
Brendan Allen by 1st Round Submission (Prop Finish Line) -105 1 unit
Kang Kyung-ho vs. Danaa Batgerel Bantamweight Bout
Danaa Batgerel by 2nd Round TKO -115 2 units
Early Prelims
Liang Na vs. Silvana Gómez Juárez Strawweight Bout
Liang Na by 1st Round TKO +100 1 unit
Ramona Pascual vs. Joselyne Edwards Featherweight Bout
Ramona Pascual by Decision +145 1 unit
DraftKings Lineup:
That is all I have for you this evening, really like this lineup and even if I don't win it's about the journey. This card should be super entertaining, and winning a ton of money will only add to the beauty of tonight's violence. Remember to stick to your units and gamble responsibly. Hammer Fialho and Maddalena, take it easy on everything else. As always, may luck be your lady tonight!