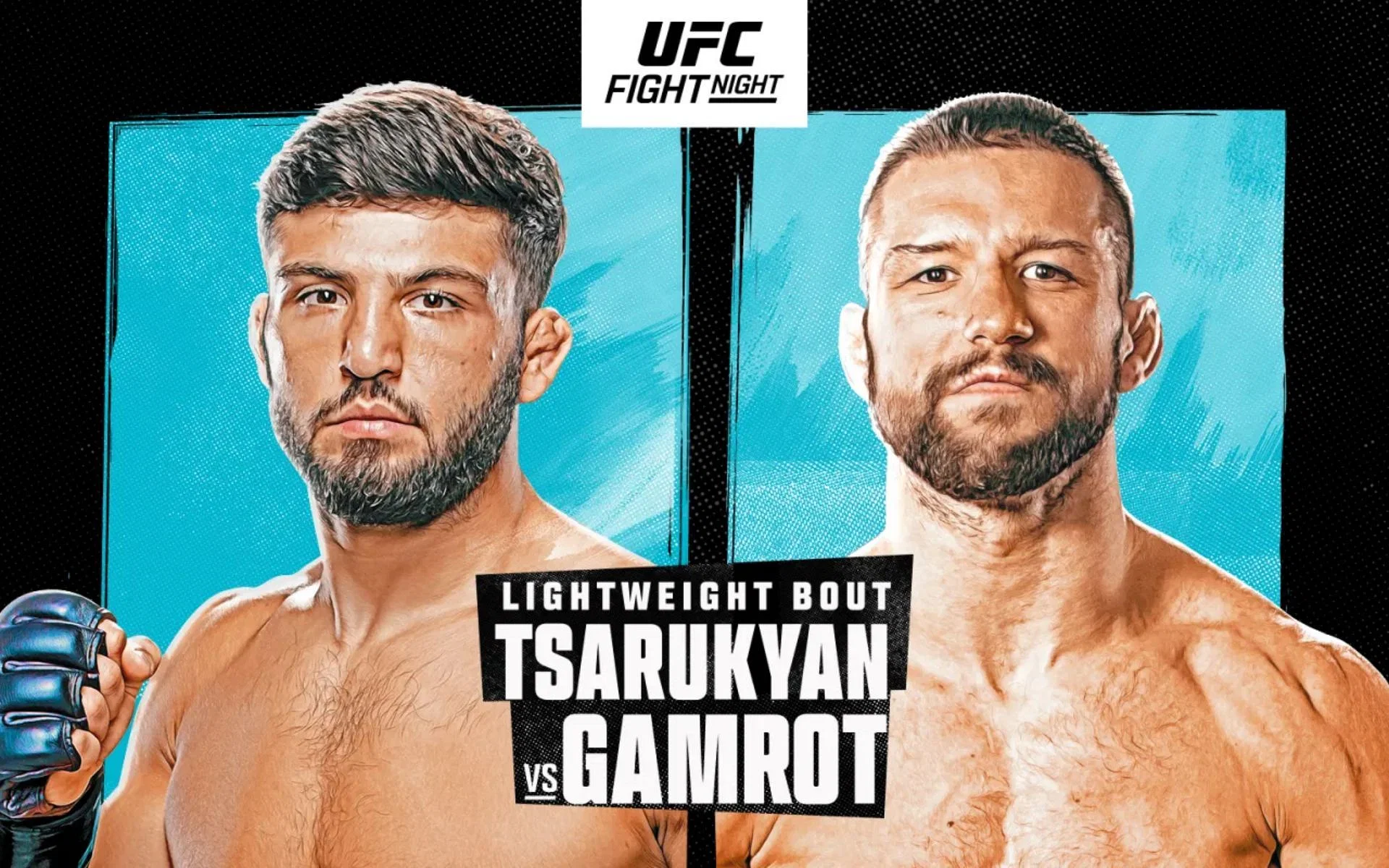 Violence in Vegas this evening with a couple future title contenders. This card is nothing special, but good enough to hold us over until next week's beauty of a PPV. Really need a good betting night because Anthony Pettis absolutely tore my heart out last night and lost me 2 parlays and a straight bet. Tonight will be different, putting my entire bank account on Shavkat to win by finish against Magny, should bring me back to even all time. We get to se Arman Tsarukyan against Mateusz Gamrot which is just a delight of a matchup, Chris Curtis against Rodolfo Vieira is a very underrated bout, Carlos Ulberg going to showcase his improvements against Tafon Nchukwi, and then a bunch of forgettable bouts. Let's get this show on the road and rattle off these picks.
Main Card
Arman Tsarukyan vs. Mateusz Gamrot Lightweight Bout
This is an awesome matchup every which way. These guys have such similar styles and strengths, it'll be iron sharpening iron. I watched both of their last few fights and after a lot of deliberation, it will take a miracle for Gamrot to beat Arman. Everything Gamrot is good at, Arman is better. Arman has better top control, better stand up, better take downs, and better at finishing the fight. If Gamrot is able to win some scrambles he could take a round or 2, but I just do not see it happening. Also shocked that the over is 4.5 rounds, feel like both of these guys will be trying to prove a point and go for broke.
Arman Tsarukyan by 3rd Round TKO (Prop Finish Line) +150 1 unit (Might abandon this and just do a parlay with him -265)
Neil Magny vs. Shavkat Rakhmonov Welterweight Bout
SHAVKAT! I am so excited to watch this dude fight again, he is amazing. This guy should have the same amount of hype as Chamzat. He goes into that octagon and just stalks his prey and dominates until they quit. This is just a matter of how he finishes the fight. I am not confident in if this will be a TKO or if this will be a submission so I am just betting on him to end it in the distance. Don't expect this one to last too long.
Shavkat Rakhmonov by 1st Round Submission (Prop Finish Line) -175 3 units
Josh Parisian vs. Alan Baudot Heavyweight Bout
I barely want to write about this one, these guys stink. How is this the 3rd to last fight on the card? Badout is worse I guess so bet on Parisian.
Josh Parisian by 1st Round TKO -110 1 unit
Thiago Moisés vs. Christos Giagos Lightweight Bout
This one may be a stupid pick. I feel like Giagos is better than his record indicates. He has a lot of talent and I don't think Thiago is -225+ better than him. If this line was under the -185 mark for Moises I probably would have rode with him, but the value on Giagos at +190 feels too good to just let slide.
Christos Giagos by Decision +190 1 unit
Nate Maness vs. Umar Nurmagomedov Bantamweight Bout
What can you really say here? Umar is going to take Maness down and find his way under the neck to end this. Umar is a fucking monster, the UFC should hang the name Nurmagomedov from the fucking rafters because they are all so goddamn good.
Umar Nurmagomedov by 2nd Round Submission (Prop Line) +100 1 unit
Chris Curtis vs. Rodolfo Vieira Middleweight Bout
This is where I get angry. Chris Curtis is the worst good fighter I have ever seen. He has really solid wins and is on a crazy streak, but he just does not seem like he is actually good to me. Vieira made a ton of improvements since his last bout, and he should get this to the ground early and finish it. The issue is that Curtis will prove me wrong again and win in an insane fashion. Dude is just my enemy at this point.
Rodolfo Vieira by 1st Round Submission +105 1 unit
Prelims
Carlos Ulberg vs. Tafon Nchukwi Light Heavyweight Bout
Carlos Ulberg by Decision +120 1 unit
Shayilan Nuerdanbieke vs. T.J. Brown Featherweight Bout
Shayilan Nuerdanbieke by Decision +155 1 unit
Raulian Paiva vs. Sergey Morozov Bantamweight Bout
Sergey Morozov by Decision -165 1.5 units
JP Buys vs. Cody Durden Flyweight Bout
JP Buys by 2nd Round TKO -120 1 uni
Brian Kelleher vs. Mario Bautista Bantamweight Bout
Brian Kelleher by 1st Round Submission +150 1 unit
Vanessa Demopoulos vs. Jinh Yu Frey Strawweight Bout
Jinh Yu Frey by Decision (Prop Line) -110 1 unit
DraftKings Lineup:
That is all I have to say for this evening, I will write a bigger blog next week for the PPV, just wanted to get my picks out there since I have been a bit quieter lately. Stick to your units and bet responsibly. As always, may luck be your lady tonight!