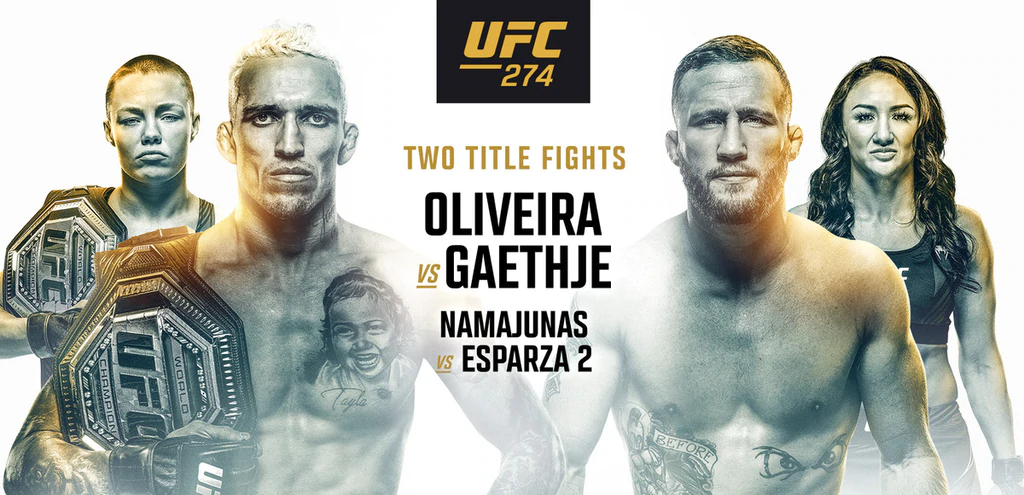 PURE VIOLENCE TONIGHT! This is a really fun card that is stacked with absolute killers. I am probably over reaching but right now I have so many finishes on this card, I am seeing very little judge intervention tonight. That being said I also feel great because I barely have any method of victory picks so I don't have to worry about how a fight ends. I am considering making a same game parlay of Rose winning and going over 1.5 rounds at -125 because that seems like an absolute no brainer. Otherwise, we have an insane Lightweight title fight between former champion Charles Oliveira and Justin Gaethje that will be an instant classic, Rose vs Carla 2 for Rose's redemption, Chandler vs Ferguson for violence incarnate, Shogun vs OSP 2 for another quick finish, and a loser/winner goes home bout in Cowboy vs Joe Lauzon. Also happy to see Khaos Williams again because he has the coolest name in combat sports. That's enough of my bs, let's get into these picks.
Main Card
Charles Oliveira vs. Justin Gaethje Lightweight Championship Bout (Kinda)
I am so goddamn happy Justin Gaethje has another chance at a title shot. Obviously more people are picking Gaethje now after Charles' tough weight cut, but I have many additional reasons. Charles has almost got finished in the 1st round of his last 2 fights by very good strikers, now he is fighting the most dangerous striker in the division. Gaethje has an ok wrestling background and should be able to avoid some of the takedown attempts (Charles is not Khabib, get past that fight). Imagine Gaethje as champion, we get to see a fucking bloodbath every single title defense (until Islam gets a shot and wrestle fucks him). Charles has one way to victory, which he is pretty good at doing, but he will make a mistake early and get beaten to a bloody pulp by my man Gaethje.
Justin Gaethje by 1st Round TKO +115 2 units
Rose Namajunas vs. Carla Esparza Strawweight Championship Bout
Rose Namajunas will always have me on her side until she fights Joanna again. Carla is the absolute most boring fighter in the weight class. She is going to try to get this to the ground and just hold Rose down for 25 min. Rose, fortunately, has gotten very good at her submission game from her back (probably from some at home training from Pat Barry). I see Rose keeping this standing often and when it gets to the ground, locking in some dangerous triangles and armbars until Carla has to stand up again. This will not look like the first bout, this will be a destruction.
Rose Namajunas by Decision -210 4 units (More likely will put in a parlay)
Michael Chandler vs. Tony Ferguson Lightweight Bout
Ok I may have a couple biased picks on this card. Tony Ferguson is the least lucky fighter in UFC history. Imagine having 12 wins in a row and not fighting a title fight (obviously injuries fucked this up a couple times). Tony was one of the most dangerous strikers of all time and has done some gruesome things in the octagon. His last 2 bouts have been just been wrestle fuckings but before that was an absolute war with Gaethje. What people forget is that he nearly knocked Gaethje out with a brutal uppercut but he got saved by the bell. This will be another standup war, with Tony having too good of a chin to get starched, I see him actually kicking the shit out of Chandler. Chandler may be a wrestler, but he wants to stand and bang, this will not go his way. He is going to get cut early and have a very hard time fighting through blood all over his face, which is where Tony thrives.
Tony Ferguson by 2nd Round TKO +285 1 unit
Maurício Rua vs. Ovince Saint Preux Light Heavyweight Bout
This is a pretty dogshit fight, but should end in a finish so I am not too torn up. OSP murdered Shogun last time they fought and I see it happening again. Shogun should be retired, dude has no business fighting in the UFC anymore. OSP is no spring chicken but should have enough in the tank to absolutely maul Shogun. I am feeling a good ole von flue choke to finish this one.
Ovince Saint Preux by 1st Round Submission (Prop Finish Line) -110 2 units
Donald Cerrone vs. Joe Lauzon Lightweight Bout
So I have never in my life bet against Cowboy. As you can tell, that means I have lost quite a bit of money on him. BUT, that means that I am due to win. This is the first time in a long time that he has a very winnable fight against an equally washed opponent in Joe Lauzon. These guys have got nothing left, but Cowboy should be way better. The man fought his way to a title shot and has beaten some very formidable foes. Joe Lauzon was never anything more than a journeyman. Please Cowboy, let me get a final win off you as you walk into the sunset.
Donald Cerrone by 2nd Round TKO -165 1.5 units
Prelims
Randy Brown vs. Khaos Williams Welterweight Bout
Khaos WIlliams by 1st Round TKO -115 1 unit
Francisco Trinaldo vs. Danny Roberts Welterweight Bout
Danny Roberts by Decision -110 1 unit
Macy Chiasson vs. Norma Dumont Featherweight Bout
Norma Dumont by Decision -110 1 Unit
Brandon Royval vs. Matt Schnell Flyweight Bout
Brandon Royval by 1st Round Submission -105 1 unit
Early Prelims
Blagoy Ivanov vs. Marcos Rogério de Lima Heavyweight Bout
Blagoy Ivanov by Decision -145 1 unit
André Fialho vs. Cameron VanCamp Welterweight Bout
Andre Fialho by 1st Round TKO -135 1 unit
Tracy Cortez vs. Melissa Gatto Flyweight Bout
Melissa Gatto by 2nd Round Submission +115 1 unit
Kleydson Rodrigues vs. C.J. Vergara Flyweight Bout
Kleydson Rodrigues by 1st Round TKO (Prop Finish Line) +135 1 unit
Ariane Carnelossi vs. Lupita Godinez Strawweight Bout
Ariane Carnelossi by Decision +160 1 unit
Journey Newson vs. Fernie Garcia Bantamweight Bout
Fernie Garcia by Decision -140 1 unit
DraftKings Lineup:
Parlay:
That is all I have for you on this fine Saturday. I have been very back and forth lately on my picks. Having some of my best weekends and worst weekends within a month and a half span. Feeling good about a lot of these bets and my parlay. I think Fernie and Kleydson get me up early so I have some good money to play around with for the rest of the card. Make sure to stick to your units, even when very drunk and upset. Bet responsibly and as always, may luck be your lady tonight!