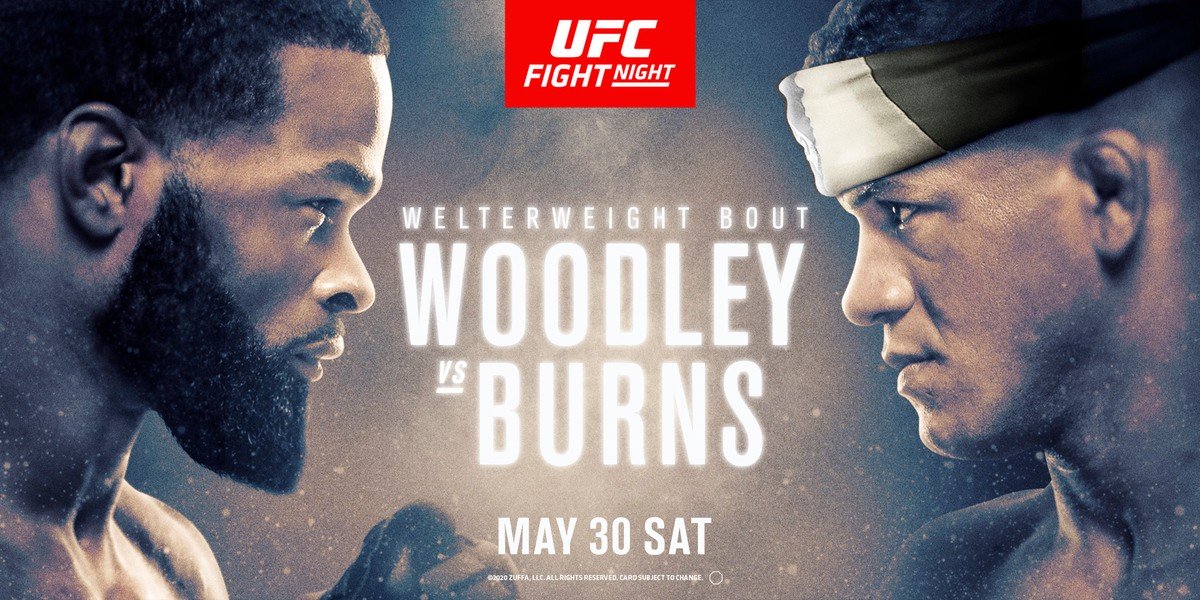 It's that time of week again. It's Saturday, and we have some fights coming up tonight. Man, I love fight day. UFC keeps delivering when no other sports do. This is why MMA is the best sport; they can provide during this pandemic while other sports are pussyfooting around trying to figure out what to do. They have commissioners being little bitches trying to appease everyone. They need a Czar like Dana White to just say, "fuck it. This is what we're doing." And that is exactly what has happened. It has been awesome. That brings us to tonight, UFC Fight Night: Woodley v. Burns. Here are my picks:
MAIN CARD
TYRON WOODLEY V. GILBERT BURNS
Tyron Woodley is making his first walk to the octagon since losing his welterweight title to Kamaru Usman in March 2019. That was an absolutely embarrassing fight, Usman totally dominated and I am sure Woodley is coming with a big chip on his shoulder. That was the worst version of Woodley we have seen and I can't imagine we will see a repeat of that. He is going up against longtime UFC vet, but new UFC favorite Gilbert Burns. I was shocked to see that he has been in the UFC since July 2014 and is 33 years old. I feel like I've only heard of him in the last year or so because of his recent Cowboy Cerrone streak of being willing to take any last minute fight, at any reasonable weight class. A win over the #1 ranked welterweight would be huge for Burns.
Woodley is 9-3-1 in the UFC and has beaten a lot of big names in the welterweight division. Before losing to Usman, he was on a winning streak against Kelvin Gastelum, Robbie Lawler, Stephen Thompson, Demian Maia, and Darren Till. He beat Carlos Condit in 2014, when Condit was actually a threat. Woodley brings a ton of power, 5 of his 9 UFC wins come by KO/TKO. And while Woodley has insane power and solid boxing, we can't forget he is a very good wrestler too. He has fallen in love with his power and barely wrestles any more, but he was a division 1 collegiate wrestler and is a black belt in jiu-jitsu. Woodley is a very strong fighter all around and if he can win here then he could get a rematch with Usman.
I am amazed to find out Burns also has 14 fights in the UFC. He is 11-3 in the UFC and doesn't have the names on his resume that Woodley does. Burns is on a 5 fight win streak and is coming off his two biggest wins, Gunnar Nelson and Demian Maia. The Maia win was huge, a TKO 2.5 minutes into the first round. Maia was able to get Burns down, but Burns escaped and got up to his feet, something not many people have done, and landed some nasty shots that put Maia out. Burns was only the second person to ever finish Maia. Burns is a jiu-jitsu specialist and could be taking the mantle of "best BJJ welterweight" from Maia. And even though he is a great BJJ guy, he still has power to put guys away. He is a big threat in the welterweight division.
Woodley is a wrestler by trade, and has a black belt in jiu-jitsu, but he also has a lot of power in his hands. This leads him to not use his wrestling/grappling. He uses it defensively more than offensively. Since winning the title that has been Woodley's style, just survive. Burns has been on a tear and is fighting pretty aggressively. Woodley has said he wants to bring Burns into deep waters for the first time. Burns has never fought a 5 round fight. Woodley wants to punish Burns. It might be some projection since Burns is training partners with Usman. I think Woodley will be using his grappling and wrestling and will bring the fight to Burns. I can see Woodley dragging this fight out and eventually grounding and pounding a late stoppage win.
Tyron Woodley by 4th round TKO
BLAGOY IVANOV V. AUGUSTO SAKAI
This is an interesting matchup of young heavyweights that are looking to move up the rankings. This is a good showcase for them in the co-main event of this card. I like the potential of both of these fighters and there is a logjam at the top of the division so this is a solid matchup of two guys that are not top tier heavyweights and gives them a spotlight to see what they have. I think both of these guys can be stalwarts in the division for a long time.
Blagoy Ivanov is 2-2 since joining the UFC in July 2018. His debut was a decision loss to Junior dos Santos. Pretty impressive when your first UFC fight is a main event against one of the best heavyweights in UFC history. He held his own in a 5 round decision loss. He followed that up with two straight wins, both by decisions, over Ben Rothwell and Tai Tuivasa. Ivanov is coming off a split decision loss to Derrick Lewis in November 2019. It was a very close fight, that many (Derrick Lewis included) thought Ivanov won. Ivanov does not have a ton of power, but he is a solid counter striker and has a strong sambo background. Ivanov is pretty durable and he has a solid chin.
Facing Ivanov is Augusto Sakai, the brazilian heavyweight that can't grapple. It is so weird to see a brazilian fighter that has 0 submission wins and 11 KO/TKO wins. Sakai is another young heavyweight trying to make a name for himself in the UFC and move up the rankings. Sakai is 3-0 in the UFC with wins over Chase Sherman, Andrei Arlovski, and Marcin Tybura. Sherman and Tybura wins were by KO/TKO.
Sakai does have the finishes on his stat sheet but he has to land bombs to get the finishes. Ivanov has a strong chin and is a solid counter striker. We haven't really seen Ivanov get rocked by anything yet and he has faced stronger competition than Sakai. I think Sakai will throw some bombs, and if Ivanov feels any danger, he will tie him up and use his sambo.
Blagoy Ivanov by decision
BILLY QUARANTILLO V. SPIKE CARLYLE
Catchweight fight of 1-0 lightweight Billy Quarantillo v. 1-0 featherweight Spike Carlyle was added to the main card at the last minute when Kevin Holland dropped out due to injury. This should be a fun fight. I don't think it will last long. I think this is a two outcome fight. Billy Quarantillo wins by quick submission, or Spike Carlyle wins by quick KO/TKO. That is both of their specialties. Quarantillo doesn't mind rushing in and putting himself into danger to try to grab a limb, and Spike will try to land a death blow when Quarantillo rushes in. There isn't much to go on for either fighter since Qurantillo only has 7 minutes of time in the octagon and that was grappling domination before getting a submission win over Jacob Kilburn. For Spike, he has 1.5 minutes of octagon time before a TKO win over Aalon Cruz. This should be a fun fight that I think could end quickly. I wouldn't look away when this one starts. It all depends on who can seize on the opening first.
Spike Carlyle by 1st round TKO
ROOSEVELT ROBERTS V. BROK WEAVER
A matchup of prospects in the stacked lightweight division. So far it seems Roosevelt Roberts has a higher ceiling than Brok Weaver. But we have only seen 1 round from Weaver so far, so maybe can surprise us, but that one round was pretty pathetic and he only came away with the win when Rodrigo Vargas landed an illegal knee that knocked Weaver out. Before that knee though, Weaver was not doing much and looked to be severely out matched. He didn't look like he was athletic enough to compete in the UFC. That could be a problem in a fight against the athletic Roosevelt Roberts.
Roberts is 3-1 since joining the UFC in the end of 2018. His fights aren't the most exciting, but he is a pretty good fighter. He is not a fast paced fighter. He does most of his work out of the clinch. He tries to get submissions from the clinch, or uses the clinch to implement a low volume striking offense. Roberts is a measured fighter. He won't rush in like a madman, he isn't overly aggressive. His fight IQ is there, if he can improve on his skills he can make a move up the division. Weaver is a stepping stone, but not a big one.
Weaver is 1-0 in the UFC, but that win was because of a DQ by illegal knee. Weaver looked overmatched in that fight and was granted a reprieve with an illegal strike. Weaver also fights out of the clinch, but he is a risk taker. He is aggressive and might put himself in a bad spot because of it. That is how he took the illegal knee. He put himself in a bad spot, ate a big shot, got rocked, then fell and Vargas kneed him in the head.
I think this fight will take place up against the cage in the clinch. Both guys will be fighting for position. It will either be a bloody brawl with knees and strikes thrown. Or it will be a boring battle of position. I'm hoping for the bloody brawl, but I am keeping my expectations reasonable. I think the experience and athletic advantage of Roberts to prevail.
Roosevelt Roberts by decision
MACKENZIE DERN V. HANNAH CIFERS
Mackenzie Dern is coming off of her first loss, a decision loss to Amanda Ribas in October 2019. That was her first fight in almost 1.5 years due to having a kid. She thought Ribas was going to be a cupcake fight, but Ribas is better than a lot of people expected. Dern was the undefeated phenom, and she was brought down to earth. I think the Ribas fight showed the one true flaw in Dern's game, her striking. Dern just throws bombs and hopes to grapple. It works against lower competition, but it won't work when she gets to the top competition in the division. Her grappling is still stellar as she has been practicing jiu-jitsu for her entire life and there are not many in the division that can keep up with her, apparently Amanda Ribas can though. If she can improve her striking to go with her grappling, she will be a force in the division.
She is going up against Hannah Cifers who is coming off a loss to Angela Hill. That fight ended in a 2nd round TKO. Cifers is 2-2 in the UFC with wins over Polyana VIana and Jodie Esquibel, both by decision. Her two losses were both TKOs, the other to Maycee Barber. Cifers is a decent fighter, but she is not the upper echelon of the strawweight division. She is probably one of the strawweight fighters that could benefit from an atomweight division, which would never happen in the UFC.
I think Dern is going to use her size and strength advantage to get a takedown, and once she has Cifers on the ground, there is nowhere for Cifers to go.
Mackenzie Dern by 1st round submission
PRELIMS
KATLYN CHOOKAGIAN V. ANTONINA SHEVCHENKO
Katlyn Chookagian gets another shot at the Shevchenko family, granted it is not Valentina and her flyweight title, it is her sister, Antonina. Nonetheless, Chookagian steps into the octagon Saturday night looking to rebound from her first KO/TKO loss in her career. Chookagian is 6-3 in the UFC, all 6 wins by decision. Chookagian is tall for the division and usually has a very long reach advantage. She uses this well and usually stands at a distance and point strikes. It leads to a lot of decisions, and she wins a good amount of those decisions. It is an effective strategy. This also ignores that she trains at Renzo Gracie's gym in NYC and is an excellent BJJ grappler. She does have long limbs, and is very good at jiu-jitsu too.
She is going up against Antonina Shevchenko, Valentina's sister. Antonina is 2-1 in the UFC. Her last fight was in August 2019, and was a 2nd round submission win over Lucie Pudilova. Antonina fights similarly to Valentina, but not nearly as well. Antonina likes to fight at a midrange, which would get her inside Chookagian's long range, and eventually get her into a clinch. Then maybe get a trip and control her on the ground and get some ground and pound in. This would be a good game plan, but as I said, she is not as good as Valentina, so her defense isn't as good when she's entering range or is in range so she might get cracked by Chookagian. Her trips might not be as effective. I don't think she will be as effective as Valentina was even though she has the playbook to beat Chookagian.
Katlyn Chookagian by decision
DANIEL RODRIGUEZ V. GABRIEL GREEN
Daniel Rodriguez was supposed to face Kevin Holland, but Holland had to pull out due to injury. Gabriel Green got the call on a week's notice. Rodriguez won his UFC debut in February 2020 by 2nd round submission against Tim Means on short notice. It was impressive. Means fought at Rodriguez's pace, and that is a mistake. Rodriguez can be dangerous and even more so when you let him dictate the fight. He is a solid fighter and is dangerous on the feet and on the ground. He is a 10th planet jiu-jitsu guy, so you know he has some weird game plans up his sleeves. Green got a last minute call and is making his UFC debut. Green usually fights at lightweight, but is making his debut at welterweight since it was a last minute fight. Green is an aggressive striker and likes to fight out of the clinch. Green is probably going to charge forward and try to make something happen. I don't think either fighter had a true fight camp to prepare for this fight, so the last minute notice for Green might not be a huge disadvantage like it usually is. That being said, I am still rolling with Rodriguez.
Daniel Rodriguez by 2nd round TKO
JAMAHAL HILL V. KLIDSON ABREU
Undefeated Jamahal Hill is going up against Klidson Abreu. Hill is 1-0 in the UFC, he won his debut in January 2020 a decision win over Darko Stosic. He dominated the fight with distance point fighting. He just kept picking him apart. If an opponent is not afraid of eating a couple of shots and gets in close to clinch and take him down, they might find some success. Hill's grappling hasn't been tested. Abreu is 1-2 in the UFC. Abreu does have some solid grappling. Unfortunately for him, he is smaller than Hill and Abreu does not usually initiate grappling in most fights. If Abreu initiates the grappling I think he can hand Hill his first loss. If he fights like how he usually does, he stands and plods, Hill will keep him at a distance and pick him apart. Hill is a better athlete. Hill is faster and longer and can just keep him at a distance.
Jamahal Hill by decision
TIM ELLIOTT V. BRANDON ROYVAL
Long time UFC veteran Tim Elliott is facing UFC newcomer Brandon Royval. Elliott is on a 2 fight losing streak to Deiveson Figueiredo and Askar Askarov, and another loss here could lead to being cut again. Elliott has had such a weird UFC career. He hasn't been very consistent. In his first run, he was 2-4. Then he was cut. He came back, and won "The Ultimate Fighter" flyweight tournament. Gave Demetrious Johnson the toughest fight in his title reign to that point. Then he's been 2-3 since that fight and hasn't shown all that much. He has an awkward style and at times fights with his hands down, which leads to getting rocked. He gives rounds away then scrambles at the ends of the fights to try to make something happen. It's hard to pick Elliott fights because you don't know which Elliott you are going to get. He is going up against Brandon Royval who is making his UFC debut. Royval is a similar fighter to Elliott, except the awkward footwork. Royval is more of a straight up footwork grappler. Both of these fighters are big for flyweights, and Royval uses his size more for leverage. Elliott uses weird footwork along with his size for leverage. It might be tough for Elliott to control Royval, as we saw Elliott had problems controlling Figueiredo. Elliott doesn't do well with bigger flyweights. This will probably be a scrambling fight that looks like a Ray Borg fight and should be interesting.
Brandon Royval by decision
LOUIS SMOLKA V. CASEY KENNEY
Longtime UFC vet Louis Smolka is 7-6 in the UFC and is hoping this move to bantamweight can revive his career. Smolka has always been a decent fighter, but has not been able to break through to the top of the division, whether it was the flyweight or the bantamweight division. He is 2-1 since returning to the UFC in November 2018. He is coming off a 1st round TKO win in September 2019 over Ryan MacDonald. Smolka can do a little bit of everything, but he isn't that dynamic of a fighter. He is going up against Casey Kenney, who is 2-1 in the UFC and is coming off his first UFC loss, a February 2020 loss to Merab Dvalishvili. That was a brutal loss for Kenney but in this matchup, Kenney is the stronger wrestler. Kenney and Smolka have similar skill sets. They both have meh stand up games, Smolka has more power, but both of them see striking as a way to get the fight to the ground. They are both solid scramblers and are good at ground control. Kenney is the stronger of the two though. I think this will be an entertaining scrap. Smolka has the advantage on the feet, and if the fight stays there, he could steal the fight. But if it goes to the mat, look for Kenney to get the win.
Casey Kenney by decision
CHRIS GUTIERREZ V. VINCE MORALES
A matchup of young featherweights that like to stand in front of their opponent and brawl. Morales has mostly been a counter striker and is pretty talented, but he sometimes waits too long to pull the trigger. This leads to issues like his fight against Song Yadong where he didn't start pulling the trigger until the third round and it was too little too late. If he started pulling the trigger sooner, he could have gotten an upset over the highly touted prospect. His last fight, a July 2019 loss to Benito Lopez, was a classic judge scoring activity over effectiveness. Lopez left the fight looking like he was battered with a baseball bat, but got the win. Chris Gutierrez is an up and down fighter. His first fight he got steamrolled into a submission loss. Then his first win he picked apart Ryan MacDonald. He won his third fight but it was a slow and plodding split decision win. It is hard to tell which fighter will show up. I can tell you this fight will be fought in the middle of the octagon. I think there will be a decent amount of blood spilled. It should be pretty entertaining.
Vince Morales by decision
FIGHT OF THE NIGHT
DANIEL RODRIGUEZ V. GABRIEL GREEN
That wraps up my picks for UFC Fight Night: Tyron Woodley v. Gilbert Burns. Good luck. Whether you can watch tonight or not, check out @WasserMMA on twitter to follow the action and get updates. Enjoy the fights.