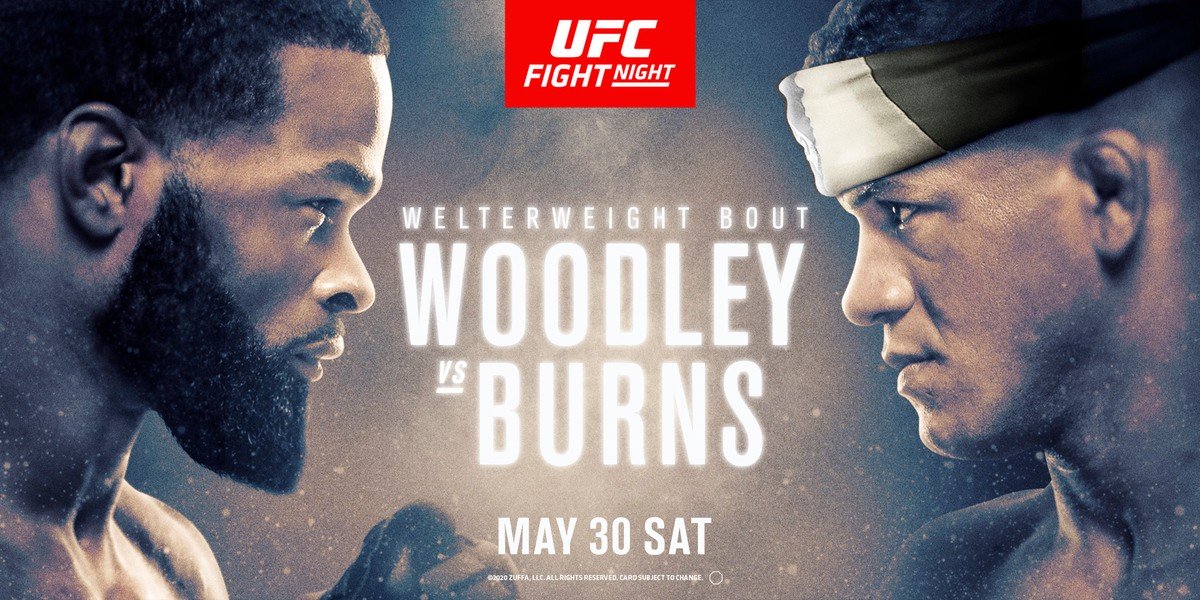 We are back from the UFC Apex in Las Vegas after a week off for more violence! Dana has been crushing this quarantine and getting the banner more fans than ever. A lot of the media was super anti putting on fights because of the pandemic, but the effort was put in and the safety precautions were followed and here we are on the 4th fight night of the quarantine. The quality of cards has definitely dropped with there being far fewer people willing and able to fight during all of this, that doesn't mean that there aren't some great matchups still.
Fun fact about this card, it is in a 25 foot cage opposed to the standard 30 foot cage used for most events. This will likely lead to grapplers having a bigger advantage than they normally do. Tyron Woodley is finally back after his title was taken by Kamaru Usman to prove he still has what it takes to be on top again. Gilbert Burns is the most active male fighter on the roster and wants to prove he is more than just a late replacement fighter. Ivanov vs Sakai could add another heavyweight contender into the mix. Otherwise we have a lot of close bouts that we will dive into deeper and see where we can win some money. I won a bit of cash last fight night on my DK lineup so I am going to keep delivering and make everyone rich!
Let's get into these picks already:
Main Card
Tyron Woodley vs Gilbert Burns Welterweight Bout
Tyron Woodley returns after over a year layoff. He had 6 wins in his 7 bouts (1 draw) previous to his loss to Usman. He was a dominant force and really was only challenged by Wonderboy. He is one of the best wrestlers to ever grace the weight class, and has very heavy hands when he chooses to throw them. Usman utterly dominated Woodley in their bout, like nothing anyone had seen before from Tyron. Who knows where his mind was before or during that fight, but he looks to be in the right headspace going into this one.
Gilbert Burns has been on an absolute tear as of late, winning his last 5 bouts, 3 of which at welterweight. He is one of the most active fighters on the roster right now and has looked better in each bout. Burns' BJJ is up there with the best in the weight class, and has the hands to stand up with anyone. He has a lot to prove in this division if he chooses to stay, and might just have the tools to do so.
Tyron has beaten the best the weight class has had to offer minus 1 fighter. Gilbert hasn't had the opportunity to do the same, but he has not faced anyone near the same level as Woodley (Usman, Covington, Wonderboy, Leon Edwards) and that will show in this bout. Take Tyron in this fight and feel good about it. If I'm wrong, at least we are seeing the birth of a new contender.
Tyron Woodley by Decision -160 2 units
Blagoy Ivanov vs Augusto Sakai Heavyweight Bout
I am going to say what a lot of people don't want to hear. This fight sucks. This fight will suck. Blagoy Ivanov has a very frustrating style, utilizing sambo and the clinch, not using a high volume of striking. Augusto Sakai has some good hands, but is incredibly hesitant to throw, as we saw in the Arlovski fight. Ivanov lost a bad decision in his last one to Derrick Lewis and is out to show that he still has it. He will make it very difficult for Sakai to land anything on him and will grind out a boring decision.
Blagoy Ivanov by Decision -105 1 unit
Billy Quarantillo vs Spike Carlyle Catchweight (150 lbs) Bout
Spike Carlyle is absolutely electric and if you pick against him you just hate fun. Ok that's extreme but this guy was a heavy dog in his debut and brought so much energy into the octagon that Aalon Cruz folded like a cheap suit. Billy Quarantillo is no slouch, and does have a height and reach advantage, but he is by far the weaker fighter and the extra 5 lbs will help Spike even more. Spikes only loss was a split decision and he has thoroughly enjoyed proving people wrong along the way.
Spike Carlyle by 2nd Round TKO +115 1 unit
Roosevelt Roberts vs Brok Weaver Lightweight Bout
Brok Weaver has had quite the rollercoaster of a UFC career so far and only has one bout under his belt. A fan favorite after the DWCS was immediately exposed in his first bout in the grappling department, being completely dominated on the ground. Fortunately he won via DQ as he got kneed right in the dome while grounded. After the fight he was not happy because any real man that isn't a brainwashed Diego Sanchez doesn't want to win a fight like that (see Anthony Smith vs Jon Jones). Then after that when he got people back on his side, he posted a video of him dog fighting. This guy is all over the damn place. Personal life not in question, I still do not believe he is too well rounded of a fighter.
Roosevelt Roberts coming off a controversial decision win and a huge loss to underdog Vinc Pichel is looking to show he is the top prospect people thought he was. He may have been taken down a bunch in his last bout but showed the ability to get back up off his back to continue fighting and not just accepting defeat. He has the better striking and the grappling will likely be moot in this fight. Roosevelt takes this one and it will be pretty lopsided. (Also Brok missed weight which sucks).
Roosevelt Roberts by Decision -360 2 units
Mackenzie Dern vs Hannah Cifers Strawweight Bout
I did not like picking for this fight. Dern should be the much better fighter here, but I always find myself questioning her ability between the ears. In this instance, her talent will outshine her issues and this should be dominant. Wouldn't fault anyone for throwing a couple bucks on Cifers as the dog though.
Mackenzie Dern by 2nd Round Submissions -420 3 units
Prelims
Katlyn Chookagian vs Antonina Shevchenko Flyweight Bout
Antonina is no Valentina. She is fortunate her sister recently beat Chookagian so she can pick her brain and learn her tendencies, but she does not have the same ability to execute. Chookagian is one of the best women in this weight class (which means nothing with Valentina up top), and there is no way Antonina is able to handle what she brings to the octagon. Not very sure how Chookagian is the dog here.
Katlyn Chookagian by Decision +115 1 unit
Gabriel Green vs Daniel Rodriguez Welterweight Bout
I have taken late replacement guys a lot in the past. They are usually fired up and are looking to prove themselves going on the big stage. During these quarantine fights, I do not feel the same way. You haven't been training the same amount as during normal circumstances. The weight cut is tougher, on top of that, in this instance, Gabriel Green just hasn't faced the same level of talent yet. Ride with Daniel Rodriguez.
Daniel Rodriguez by 3rd Round TKO -335 2 units
Jamahal Hill vs Klidson Abreu Light Heavyweight Bout
This fight had me the most back and forth out of any matchup on this card. Jamahal Hill has been great, amassing an undefeated record as a pro. Klidson Abreu is coming off a close split decision loss and another loss in his last 3 (both to russians and his nickname is the Russian Terror which is a pretty fun coincidence). Normally I would ride the undefeated man in these cases, but I think Hill is going to have a really hard time with Abreu's grappling ability. No one he's faced with the submission repertoire that Abreu has, will be Hill's biggest test by a mile. I am riding with Abreu
Klidson Abreu by 2nd Round Submission EV 1 unit
Tim Elliott vs Brandon Royval Flyweight Bout
Brandon Royval by 3rd Round Submission +145 1 unit
Louis Smolka vs Casey Kenney Bantamweight Bout
Casey Kenney by Decision -290 2 units
Chris Gutiérrez vs Vince Morales Featherweight Bout
Chris Gutiérrez by Decision -105 1 unit
Draftkings Lineup:
I worked out the prices and picks I am most confident in. Picked 2 dogs that I think have a real good shot at winning and paired with 4 heavy favorites, hard to pick a better lineup.
This wraps up another UFC Fight Night of fun gambling. This card is definitely not something to lose your mind about, but anything for live sports is ok with me. As always, follow WasserMMA on twitter for any O/U action to take throughout the night, have been cleaning up on those bets. My favorite pick of the night has to be Chookagian over Shevchenko lite, that line has been perplexing me, it's like they are giving us free money. That is all I have for you this week, as always, may luck be your lady tonight!