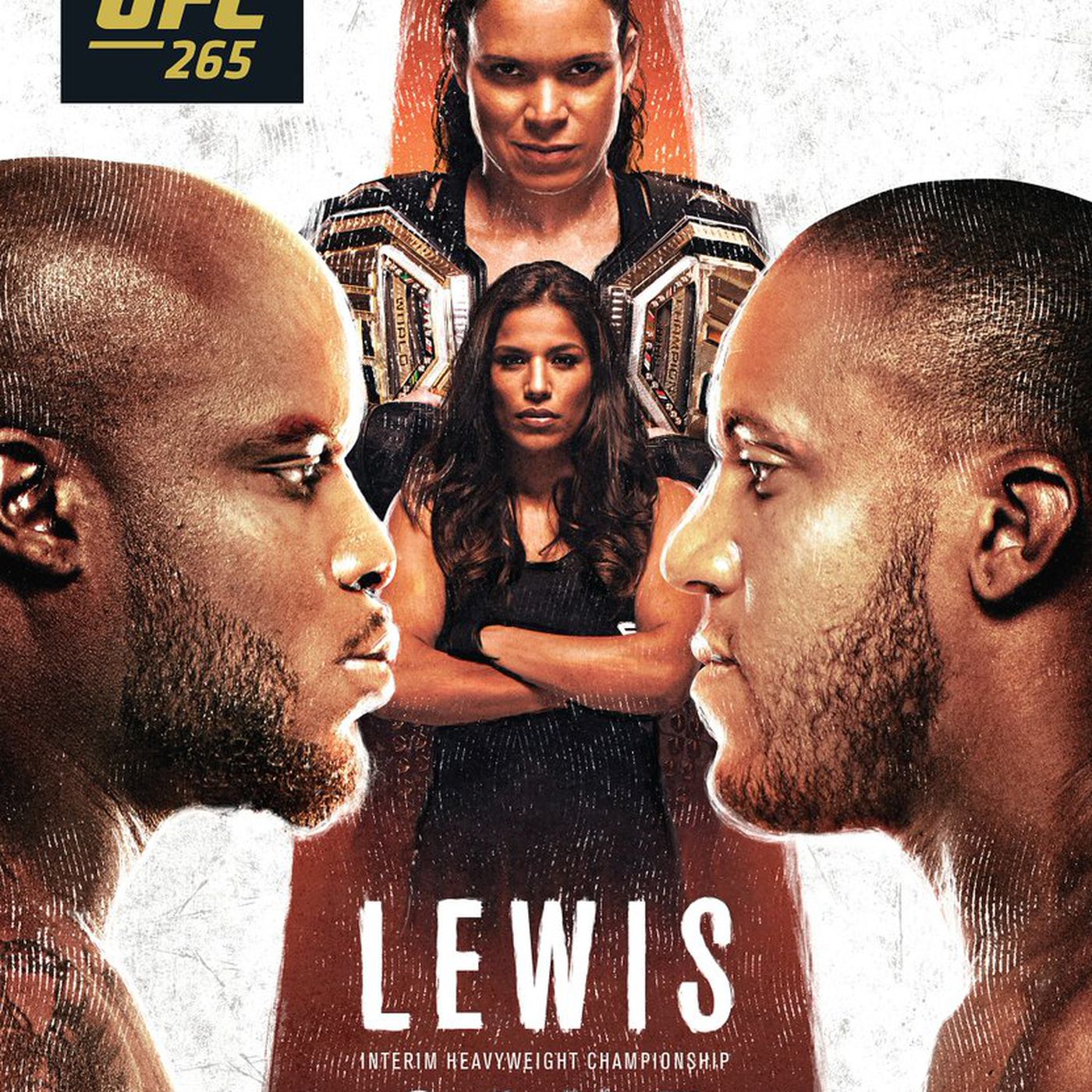 DERRICK LEWIS V. CIRYL GANE
Derrick Lewis fights always bring a certain excitement with them. The prospects of an awesome knockout are possible, then with a knockout win comes a great interview. Now if this all happens in a championship fight, that would be even better. When I first started looking into this, I was dejectedly thinking there's no way Lewis is winning. Gane is the better all around fighter. His wrestling is better, he is faster, his striking is crisper. Gane is undefeated because he is such a clean striker. His reach keeps fighters back and he is good at fighting at distance.
It was hard for me to not just say with ease Gane is the easy pick. And it very might well be. The problem arises in the fact that Lewis has the one shot knockout power that not many people do. We've seen it happen before. Lewis loses majority of the fight, then decides to turn it on and lands one big shot and it's over with his hand raised. I am not letting myself get hyped for this fight like I did for Lewis v. Ngannou because I see this as a similar possible outcome. Two big guys standing at the outside of each other's range picking at each other trying not to make a mistake. I think the safest bet for this fight is the over. He is probably going to fight a safe fight, that is his style. He hasn't shown the crazy power that heavyweights have. I don't think he would survive a fight with Ngannou. I think he is going to win by decision, but he's such a big favorite and it just takes one punch by Lewis. Gane is going to have to be perfect for 25 full minutes. We haven't really seen him take a good solid punch from someone with the power of Lewis. Lewis makes people crumble with one shot. I've been flip flopping, probably because of my Lewis bias. So, I will say the over is probably smart bet, but Gane is too big of a favorite for my liking here.
Derrick Lewis (+255) by 4th round TKO
JOSE ALDO V. PEDRO MUNHOZ
I haven't been the biggest fan of bantamweight Aldo. He hasn't been active and hasn't thrown his leg kicks that got him to the top of the UFC ladder. He's become a power counter striker and it's not the best way to fight, especially in a stacked bantamweight division. Munhoz is a pressure fighter that will bring the fight to Aldo and won't let the inactivity sit well. Aldo won't have a chance to be inactive. He's going to have to throw a lot of counter strikes or cover up. This is going to be a fun fight. If this was 4-5 years ago, I don't see how Aldo loses this fight. But, I really don't like old man Aldo. Especially against an active fighter like Munhoz.
Pedro Munhoz (-105) by decision
MICHAEL CHIESA V. VICENTE LUQUE
This is my pick for fight of the night contender. I love this matchup. Two guys that are close to title shots in the welterweight division. Both guys came from the ultimate fighter, different seasons, Chiesa was a lightweight that finally stopped cutting weight and took his skills to another level. Luque was a killer from the start. Luque was on the same season of the ultimate fighter as Usman. Same team actually, they're both Blackzilians in that season. This is a grappler v. striker matchup. Chiesa is a great grappler and he is going to try to take this one down to the mat and do his thing from there. That is his style and it is his specialty. Luque is the silent assassin and his brawling style has made him a fan favorite. But that takes away his ability to grapple. His grappling isn't bad, he has solid takedown defense and might be able to keep Chiesa off him long enough to keep this fight on the feet. If this stays on the feet, I like Luque's chances of brawling to a decision. If it goes to the ground, Chiesa's dominance on the mat is going to be tough to overcome. This will be a fun fight. But I think Luque's all around skills will carry him here.
Vicente Luque (115) by 3rd round TKO
TECIA TORRES V. ANGELA HILL
Battle of the gatekeepers of the strawweight division. I like both of these women, but only one can win. They're both scrappers that like to get physical and brawl. They've both been seen as gatekeepers to other fighters and seem to be stepping stones on the way to title fights. Both are coming off wins, Torres is on a two fight winning streak. This is going to be a fun little fight. I think Hill's clinch work will be the difference here. Her elbow's will be tough to deal with. But I will say that I always pick wrong when I pick Angela Hill in her fights. So if I pick Angela Hill, which I am, you should pick Torres.
Angela Hill (+125) by decision
SONG YADONG V. CASEY KENNEY
This is going to be a brawl. This is a striker v. grappler matchup. Song is a striker with insane power for a bantamweight. Kenney is a grappler that loves to brawl. He is a grinder that loves a dirty fight. This fight is a great one to open the main card. Song is a low volume high power striker. Kenney is a high volume striker and likes to control the pace of the fight. This is going to be a tough fight for Song. He is going to have to try to keep Kenney off of him with his power and takedown defense. I think Kenney is going to try to get close and utilize his wrestling to dominate and control the fight. The problem for Kenney is that he is very hittable and Song's power can end the fight early.
Casey Kenny (-115) by decision
PRELIMS
BOBBY GREEN V. RAFAEL FIZIEV
Rafael Fiziev (-320) by 2nd round TKO
VINCE MORALES V. DRAKO RODRIGUEZ
Drako Rodriguez (-110) by decision
ALONZO MENIFIELD V. ED HERMAN
Alonzo Menifield (-250) by 1st round TKO
Or
Ed Herman (+190) by decision
KAROLINA KOWALKIEWICZ V. JESSICA PENNE
Jessica Penne (+105) by decision
MANEL KAPE V. ODE OSBOURNE
Manel Kape (-210) by 2nd round TKO
MILES JOHNS V. ANDERSON DOS SANTOS
Miles Johns (-220) by decision
FIGHT OF THE NIGHT
MICHAEL CHIESA V. VICENTE LUQUE