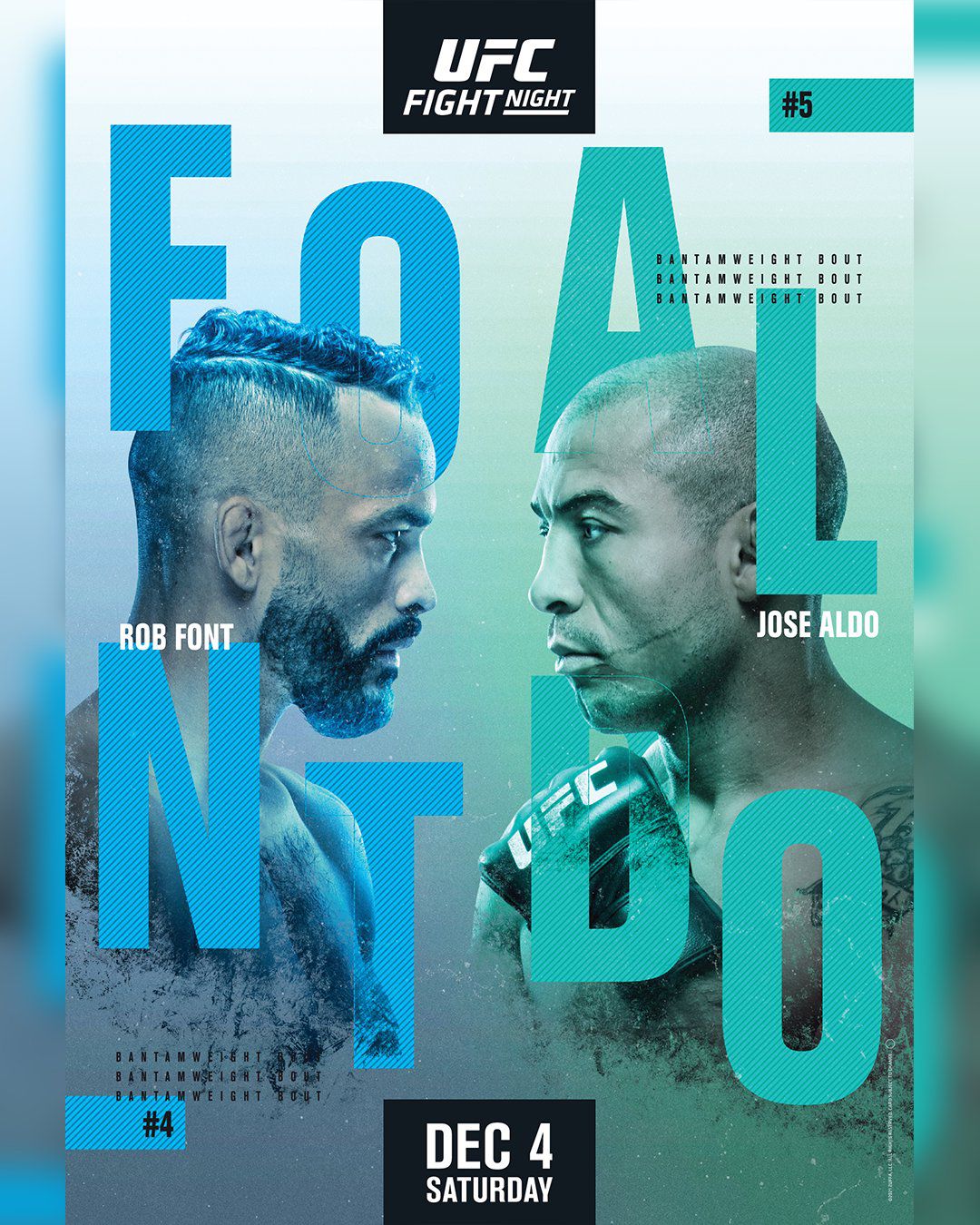 FIGHT NIGHT! This is one of the better fight nights that Dana has put together in a very long time. A lot of hungry young fighters looking to take the next step into the top 10 along with a potential title shot eliminator for the main event. Usually the cards with not many ranked fighters are absolute stinkers but this one has some grit to it that is just pulling me in and getting me real excited. Rob Font vs Jose Aldo should be an absolute beauty of a fight. Brad Riddell vs Rafael Fiziev should be pure unadulterated violence. Jimmy Crute vs Jamahal Hill is amazing matchmaking, setting up fireworks. Clay Guida vs Leonardo Santos is one of the oldest matchups of not heavy fighters ever. Brendan Allen vs Chris Curtis is ok, not that jazzed about this one. Alex Morono vs Mickey Gall will have some weird shit happen and I just can't wait for that nonsense. Let's get into these picks already.
Main Card
Rob Font vs. José Aldo Bantamweight Bout
Violence, violence, violence. These men are warriors, they will be walking each other down and look for murder. Rob Font has been on an absolute tear as of late, destroying anyone that comes in his path. I thought Cody Garbrant would be a different level of fighter and be able to mash him up, but he made Garbrant move down a weight class. Font is here to compete for the belt and he will prove that against an old Aldo. Jose is one of my all time favorite fighters. I have bet on him nearly every time he has stepped in the octagon, and I have not been doing too well as of late. This is the time when I look at the facts and see he is not in the same class of fighter as Font anymore and will just make a ton of money instead.
Rob Font by Decision -142 3 units
Brad Riddell vs. Rafael Fiziev Lightweight Bout
Man was I back and forth on this one. Brad Riddell definitely has the grappling edge here which could cause problems for Fiziev if he can get him to the ground. Fiziev causes problems for Riddell in every other aspect. Drew Dober was stuffing a lot of the takedowns early in his fight with Riddell until his tank and chin wore down. I think Fiziev is a different level of fighter than Dober and will be able to neutralize everything Riddell throws at him. This will be a technical master class by Fiziev and don't be surprised if we get another insane highlight that is played on ESPN all week.
Rafael Fiziev by Decision -112 1 unit
Jimmy Crute vs. Jamahal Hill Light Heavyweight Bout
This too is a violent fight. Whoever lands first wins here. I have been getting crushed on favorites lately so why not take the dog in a slugfest? Jamahal Hill has one loss and it was to the reinvented Paul Craig. If Jimmy Crute doesn't take this to the ground, I do not see him being able to deal with Hill's power. Crute has a lot of power in his own right, but do not believe he will be able to utilize it well enough to get to Hill first. Don't over think this fight, the dog is the right call, make some money.
Jamahal Hill by 1st Round TKO +150 1 unit
Clay Guida vs. Leonardo Santos Lightweight Bout
Alright, I am all for an old man fight but this is a little ridiculous. Clay Guida is so damn washed but has almost lost me so much money so many times. He is always in the fight and will always make it close. Leonardo Santos on the other hand has been pretty dominant in his UFC comeback minus the end of his last fight. Santos should have the advantage in every level of this fight and I will be taking him heavy, but I will be sweating the whole entire time without a doubt.
Leonardo Santos by Decision -188 2 units
Brendan Allen vs. Chris Curtis Middleweight Bout
This is the biggest line on the main card so I am not too jazzed about this pick. Was almost my first card without having to throw in a method of victory bet, but here I am. I was very close to taking Chris Curtis as a dog hoping he'd be able to get the KO, but I think Brendan Allen is such a better fighter that it won't be close. I was debating taking Allen by finish, but I have been getting crushed on that lately. Allen is gonna take him down and hold him down for 15 minutes to then give us a fat stack of cash.
Brendan Allen by Decision (Prop Line) +140 1 unit
Alex Morono vs. Mickey Gall Welterweight Bout
This is probably my worst bet of the day. Everything is telling me to take Alex Morono in this one. He has had a good streak of fights looking like nearly a new man since his shaky UFC start. Mickey Gall on the other hand has been very average and has no gas tank. So why am I taking Mickey to win? Because Morono is going to make a mistake and end up on the ground and find his way into a submission. Gall is sneaky when he has energy, he will find his spot and end this one early and be a nice dog cash.
Mickey Gall by 1st Round Submission +209 1 unit
Prelims
Maki Pitolo vs. Duško Todorović Middleweight Bout
Maki Pitolo by 2nd Round TKO +144 1 unit
Manel Kape vs. Zhalgas Zhumagulov Flyweight Bout
Zhalgas Zhumagulov by Decision +235 1 unit
Bryan Barberena vs. Darian Weeks Welterweight Bout
Darian Weeks by 2nd Round TKO +118 1 unit
Jake Matthews vs. Jeremiah Wells Welterweight Bout
Jake Matthews by Decision -168 2 units
Cheyanne Buys vs. Mallory Martin Strawweight Bout
Mallory Martin by Decision +156 1 unit
Alonzo Menifield vs. William Knight Light Heavyweight Bout
Alonzo Menifield by 1st Round TKO -146 2 units
Claudio Puelles vs. Chris Gruetzemacher Lightweight Bout
Claudio Puelles by Decision -123 1 unit
Louis Smolka vs. Vince Morales Bantamweight Bout
Louis Smolka by Decision -160 2 units
DraftKings Lineup:
This is going to be such a wonderful night of making money. I have been very confident lately just to be absolutely obliterated by terrible method of victory picks but I only have one tonight. These picks will make me rich, might even parlay a few just for shits and giggles. I may already be down because of Horiguchi, but today is a different day and Bellator sucks. That is all I have for you today, as always may luck be your lady tonight.