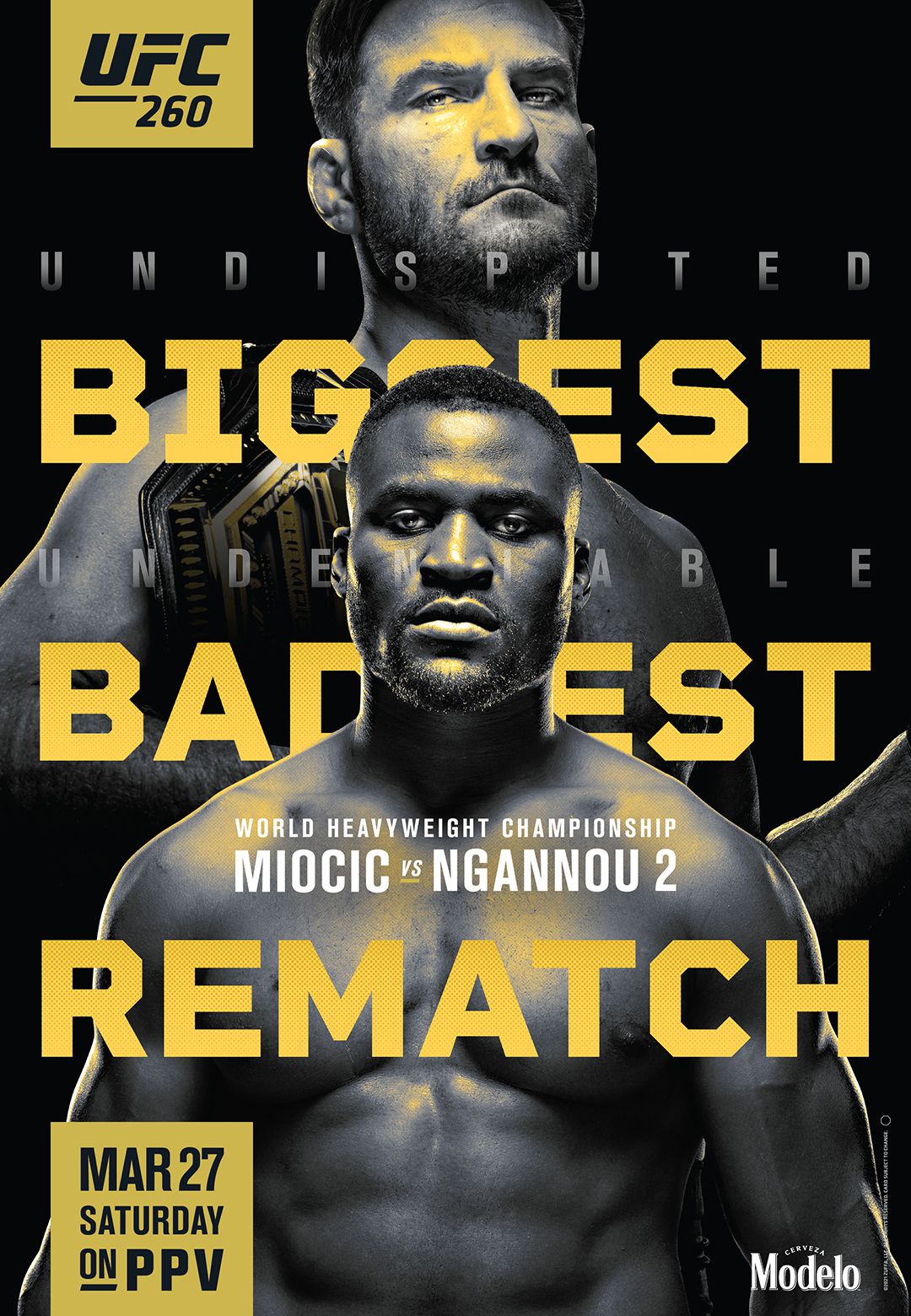 We are back! I took a couple weeks off but am happy to be writing for the Baddest fight of the year with one of the few true title shots we get to see. I have felt so bad how long Ngannou has had to wait to get this rematch because of the DC trilogy and COVID, but finally we get the long awaited bout. Very unfortunate we did not get the featherweight title to co-main but we will survive. I have a strange feeling that Woodley decides to show up tonight and give us a little bit of a show with Luque. Suga Sean returns to show us that he thinks he has the best striking at 135. Khama Worthy is fighting after bitching all week that Chandler is getting a title shot even though he wouldn't sniff one for a while.
The prelims are pretty solid also with some heavy hitters and decently close lines that will be fun to make some money off of. Tonight is the first night of passover so i am hoping that I will get done with shit in time to rattle off some tweets and new bets that I thought of on the spot. This is the night that we make a ton of money. I think I only won like 1.5 units on the last card but after 13 bets that ain't all that bad, this night is going to make me rich. Now fuck all my non sense and let's get into the good stuff.
Main Card
Stipe Miocic vs. Francis Ngannou Heavyweight Championship Bout
The definition of insanity is doing the same thing over and over again and expecting a different outcome. Sure this is only the second time these guys have fought but man does it feel familiar. Stipe having a couple dominant title wins while this monster KO artist is stringing together an impressive streak over the weight class' best competition. Stipe has slipped up once since 2015 letting DC dirty box him till he got caught breaking a clinch and went to sleep. Other than that he has put on amazing performances in every fight, including his absolute master class against Ngannou in their first bout.
Ngannou has rattled off 4 straight since that miserable Derrick Lewis fight for a combined 2:42 of fight time. He comes running in and just takes your goddamn head off no matter how good you are. The thing is, he hasn't fought DC or Stipe level fighters during that time. Curtis Blaydes was arguably the best fighter in that stretch but he doesn't know what to do on the feet usually so if he ain't taking it to the ground quick, Ngannou is gonna put him to sleep. Going into this Stipe rematch I just see the same thing happening, Ngannou coming in quick but not being able to land his death shot and Stipe gassing him out with the clinch and wrestling until Ngannou has nothing left. So disrespectful to have Stipe as the dog here I had to roll with him.
Stipe Miocic by 4th Round TKO +120 1 unit
Tyron Woodley vs. Vicente Luque Welterweight Bout
This was a tough one for me, and likely a stupid pick. Vicente Luque is probably the most fun welterweight fighter of all time. Every bout he is in is a fight of the night contender and people are covered in blood. Tyron Woodley is the opposite, he is boring, has sucked very bad lately, and barely ever fights. That being said, can I really take Luque as the -300 favorite? The guy has not been able to take down top competition in his whole career. Woodley has been on a god awful skid lately, showing absolutely no fire in his last 3. So why would I pick him here? He has absolutely no alternative in this fight, he needs a win or he is going to be cut or has to retire. This is his do or die, and I really don't think he is ready to turn over and die.
Tyron Woodley by Decision +195 1 unit
Sean O'Malley vs. Thomas Almeida Bantamweight Bout
Suga Sean has had one of the fastest falls from grace I have ever seen without even failing a drug test. Suga has been making BS excuses on how he lost to Vera and saying he is still undefeated. Suga was getting beaten and his ankle gave out and he took a TKO loss on the ground. Usually a loss like that is great for a fighter, makes you realize you aren't invincible and helps you sure up areas of your game that might have been lacking. Hoping Suga took it the same way and isn't just pretending it was a fluke. Thomas Almeida is most certainly just a tune up fight here. He has not shown any promise since before Garbrant whooped his ass. Really don't think this will be close and am capitalizing on the prop line here.
Sean O'Malley by 2nd Round TKO +120 (Prop Line) 1 unit
Gillian Robertson vs. Miranda Maverick Flyweight Bout
Miranda Maverick is the future of the division. She has great grappling, nearly elite standup, and is only 23 years old. She has been dominating her competition and is ready to become a true contender in this weight class. Gillian Robertson is also young but has never been able to take down the top competition. I think she stalls out here again and gets out matched everywhere. Her best chance is on the ground, but even there I am not too confident she has enough of an advantage to be dominant in top position.
Miranda Maverick by Decision -160 2 units
Jamie Mullarkey vs. Khama Worthy Lightweight Bout
Not too much to say about this one. I am pretty shocked at how close this line is, haven't been too impressed by Jamie Mullarkey in his 2 UFC appearances. Khama Worthy has been taking down some top competition, often as the underdog since his debut against Devonte Smith. His last fight was a loss to the undefeated Ottman Azaitar, which was a much tougher fight than this. Really like the -130 line and will be happily taking advantage of.
Khama Worthy by 3rd Round TKO -130 1 unit
Prelims
Alonzo Menifield vs. Fabio Cherant Light Heavyweight Bout
Alonzo Menifield by 1st Round TKO -150 (Prop Line) 2 units
Jared Gooden vs. Abubakar Nurmagomedov Welterweight Bout
Jared Gooden by Decision +200 .5 unit
Modestas Bukauskas vs. Michał Oleksiejczuk Light Heavyweight Bout
Modestas Bukauskas by 1st Round TKO +152 1 unit
Shane Young vs. Omar Morales Featherweight Bout
Omar Morales by Decision +135 (Prop Line) 1 unit
Marc-André Barriault vs. Abu Azaitar Middleweight Bout
Abu Azaitar by Decision +105 1 unit
DraftKings Lineup:
Well that is all I have for you this evening. This should be a fun night of fights that I probably will illegally stream because Dana charges too much for average cards. Remember to stick to your units and bet responsibly. Feeling some underdogs tonight so don't be scared of the big stupid lines, they will help us, I promise. As always, may luck be your lady tonight!