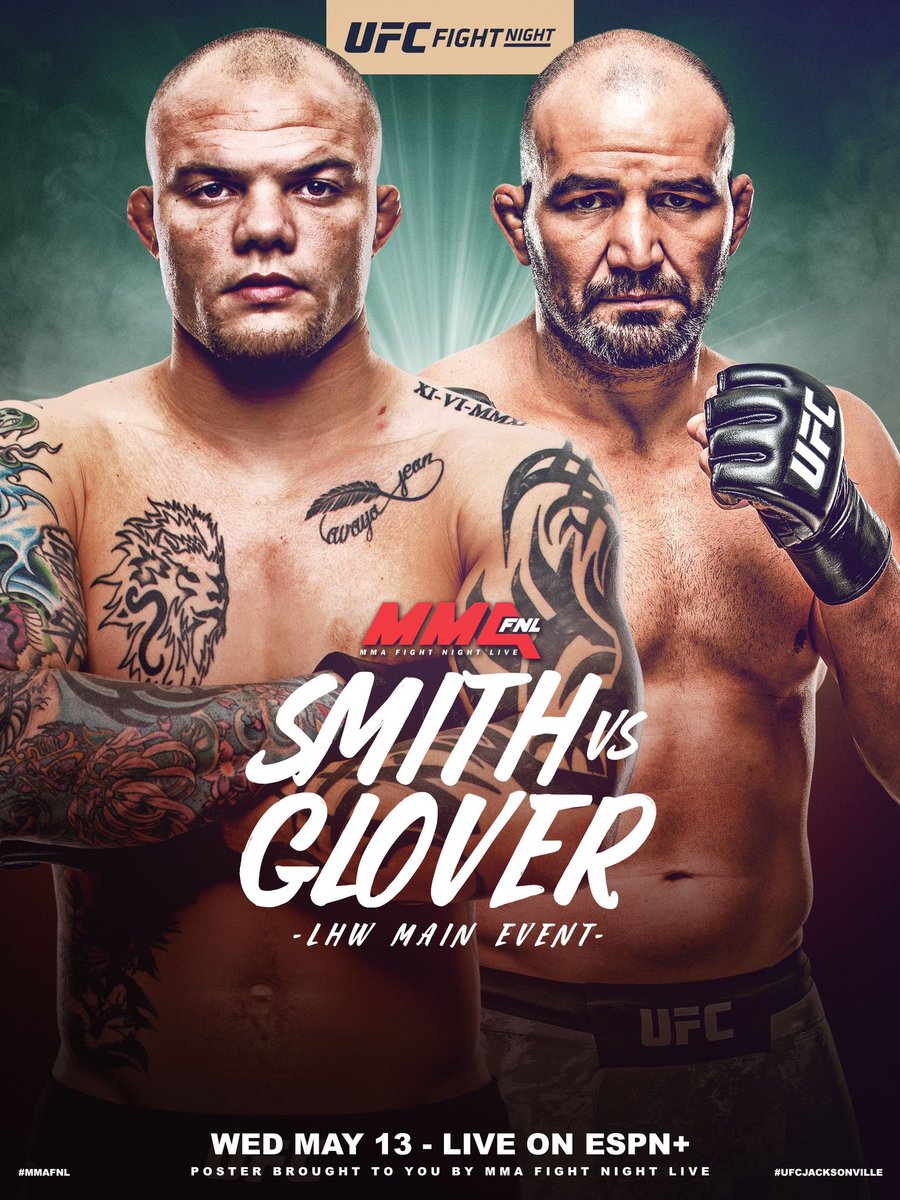 Night two of fight week is upon us. It's almost too good to be true. UFC 249 was only 4 nights ago and now we get another night of fights. This card isn't as stacked as UFC 249, but beggars can't be choosers and I am not upset. I still can't believe they are delivering 3 nights of fights in 1 week and I am so glad the UFC is back.
MAIN CARD
ANTHONY SMITH V. GLOVER TEIXEIRA
If this were Glover Teixeira of a couple of years ago, I'd have more trouble picking this fight. Glover is just not what he used to be, obviously, and there is nothing wrong with that. Father time comes for us all eventually. Glover has looked really good in his last 3 fights, wins over Karl Roberson, Ion Cutelaba, and Nikita Krylov, but they're a level below Anthony Smith. Maybe Glover of a couple of years ago could take Smith down and bully him into a submission finish, but I don't think he has it in him at this point. His power isn't what it used to be, so that threat isn't really there. His grappling is the main threat. He used his striking to get close and get a takedown and wrestle his way to a submission. Anthony Smith's grappling is better than his last couple of opponents and that won't work as well.
Since moving up to light heavyweight, Anthony Smith has been on another level. He is 4-1, with the 1 loss being a title fight with Jon Jones. In his other fights, he was excellent. I think he will keep that streak going. His last fight, he dominated Alexander Gustafsson and submitted him in the 4th round. He is main eventing here, and a win here gets him one step closer to another title fight. Smith's 4 wins at light heavyweight have all been finishes, 2 KOs and 2 submissions, and I think he is going to keep the aggression up against Glover. He wants to prove the Jones fight was an aberration.
Anthony Smith by 3rd round TKO
BEN ROTHWELL V. OVINCE SAINT PREUX
This was probably the hardest fight to pick for me. We have an old Ben Rothwell that is only coming off a TKO win over Stefan Stuve because fans goaded Struve into continuing to fight after getting kicked in the balls repeatedly. Rothwell is 1-2 since a 3 year hiatus due to an injury and an USADA issue. Rothwell has been sluggish, well more sluggish than usual. His lumbering style was always contrasted with surprisingly quick hands. His hands aren't nearly as quick as they used to be, which is a massive problem for his prospects. But at heavyweight in the UFC, that doesn't matter and one punch is all it really takes, and Rothwell did show he still has the power to put someone out.
Rothwell is going up against Ovince Saint Preux, making his heavyweight debut, due to a coronavirus short notice replacement. OSP had a fight booked for April 25, and had two opponents drop out, so he ended up moving to heavyweight to fight Rothwell. OSP is an inch shorter, has a longer reach, but weighs 25 pounds less than Rothwell. OSP hasn't shown much in a while and you have to wonder if he should have moved to a better camp to take his game to the next level. He was always a great athlete, and you have to respect the guys that stay at their home gyms and all, but he seems to have been stuck at this level and been held back. I know he has had a lot of success and had a title fight against Jon Jones and won a lot of fights against a lot of good fighters, but his last couple of fights seem to be him just standing around hoping to catch a weird submission. He has taken a lot of damage in his last couple of fights and has been rocked several times.
OSP stands and throws wild punches, leaving his hands pretty low. He hopes his opponent throws equally wild punches, and that he can catch hold of them and get a wild submission. While he has had some success with this method, I don't think this will work with a legitimate heavyweight. That doesn't even mention that Rothwell is a solid grappler and might prove difficult for OSP to control in the clinch. I know this isn't a permanent move for OSP, and that OSP was in training camp, and that OSP was looking for a payday, but I don't think this will pay off for OSP.
Ben Rothwell by 2nd round TKO
ALEXANDER HERNANDEZ V. DREW DOBER
If this ends up being fight of the night, I would not be shocked. If this ends up being the shortest fight of the night, I would not be shocked. Both of these guys have knockout power. Both of these guys have put their opponents out. Alexander Hernandez is coming off one of the most boring fights in the history of the UFC against Francisco Trinaldo. It was definitely an overcorrection from a TKO loss to Cowboy Cerrone. In Hernandez's first two UFC fights, he came out aggressively and KO'd Beneil Dariush in the 1st round, then a unanimous decision over Olivier Aubin-Mercier. Hernandez did get the win against Trinaldo, so will he have a change in game plan, or will he still be cautious and stay on the outside and keep it a boring point fight. I'd like to think he will go back to his explosive and aggressive form, but since he got the win over Trinaldo, I doubt he will change his plan.
Drew Dober is going to be standing across from him on Wednesday night, and there might be some pressure on his shoulders to follow up the excellent performance by teammate and training partner Justin Gaethje, but Dober won't admit to that. Dober switched up his training prior to his Dariush fight and he looked pretty good until he got caught in the armbar. His last two fights have been quick knockouts of Marco Polo Reyes and highly touted prospect Nasrat Haqparast.
Dober fights like Gaethje, not on the same level, and is aggressive. Expect him to come out hot and bring the fight to Hernandez. Will Hernandez answer the call, or will he be cautious and point fight? Either way, I don't think Dober will let him fight cautiously.
Drew Dober by 1st round TKO
RICKY SIMON V. RAY BORG
Blows my mind that Ray Borg is younger than Ricky Simon. Borg has been in the UFC forever, and has already fought for the UFC flyweight title three years ago. Ricky Simon is still finding his spot in the bantamweight division. After starting 3-0, although his debut win was bullshit (the ref called a submission win after the bell was rung), Urijah Faber TKO'd him in 46 seconds in July 2019, then Rob Font beat him in December. Simon is a wild fighter. He doesn't really have a true style. He charges forward, his striking isn't technical or precise, but he wants to get close to you and grapple. His grappling and scrambling is strong and he will get a hold of you at some point. The problem comes when you leave your chin open and get caught, as Urijah showed and knocked him out in 46 seconds.
Borg is extremely talented, and it is a shame that he can't make 125 pounds. Borg's wrestling is at another level. His control is top notch. His last two wins were utter domination. They were totally boring to watch, and he has become very one dimensional, but he got the win. His striking has taken a huge step back. He barely tries to stand anymore, if he doest throw any strikes, there are no combinations. It's just a shot to get in to get a takedown.
I don't doubt that Borg might have some success taking down Simon. Borg fighting without the weight cut has to be better than Borg with the weight cut. But, I don't think he will be able to keep a hold of the bigger Simon for long. Simon is a good scrambler himself and I don't think Borg's gas tank will be able to hold up. Simon has great cardio and I think he will be able to out last Borg in this one.
Ricky Simon by decision
PRELIMS
ANDREI ARLOVSKI V. PHILIPE LINS
The gatekeeper of the heavyweight division Andrei Arlovski welcomes the 2018 PFL heavyweight tournament champion Philipe Lins to the UFC. Since 2016, Arlovski is 3-9 with 1 no contest. That is a brutal stretch that features some of the top heavyweights and some heavyweights that didn't quite make it. It's amazing to see Arlovski's resume, he has fought nearly everyone. He is always in the fight. He isn't easy to put away. Since 2016, in his 9 losses, the TKOs were from Stipe Miocic, Alistair Overeem, Francis Ngannou, and Jairzinho Rozenstruik. I'd say those guys have knocked out their fair share of heavyweights in their day. Lins is making his debut after taking 2019 off due to an injury. He won the heavyweight tournament for PFL in 2018 and is looking to make it in the UFC next. I am impressed he is starting with the gatekeeper of the heavyweight division. Lins' 4 fights in the PFL tournament were all finishes, 3 TKOs and 1 submission. He is a BJJ guy and has strong power. Arlovski's rough stretch might continue here.
Philipe Lins by 1st round TKO
MICHAEL JOHNSON V. THIAGO MOISES
Michael Johnson is just the epitome of mediocre. He is a gatekeeper. People don't know what to expect from him, or what is wrong with him. I just don't think he is an elite fighter. He is a good fighter, but he is not next level. He is a great athlete, but not a great fighter. There were glimpses, but he was never able to put it all together. He is going up against Thiago Moises who is making his 4th trip to the octagon. Moises is 1-2 in the UFC and is looking for the first real name on his resume. Moises is an American Top Team guy, so you know what his strengths will be, grappling. I don't think Johnson matches up well with Moises. Moises will probably dictate this fight, which doesn't bode well for Johnson.
Thiago Moises by decision
SIJARA EUBANKS V. SARAH MORAS
Sijara Eubanks has been one of the more confusing fighters in the UFC. She somehow made the finals of The Ultimate Fighter Flyweight championship tournament. She missed weight for the biggest fight of her career. She stayed at flyweight, won a couple of fights. But she had issues making weight, so she ended up moving up to bantamweight anyway. Eubanks is a solid wrestler and has a decent standup game. She is a pretty good fighter and when she puts it all together, including cutting weight, she will be pretty dominant. She is going up against a tricky Sarah Moras. Moras isn't the most talented fighter, but her grappling is very good, but Eubanks is stronger and a good wrestler. Her standup isn't as good as Eubanks' either. Moras' biggest advantage is cardio. I don't like the matchup for Moras.
Sijara Eubanks by decision
GABRIEL BENITEZ V. OMAR MORALES
Gabriel Benitez is a well rounded fighter that can do a bit of everything. Out of 21 wins, he has 7 KO/TKO, 10 submission, and 4 decision. He has not been the most active fighter due to injury, and is coming off an August 2019 loss to hot prospect Sodiq Yusuff, a 1st round knockout. Benitez usually fights at featherweight, but is moving up to lightweight for this fight, possibly just a last minute fight reason and not a full time move. He is going up against Omar Morales, who is making his 2nd trip to the octagon. He beat Dong Hyun Ma in his debut. Morales is undefeated and looked impressive in his Dana White Contender Series fight and in his debut. Morales will be bigger and has shown decent power, and has a couple of submissions on his resume. Morales' gas tank has not been tested too much, and Benitez might be the first one to test it.
Gabriel Benitez by decision
HUNTER AZURE V. BRIAN KELLEHER
Brian Kelleher is a man of the people. For all of the love Suga Sean and Bryce Mitchell get, Brian Kelleher should be getting love like that too. His fights are action packed and crazy. Out of his 7 fights, only 1 has gone to a decision, a win over Renan Barao. Kelleher is a kill or be killed type of fighter. I hope he makes a statement and shoots his shot in the post fight interview. Kelleher is a BJJ specialist that has knockout power too. He is going to attack from the beginning and go for the knockout and grab a limb if an opening permits. He is facing newcomer Hunter Azure, who made his debut in September 2019 with a victory over Brad Katona. Azure is a wrestler that has fallen in love with his power. He is aggressive as well, and it turns reckless because his gas tank isn't that deep. I think this fight is going to start out hot, with both guys moving quickly. My guess is Azure fires a shot first and Kelleher grabs a limb and manages to get a submission.
Brian Kelleher by 1st round submission
CHASE SHERMAN V. IKE VILLANUEVA
Chase Sherman makes his triumphant return to the octagon, did anyone know he was released?, I joke, but seriously, did anyone know? He faces Ike Villanueva, who is making his UFC debut. Villanueva was 3-0 in 2019, with 3 first round TKOs. Granted, they were all in Fury FC, but 3 first round TKOs are still impressive. Villanueva used to be a middleweight, then moved up to light heavyweight, and now fights at heavyweight. Sherman is the fastest heavyweight he has fought, so I am curious to see how he handles that. Sherman is obviously not the most talented heavyweight, he does not have much power. That was one of his downfalls that led to his release before. But Sherman was 3-0 with 3 first round TKOs since his UFC release in September 2018. This was a last minute fight, so was Sherman training? This is a tough fight to call, but I'd say go with the natural heavyweight.
Chase Sherman by decision
FIGHT OF THE NIGHT
DREW DOBER V. ALEXANDER HERNANDEZ