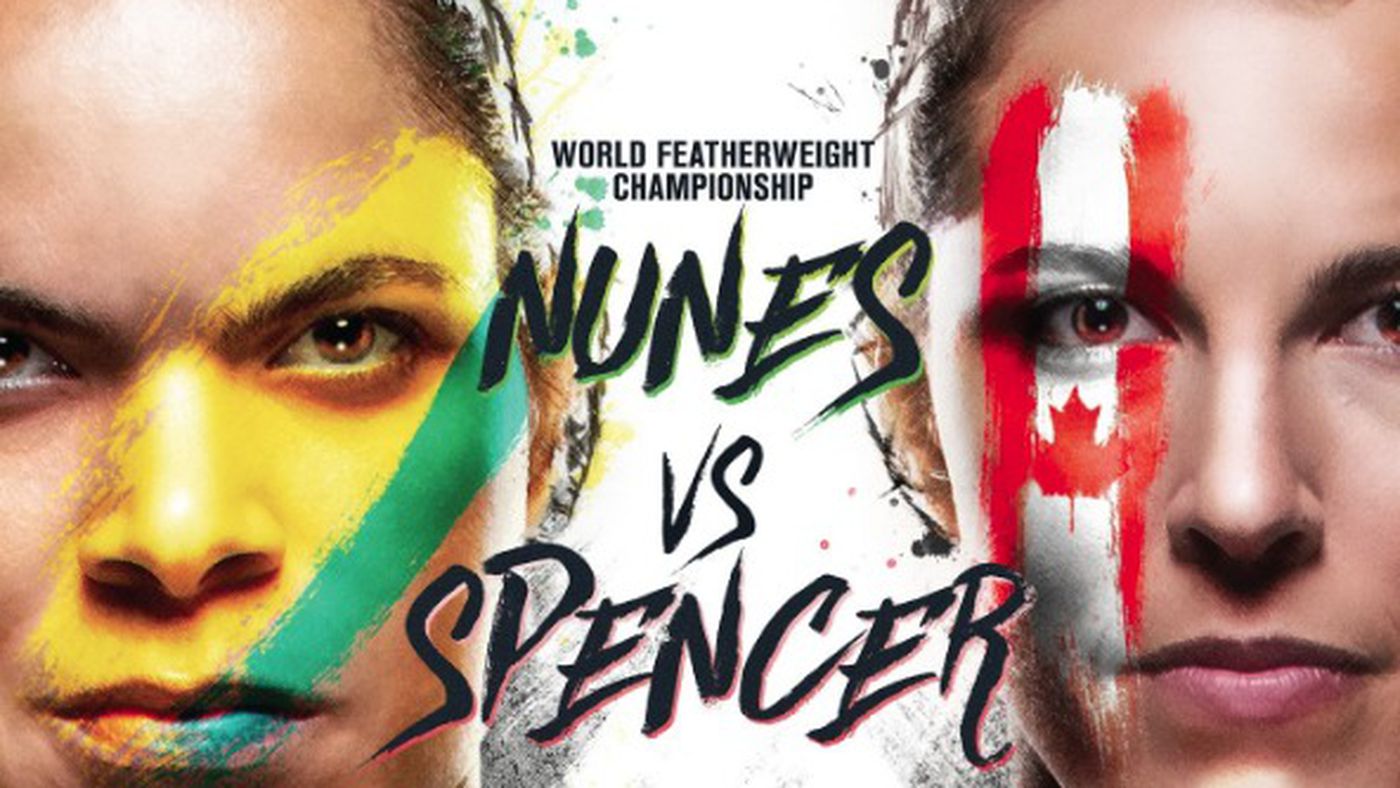 UFC Apex delivers its first PPV Saturday night. I hope the small cage delivers an exciting night of fights like it did last week. Last week saw a lot of finishes and exciting fights. The small cage didn't leave a lot of room for the fighters to run or post up. They had to get close and there was a lot of action. The female GOAT, Amanda Nunes, looks to make UFC pound for pound history when she becomes the first UFC fighter to defend a UFC title in two divisions while holding both belts. Former UFC men's bantamweight champion Cody Garbrandt is looking to get back in the win column to get in the title picture now that the title is vacant. You can include Garbrandt's opponent Raphael Assuncao, Aljamain Sterling, and Cory Sandhagen in that conversation as well. There are some intriguing matchups. The card isn't as stacked as UFC 249, but it should be a good night of fights. Here are my picks:
MAIN CARD
AMANDA NUNES V. FELICIA SPENCER
There have probably been bigger underdogs in UFC history than Felicia Spencer against Amanda Nunes, but it sure as hell seems like Spencer has almost no chance of winning this fight. Nunes is a beast and the best female fighter of all time. We all know her resume. Nicco Montana is the only UFC flyweight, bantamweight, and featherweight champion that hasn't lost to Nunes, but that is because they have never fought. Spencer is very talented but young. She showed a lot of grit against Cyborg, but she is just over matched against Nunes. I don't doubt that Spencer has a very good career ahead of her, but like the Cyborg fight, I think this might be a moral victory for Spencer.
Nunes has beaten Ronda Rousey, Cyborg, Miesha Tate, Holly Holm, Valentina Shevchenko (twice), Germaine de Randamie (twice). The Holm, Cyborg, Rousey, and Tate wins were finishes in the first round; the Cyborg and Rousey finishes came in less than a minute. Nunes' boxing is very good. Her footwork is impressive and she is precise and powerful. As she showed against Holm, she added kicks to her arsenal and you have to keep an eye on her feet as well. Her last fight she wanted to prove she had a gas tank; so she used her grappling to dominate GDR for a 5 round decision win. Nunes is a very complete fighter, her jiu-jitsu is outstanding and her boxing is great too. There really is no good place to fight her. Her cardio was her weakness, but she claims her GDR win should put that myth to rest. It is hard to argue with her there.
Felicia Spencer got the title shot by default because of the shallowness of the featherweight division in the UFC, and because Nunes wants to be the first fighter in UFC history to defend a title in two weight classes. That might be some bad luck for her. She made her UFC debut in May 2019, with a surprising first round submission win over Megan Anderson. She had a relatively quick turn around and fought Cyborg in July 2019 in Cyborg's rebound from losing the title fight. She put up a solid performance and earned a solid moral victory. She lost the decision, but really performed better than expected. She came back in February 2020 and had a first round TKO win over Zarah Fairn dos Santos to earn this title shot.
The one area that Spencer may have the advantage is in the clinch. But to get to the clinch, she is going to have to get close and she may have to take some damage. Nunes will capitalize on any openings she sees. Nunes' striking is explosive, precise and powerful. I think Nunes outguns Spencer and does it quickly.
Amanda Nunes by 1st round TKO
CODY GARBRANDT V. RAPHAEL ASSUNCAO
I was shocked to see this was the co-main over the Sterling v. Sandhagen fight. I guess being the former champion (Garbrandt) will give you that sway. That being said, I don't think Dana picked a bad fight to be the co-main event. This fight should be fun. Both guys like to throw with bad intentions. Garbrandt likes to move forward and go for knockouts, much to his detriment his last couple of fights. Assuncao is a counter striker with a bit of power. That's a combination for an explosive fight.
Garbrandt has had a wild career already. He came out the gates on fire. Started his career 5-0 with 4 KO/TKOs and 1 decision. His 6th fight was for the title against Dominick Cruz. He put on one of the best fights I've ever seen. An absolute perfect fight that made Cruz look like an amateur. Pure 5 round striking fight with Cruz, and he out Cruz'd Cruz. It was so impressive. Then the downfall. Juiced up TJ Dillashaw TKOd him twice, and Pedro Munhoz TKOd him in his last fight in March 2019. Garbrandt hasn't fought since then. His last couple of fights have been awful. He was overly emotional and just marched forward with his hands down and his chin up. He forgot his excellent boxing mechanics that made him the bantamweight champion. He took over a year off, he moved across the country to train with top striking coach Mark Henry. Garbrandt says he's fixed his mistakes and he's found his fire again.
Assuncao is one of those guys that's plagued because he has no personality and can't call his shots. He is 11-4 in the UFC, has been in the UFC for 9 years and has never fought for the title. Granted, he was close to fighting for the title twice and got hurt and was passed up for the title shot. Assuncao has beaten a lot of good bantamweights and just keeps getting passed over. He has a win over Dillashaw (Dillashaw did avenge the loss), Pedro Munhoz, Bryan Caraway, Aljamain Sterling, Marlon Moraes (Moraes avenged), and Rob Font. Like Garbrandt, Assuncao is coming in on a losing streak. He lost by 1st round submission to Marlon Moraes in February 2019, then lost by decision to Cory Sandhagen in August 2019. So, Assuncao sees this as a do or die fight as well.
Assuncao's standup game is counter striking. He is pretty slow and lets his opponent come forward and he throws bombs. If his opponent gets too close, he will grab them. His grappling is solid. Garbrandt's grappling has been nonexistent in his career. We can expect Garbrandt to try to keep this on the feet. Garbrandt's hands are fast and powerful. We will see pretty quickly if he made the adjustments to his striking defense. Even if he did make the adjustments, how does he respond? His last fight, after getting rocked, he just moved forward with his hands down and he didn't last long. I don't think this fight will last past the first round.
Cody Garbrandt by 1st round TKO
ALJAMAIN STERLING V. CORY SANDHAGEN
Sterling has been calling this the people's main event and I don't blame him. When Cejudo first retired I thought this should have been for the vacant title. It just makes sense, #2 ranked bantamweight Sterling v. #4 ranked Sandhagen. Why not make this for the title? Spruce up this PPV. At least make the co-main for the title, but I digress. I love this fight between two bantamweights that are really good. This is a big showcase here and the winner of this fight should get to be part of the vacant title fight, preferably against the winner of Pyotr Yan v. Jose Aldo. This matchup is highly intriguing. Both guys are tall and lanky bantamweights. They're both good at using length to their advantage. They're both good wrestlers. They're both young and hungry for a title shot and want to be the face of the bantamweight division. I love this matchup.
I guess I should preface this with the fact I have a slight bias towards the Serra-Longo fight team. But, I've always been intrigued by Aljo. Funkmaster is an apt nickname for him. His kick game is crazy. He has a weird standup game and very strong wrestling which he can use to get submissions. Since he got KOd by Marlon Moraes, something seemed to click and Aljo has gotten better every fight. He is on a 4 fight win streak now; with wins over Brett Johns, Cody Stamann, Jimmie Rivera and Pedro Munhoz. A win here should put him in the title fight. One thing to note, Ray Longo won't be making the trip to corner Aljo. Ragin' Al Iaquinta will be in the corner instead of Longo. They all work very closely. I'm not sure how it will affect Aljo, but something to note.
Cory Sandhagen is one of the guys at Elevation Fight Team that is on a tear, like Justin Gaethje, Drew Dober, and Alistair Overeem, and a title fight seems inevitable. This could be the launching point for him. He is 5-0 in the UFC, with 2 TKOs, 1 submission, and 2 decisions. His last 2 wins are his biggest, John Lineker and Raphael Assuncao. Both of those were by decision. Sandhagen has been slowly moving up the rankings. This will be a good test for him.
Sandhagen is a huge bantamweight and usually enjoys an extreme reach advantage. In this fight, Sandhagen has the height advantage, but the reach advantage is negligible. Their skills match up. They like to keep at distance with kicks. Aljo's striking is a little funkier, sorry for the pun. They're both strong grapplers with sneaky submission skills. I think Aljo is a bit better at everything but this is a very closely matched fight. It should be a great fight.
Aljamain Sterling by decision
NEIL MAGNY V. ANTHONY ROCCO MARTIN
It's always funny how PPV cards shake out. At UFC 249, Cowboy v. Pettis couldn't make the main card. At UFC 250, Neil Magny v. Anthony Rocco Martin makes the main card. No disrespect to either fighter, but let's be real, that's just crazy. That being said, this is a weird matchup of interesting welterweights. It could be an interesting fight. This might be a rough and tumble brawl. Or it could be a stalling brawl that both guys are hesitant to throw.
Neil Magny trains with the Elevation Fight Team, and those guys have been on a roll. Magny is coming off his March 2020 decision win over hyped prospect Jingliang Li. That was Magny's first fight in 1.5 years and Magny came in looking great. It was surprising. Magny uses his insane reach very well and just pumps out jabs and crosses at an insane pace. The volume of his strikes is very hard to keep up with and his reach keeps you at a distance that he is safe from grappling.
ARM was an oversized lightweight when he joined the UFC and had mixed results. He moved up to welterweight and did pretty well until he lost a close decision to Demian Maia. He bounced back well in November 2019 with a decision win over Ramazan Emeev. ARM is a brawler and sprawler. His brawling style is mostly counter striking, which is good for us since Magny throws for volume and tends to initiate violence. ARM has a grappling advantage, but he never attempts takedowns. He just stuffs them. I am hoping for an entertaining fight, but there is a possibility there is a lot of posturing.
Neil Magny by decision
EDDIE WINELAND V. SEAN O'MALLEY
The return of Suga Sean O'Malley. After USADA held him out for all of 2019, we get him back 3 months after beating Jose Alberto Quinonez by 1st round TKO. It is nice to see that the UFC doesn't rush some prospects up the ranks to get them the title shots because they're stars already. Suga is one of those guys. He has star written all over him, and he could easily be paired up with a top guy in the bantamweight division, whether he can keep up with them or not is a different story, but they're not rushing him. Eddie Wineland is a perfect next step in his move up the division.
Suga is 3-0 since joining the UFC in December 2017. His style is incredibly unorthodox and it is hard to keep up with his striking style. His footwork is crazy and so is his movement in the octagon. His striking is precise and accurate. He is someone to watch and that is obvious as he is a fan favorite already. He is coming off his toughest matchup yet, and it was his first finish in the UFC, a first round TKO over Jose Alberto Quinonez. Now he gets Eddie Wineland, another step up in competition for him.
Eddie Wineland has fought nearly every bantamweight you can think of. It is impressive, I didn't realize how long he has been fighting or how good he was. He seems to be the gatekeeper of the bantamweight division. He is a brawler and likes to keep his hands low, which isn't a smart move against Suga. Fighting that way won't help him.
After Suga's last fight, he mentioned we haven't seen all the tools in his tool box. I think Wineland will fight his usual fight and march forward with hands down. Suga will catch him, and take him down and show us his grappling skills and earn his first UFC submission win.
Sean O'Malley by 2nd round submission
PRELIMS
ALEX CACERES V. CHASE HOOPER
Fun matchup of featherweights here. Perennial prospect Alex Caceres v. up and coming prospect with the big personality, Chase Hooper. Caceres' striking is his strength as his nickname "Bruce Leeroy" indicates, so he is going to try to keep this fight on the feet. But 7 of his 12 losses come by submission, so grappling is definitely his weakness. His last loss, Kron Gracie just jumped on his back and submitted him. Chase Hooper is 1-0 in the UFC and made his debut in December 2019 with a bang. A first round TKO win over Daniel Teymur. Hooper is one of those strong grapplers that matches up well against Caceres. As long as he can get inside Caceres' range, he should be able to get a hold of him and take him down and submit him or ground and pound him into oblivion.
Chase Hooper by 1st round submission
IAN HEINISCH V. GERALD MEERSCHAERT
I am glad this fight is back on. These guys put on great fights. Both of these guys are really tough. Heinisch has never been KO/TKOd. Meerschaert has only been KO/TKOd once, and it was by Thiago Santos. So I don't think there will be a KO/TKO in this fight. Meerschaert is a grappler that has worked on striking to open up grappling. His striking technique includes an insane amount of volume which really helps him. He is not the most athletic fighter. He's a scrapper, the gatekeeper of the middleweight division. Meerschaert has a list of prospects on his resume. He finds ways to win fights. It's impressive. Heinisch is a wrestler that throws bombs. Heinisch struggles when he can't get takedowns, and Meerschaert doesn't get taken down easily. When Heinisch can't get the takedown, he fights aggressively on his feet. With Meerschaert's volume striking, this could leave Heinisch eating a lot of strikes. This could be a bloody brawl.
Gerald Meerschaert by decision
CODY STAMANN V. BRIAN KELLEHER
Brian "Boom" Kelleher is making his 3rd trip to the octagon in 2020. That is just fucking crazy. It is the first week of June and it is his 3rd fight of the year. He fought less than a month ago. I hope it isn't too soon. Boom is taking advantage of the corona shutdown. He knows all eyes are on the UFC and he is trying to fight as many times as possible while UFC is the only sport going on. You can bet he is going to go out there and try to get a quick kill. Boom is a jiu-jitsu specialist and has hands of stone. He is going to come out of the gates hot and look to put on a show. Cody Stamann is mainly a wrestler with decent striking. His chin is solid, he's only lost twice, never by KO/TKO. Boom has the advantage on the feet. And while boom is a strong grappler with his jiu-jitsu, Stamann's wrestling is extremely good and I would say his ground game is better. I think the small octagon will favor Boom Kelleher here.
Brian Kelleher by 1st round TKO
CHARLES BYRD V. MAKI PITOLO
A matchup of Dana White Contender Series middleweight prospects that both need a win. Charles Byrd beat John Phillips in his debut by 1st round submission in March 2018. Then followed that up with 2 TKO losses to Darren Stewart and Edmen Shahbazyan. Might have been a case of too much too soon. Maki Pitolo lost his debut in October 2019 to Callan Potter, and decided to move up to middleweight from welterweight. Maki packs quite a punch, and that's about all he usually does. He is a swing for the fence fighter. That's why his nickname is "Coconut Bombz". Byrd is the more well rounded fighter. Maki is the more dangerous fighter. Byrd hasn't shown the finishing power that Maki has. If Byrd can avoid a Coconut Bomb, the fight is his.
Charles Byrd by decision
EARLY PRELIMS
JUSSIER FORMIGA V. ALEX PEREZ
Jussier Formiga by decision
ALONZO MENIFIELD V. DEVIN CLARK
Alonzo Menifield by 1st round TKO
EVAN DUNHAM V. HERBERT BURNS
Herbert Burns by 1st round submission
FIGHT OF THE NIGHT
ALJAMAIN STERLING V. CORY SANDHAGEN