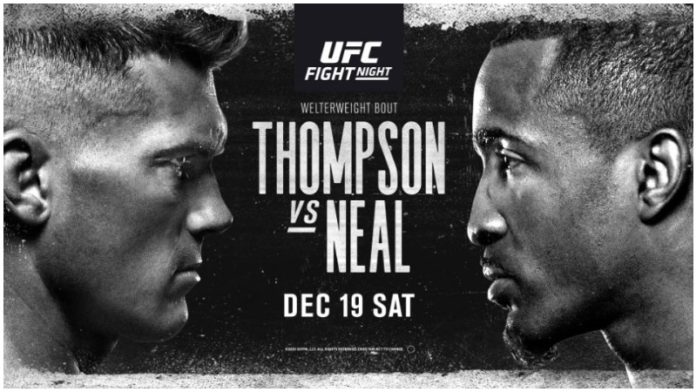 Well, this wraps up the shit storm that has been 2020, at least for the UFC. UFC probably saved 2020 for most of us, and it has been great. Dana White is my MVP for the year. He saw an opportunity in the quarantine era and started putting on cards every week. He even gave us the smaller octagon which has given us more entertaining fights, even if he won't acknowledge the truth. Then he started the Apex center and Fight Island. Hell, I will go so far as to give him partial credit for the peace deal between UAE and Israel…too far? Ok, back on topic. The UFC has been awesome this year and delivered weekly cards for us during this shitty year of quarantine. Last week's UFC 256 was excellent and saw Charles Oliveira open and semi-close the year with big wins. He had a big win on the last card with fans at UFC Brasilia over Kevin Lee, then last week he dominated Tony Ferguson. That brings us to today.
I love this card. There are some solid fights on this card. These days, I prefer when I don't love the cards because those are the ones that deliver more often, but there are some violent matchups here.
MAIN CARD
STEPHEN THOMPSON V. GEOFF NEAL
This is a great matchup. I really like both guys. Geoff Neal was really sick a couple of months ago, and I am not confident enough in his recovery to pick him here. If he wasn't sick, I would probably roll with him. He is younger, and was on an absolute roll. He is very talented, and if he is fully recovered from death's door, Wonderboy might be in for a long fight. Neal will be relentless with takedowns and ground and pound. Neal is a strong striker and his wrestling is solid. If he isn't recovered, we will see a typical Wonderboy fight, Wonderboy will pick and pop and keep Neal at a distance and frustrated. That being said, he is only a couple of months removed from being on dialysis and I am not confident betting on that. Plus, I am biased for Wonderboy.
Stephen Thompson (-110) by 4th round TKO
JOSE ALDO V. MARLON VERA
Another solid matchup. I have an awful memory. There are a couple of guys I always mix up between weight classes. They are usually guys that I really like or really hate. Well, I really like Charles Oliveira and Marlon Vera. And on back to back weekends I get to see them face legends. Last weekend, I picked Oliveira to beat Tony, and this weekend I am rolling with Chito Vera to beat Aldo. Aldo has been decent at bantamweight, but not really. He doesn't use his leg kicks anymore and his power isn't what it was at featherweight. I think age might be catching up to him, and cutting to bantamweight doesn't help. I just think it's time for Chito to shit or get off the pot, and for me, he's taking a big shit on Aldo's bantamweight career.
Marlon Vera (+125) by decision
MICHEL PEREIRA V. KALINN WILLIAMS
Wildman vs. Wild knockout artist. This matchup will be absolute khaos. Pun intended. I have no idea what to expect here. This is a wild fight. Pereira seems to have matured a little bit. He still dances a little bit, but saves a little energy to the end of the fight. Khaos Williams has the insane knockout power we know he has, but can he last deep into the fight. My guess is that Pereira stays out of danger and grapples a bit to tire Khaos out and eventually wears him out for a finish.
Michel Pereira (-120) by 3rd round TKO
MARLON MORAES V. ROB FONT
This is a tough one to call. I love this matchup, as you can see below, this is my prediction for fight of the night. This should be a violent one. I have been on the Rob Font bandwagon for a while. Maybe not as a champion, but as an entertaining fighter. Font moves forward looking for action. Moraes is a counter striker. Moraes might end this quickly if he catches him. Font might be able to catch him. Moraes' gas tank isn't great, we all know that. But I see this one being a grind it out brawl. I think this will be a bloody one. I love this matchup. This is Font's biggest test. This might be a biased pick for me, but I will ride with Font here.
Rob Font (+125) by decision
MARCIN TYBURA V. GREG HARDY
This might be a biased pick as well. Marcin Tybura is the most boring heavyweight. He is a lay and pray heavyweight. No one wants to see that. I am hoping Hardy knocks him the fuck out and that he does it quickly.
Greg Hardy (-125) by 1st round TKO
PRELIMS
ANTHONY PETTIS V. ALEX MORONO
This should be an interesting one for Pettis. Morono isn't the best athlete. He is violent and likes to move forward. That is Pettis' best opponent. This should suit him well. I am thinking Pettis catches him and then does some work on the ground.
Anthony Pettis (-240) by 2nd round submission
SIJARA EUBANKS V. PANNIE KIANZAD
I am going with the underdog for the hell of it. This is a battle of halves. Sijara usually wins the first half of the fight. Pannie usually wins the second half of the fight. Who knows who will get the win here?
Pannie Kianzad (+125) by decision
DERON WINN V. ANTONIO ARROYO
Rollie pollie Winn v. a guy who is 9 inches taller than him. I don't know why I picked Winn. Maybe the DC Jr. bias, but this will be a weird matchup. Winn is 5'5 and 195 pounds. This is fun to watch.
Deron Winn (+140) by decision
GILLIAN ROBERTSON V. TAILA SANTOS
I like Robertson a lot. She is a great grappler and can submit anyone at any given moment. Taila's last fight, she murdered my Motherfucking Meatball Molly McCann. It was hard to watch. I am picking Taila here hoping to jinx her. Taila looked like an absolute monster in her last fight and she has a big reach advantage and will look to keep Robertson at a distance and not let her get a takedown.
Taila Santos (-115) by 3rd round TKO
TAFON NCHUKWI V. JAMIE PICKETT
Not sure who either of these guys are but Tafon looks like he can knock guys out.
Tafon Nchukwi (-325) by 1st round TKO
JIMMY FLICK V. CODY DURDEN
Jimmy Flick looks like Jimmy Fuck, and I am rolling with him.
Jimmy Flick (-150) by 2nd round submission
CHRISTOS GIAGOS V. CARLTON MINUS
Can't go with a guy whose last name is Minus.
Christos Giagos (-325) by 3rd round TKO
FIGHT OF THE NIGHT
MARLON MORAES V. ROB FONT