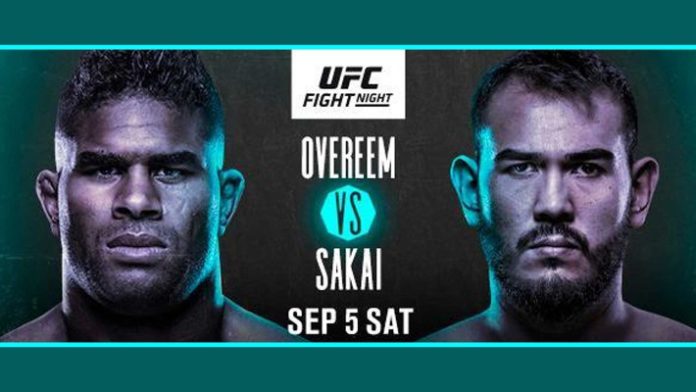 This card has all the downsides of the Rona era of UFC. A lot of matchups of people you've never heard of. Not many ranked guys or fights that mean anything for title shots. The main event barely scratches title contention. The card has been devastated by pull outs. Two fights have been pulled today alone. Now the card has 7 fights and there are no prelims. It is pushed back an hour. It is disappointing. I wouldn't cancel it and I am not someone that would preach we need to shut everything down. DEFINITELY NOT. I am just depressed because of how small the card is now. At least we have the small octagon. Well, here are my picks. Enjoy.
MAIN CARD
ALISTAIR OVEREEM V. AUGUSTO SAKAI
This is a very interesting main event spot. Overeem does nothing but fight in the main event, not that he doesn't deserve it. And if it wasn't for the last second exploded cheek TKO from Jairzinho Rozenstruik, Overeem would be riding a 4 fight win streak. I was going to say and be one win away from a title shot, but in the UFC you are always one win away from a title shot. Or I guess winning doesn't really matter anymore, look at Jose Aldo. But I digress, Overeem is back in the main event slot here and I like this matchup for him. Overeem has been around forever, so we know what he brings to the table. His kickboxing is excellent. He has great footwork. His striking is accurate and his striking defense is strong. His clinchwork and grappling is good as well. Overeem is one of the best heavyweights of all time. But as we know, his chin is not great, realistically a well placed strike from a heavyweight will knockout anyone. This matchup brings Augusto Sakai, a heavyweight that relies more on volume than power. Something that has to be a relief to Overeem.
Sakai is 4-0 in the UFC and riding a 6 fight win streak. His last loss was to Cheick Kongo in Bellator in 2017. Four of those 6 wins are by KO/TKO, the other 2 were by decision. Sakai relies on a pressure and clinch style of fighting. He throws a lot of volume. His strikes are not the most powerful but he throws an overwhelming amount of strikes. He is not the prototypical heavyweight offensively. It has worked for him in the UFC so far, but I will say his last win, a decision over Blagoy Ivanov, was definitely controversial. Now he gets his biggest spot since joining the UFC, his first main event against an all time great.
Sakai's unorthodox offense might throw off Overeem and overwhelm him. Overeem's age might finally catch up to him. Sakai is 15-1-1, he is definitely a talented fighter with a long career ahead of him. But Overeem is the best fighter he has faced so far. Overeem matches up well with Sakai's fighting style. If Sakai clinches up, I wouldn't be shocked if Overeem tries to take this fight to the ground and we see some grappling. I also wouldn't be shocked if Overeem tries to use his kickboxing to keep Sakai at a distance. Sakai is going to move forward and try to initiate the action and I think he will like the small octagon.
Alistair Overeem (-170) by decision
OVINCE SAINT PREUX V. ALONZO MENIFIELD
Ovince Saint Preux makes his return to the light heavyweight division after a one fight stop at heavyweight. This is tough for me. Conflicting rules in this fight. I don't pick OSP and I don't like to pick guys with bad gas tanks. OSP is a low volume striker that looks for a chance to grapple. He eats a lot of shots and prays for an opening. Whenever his fights end, I am usually left with a bad taste in my mouth. I'm definitely an OSP hater. Then there is Alonzo Menifield who cannot fight past the first round. Maybe he has fixed his gas tank issues. He is newer to the UFC so I would give him the greater benefit of the doubt to fix his issues than OSP. Menifield has tremendous power. Eight of his 9 wins have come by KO/TKO, the only non KO/TKO win was a submission win. His one loss was a decision. So of his 10 fights, only 1 went to the judges. Only 3 of his fights have left the 1st round, and only 1 has made it to the third round. His loss, which was his last fight, was a decision to Devin Clark. He completely gassed after the first round and was pretty much inactive the rest of the fight.
I don't really like either of these guys all that much. I like Menifield's potential more than I like what I have seen from OSP. OSP has the experience and is a craftyish veteran but he spends long stretches of fights inactively. He eats a lot of shots looking for grappling openings. He wants to get more Von Preux chokes. This isn't a great strategy. I think it will hurt him against a guy with explosive power like Alonzo Menifield. If this fight gets out of the first round, I'd probably throw money on OSP.
Alonzo Menifield (-130) by 1st round TKO
MICHEL PEREIRA V. ZELIM IMADAEV
This should be a good one. Two weird and crazy strikers facing off. Michel Pereira gets a shot at redemption after his disqualification loss to Diego Sanchez in February that followed his loss to Tristan Connelly in September. The two losses were polar opposites for Pereira. Against Connelly was an overconfident Pereira gassing out after 2 minutes and Connelly grinding out an ugly win. Against Diego, Pereira was dominating for 2.5 rounds before stupidly kneeing a downed Diego. Diego then said he couldn't continue and Pereira was DQ'd. Pereira seemed to have fixed his errors from the Connelly fight. He looked really good. He uses a capoeira striking style, which is weird and hard to time and predict. He is strong and a good grappler too. If he can work on his gas tank and make weight, he can be a threat.
He is facing off against Zelim Imadaev. Imadaev is a raw prospect. He is mostly a striker with a lot of power. He came to the UFC in April 2019 8-0 with 8 KO/TKO wins. He was beating cans and overmatched opponents. Knocking them out easily. He went 0-2 in 2019 in the UFC. His debut was a decision loss to Max Griffin. Then in November 2019, he got knocked out by Danny Roberts in the 2nd round. He is looking to bounce back here.
Pereira seems to be the more well rounded fighter. They're both strong strikers with power. Pereira's style is more unpredictable. But neither are conservative, orthodox boxers. Pereira has more grappling in his arsenal. Neither has the strongest gas tank, but I would probably say Imadaev's gas tank is deeper. Imadaev is an aggressive striker so he will move forward and stand and trade with Pereira. Pereira will not be opposed to this. I wonder if Pereira will do his flips and flops. This will be an interesting fight and I think we will see some crazy shit.
Michel Pereira (-130) by 1st round TKO
ANDRE MUNIZ V. BARTOSZ FABINSKI
Bartosz Fabinski (-160) by decision
BRIAN KELLEHER V. RAY RODRIGUEZ
As a bald guy with a beard from Long Island, New York myself, I have a deep affinity for Brian "Boom" Kelleher. Then you add in how exciting his fights are and you make me a big fan of this guy. He's a great brazilian jiu-jitsu guy, and has insane power in his hands. His nickname "Boom" is an apt nickname. He has 8 KO/TKO wins on his resume. As to his BJJ credentials, he has 9 submission wins as well. Boom has entertaining fights, period. He knows how to put on a show in the octagon. Today, he gets an extremely late notice replacement, Ray Rodriguez. This was supposed to be Ricky Simon. Ricky got the Rona a couple of weeks ago and had to pull out. Then Kevin Natividad stepped up for the fight. This morning he pulled out for Rona reasons. Now Ray Rodriguez is stepping in as he weighed in yesterday as a backup. I don't know anything about him. But I am rolling with my man Boom.
Brian Kelleher by 3rd round submission
VIVIANE ARAUJO V. MONTANA DE LA ROSA
Viviane Araujo (-180) by decision
COLE SMITH V. HUNTER AZURE
Cole Smith (+200) by 2nd round submission
FIGHT OF THE NIGHT
BRIAN KELLEHER V. RAY RODRIGUEZ