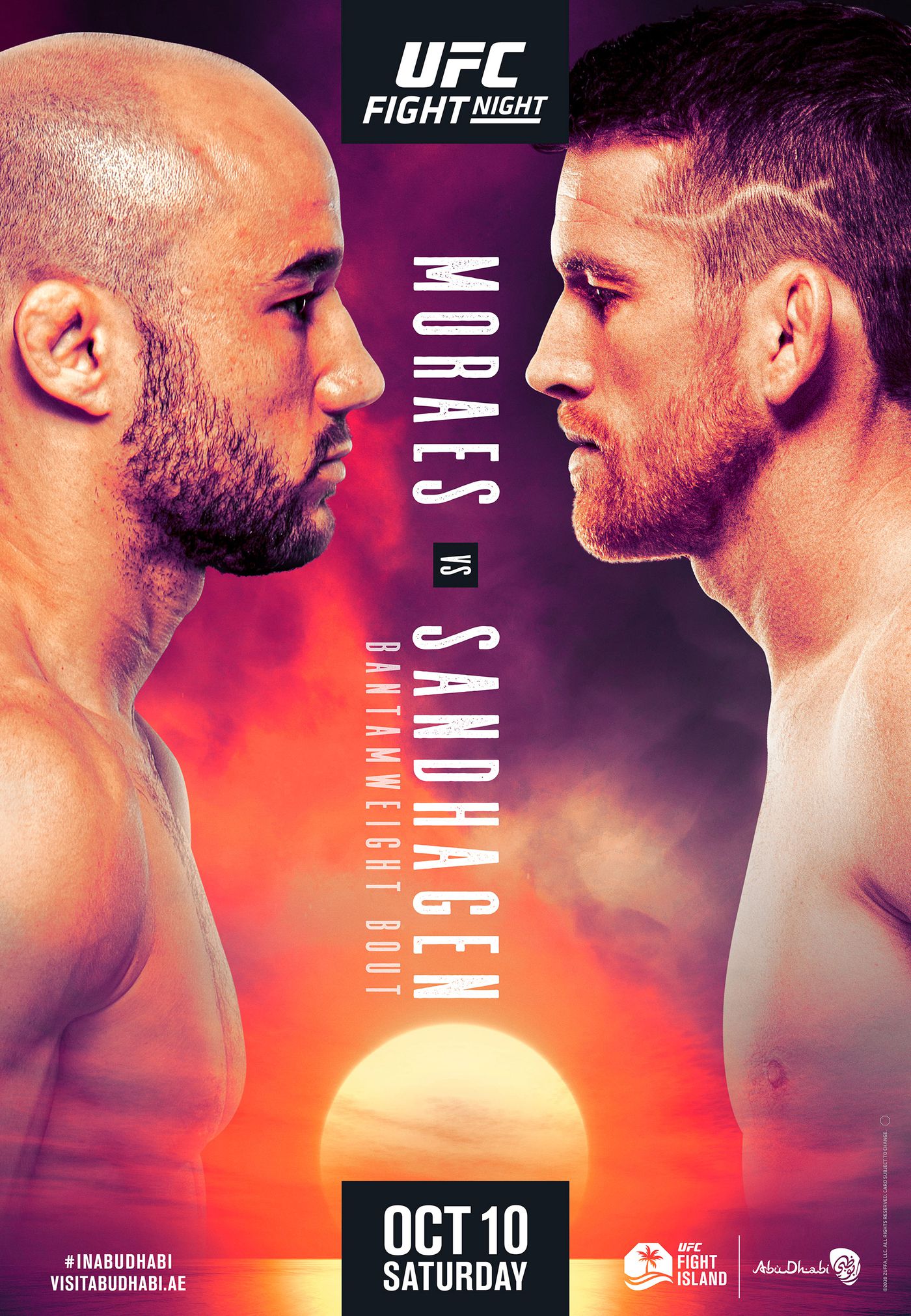 MAIN CARD
MARLON MORAES V. CORY SANDHAGEN
The winner of this fight should get an opportunity to fight the winner of Petr Yan v. Aljamain Sterling for the Bantamweight title. That's some pretty big motivation. Moraes had a shot at the bantamweight title in June 2019, but Cejudo outlasted him. Sandhagen fought Sterling in June 2020 with the winner getting the title shot against Yan, and Sterling jumped on his back and choked him out in a minute and a half. This should be an entertaining and fun fight. I can't imagine either guy will try to take the fight to the ground.
Moraes' fighting style is explosive and powerful. He tries to put his opponent out quickly and go home. Thirteen of his 23 career wins are first round finishes. He has some submission wins, but grappling is not his primary area of attack. Ten of his 23 wins are by knockout. He is 5-2 since joining the UFC with his wins coming over John Dodson, Aljamain Sterling, Jimmie Rivera, Raphael Assuncao (who also beat Moraes), and Jose Aldo. That is a pretty good resume.
Sandhagen is the polar opposite striker to Moraes. Sandhagen is tall and lanky. Isn't all that explosive. He relies on footwork and volume. He won't blow you away with crazy knockouts. Sandhagen at 5'11" is one of the tallest bantamweights and he is good at fighting at distance. He has good cardio and has a solid chin. He was able to take everything Raphael Assuncao could take and out last him.
This is a tough one to call. Moraes comes out quick and explosively. He wants to get a finish and is pretty good at it. Sandhagen is not the quickest starter. Sterling took advantage of that 4 months ago and choked him out in a minute and a half. Sandhagen has a big height and reach advantage. I like Sandhagen here, I like his cardio and his reach. But sometimes there are matchups I just don't like and this might be one of them. Sandhagen is coming off of his first UFC loss, an embarrassing first round submission. Moraes is coming off a win, where the loser of the fight got a title shot. He is a quick starter. If Moraes comes out with leg kicks and body kicks, I think he can put this one away. The longer the fight lasts, the better Sandhagen's chances of winning are, but I like Moraes here.
Marlon Moraes (+110) by 1st round TKO
EDSON BARBOZA V. MAKWAN AMIRKHANI
Classic striker v. grappler matchup here. Long time veteran Edson Barboza is making another appearance at featherweight and is hoping for his first win in the division. I thought he beat Dan Ige for what it's worth. That was a weak decision. His decision loss against Paul Felder wasn't a great decision either. Barboza hasn't had great luck in his last couple of fights, he's lost 5 of his last 6 fights. He's facing a tough grappler in Makwan Amirkhani. He's 6-2 since joining the UFC in 2015. His last fight was a first round submission win over Danny Henry in July 2020. What makes this an interesting matchup is that Amirkhani does not have a great gas tank for a grappler. Usually grapplers have amazing gas tanks that help them grind out wins. His last loss, in November 2019, he was dominating Shane Burgos but gassed out in the 3rd round and got knocked out.
This should be a very entertaining fight. It is definitely one I am looking forward to. Edson Barboza is one of those guys I love watching fight. His last couple of ones have been hard since he's had such bad luck, but maybe this one will turn out well for him. Personally, I don't think so. He isn't getting any younger, and now he is cutting down an extra ten pounds. I would like to see Barboza get another one of his highlight reel kicks but I think this might be a grinding affair. Barboza can grapple so this might get ugly.
Makwan Amirkhani (+220) by decision
BEN ROTHWELL V. MARCIN TYBURA
There are heavyweight fights that are must watch, that you feel like an idiot if you have plans that will force you to miss. Then there are heavyweight fights like this one. Tybura is the world's most boring heavyweight fighter. All he does is try to take you down and lay on you until the fight is over. Rothwell at least tries for entertaining fights but doesn't have the knockout power that he used to have. Rothwell's grappling is pretty good. He's probably one of the better grapplers that Tybura has ever faced. It won't be easy for Tybura to take him down. I can't imagine this fight not going the distance. I can't imagine there has been a heavyweight fight I have been less excited for. Rothwell is the more well rounded fighter with better skills.
Ben Rothwell (-155) by boring decision
MARKUS PEREZ V. DRICUS DU PLESSIS
Dricus Du Plessis (-170) by decision
TOM ASPINALL V. ALAN BAUDOT
This is a heavyweight fight that should be more entertaining than the one above. Granted, Alan Baudot is not a real heavyweight. He is a light heavyweight stepping up on late notice. Aspinall was in the UFC for a bit, then left to box, and came back and has been a knockout machine ever since. Baudot is also a knockout artist. Both of these guys have 8 wins with 7 by KO/TKO. This fight should be explosive. I am excited by this one. You should not walk out of the room when these guys step into the octagon. I am looking at the bigger, more technical striker, Tom Aspinall to get the W here. But, the odds are so stacked in his favor, if you're feeling up for it, throw some money on Baudot.
Tom Aspinall (-700) by 1st round TKO
YOUSSEF ZALAL V. ILLIA TOPURIA
I have a feeling this will be an ugly fight. These guys are both grinders. They both rely on tough wrestling and distance striking. Zalal has 3 UFC fights under his belt. Topuria is making his UFC debut, and doing it on short notice. Zalal hasn't really impressed me all that much, but he has a good gas tank. I don't know much about Topuria, but I would probably be more likely to roll with him if it wasn't short notice.
Youssef Zalal (-170) by decision
PRELIMS
TOM BREESE V. KB BHULLAR
KB Bhullar (+195) by 2nd round TKO
CHRIS DAUKAUS V. RODRIGO NASCIMENTO FERREIRA
Chris Daukaus (+210) by 1st round TKO
IMPA KASANGANAY V. JOAQUIN BUCKLEY
Impa Kasanganay (-250) by decision
ALI ALQAISI V. TONY KELLEY
Tony Kelley (-225) by decision
GIGA CHIKADZE V. OMAR MORALES
Omare Morales (-165) by entertaining decision
TRACY CORTEZ V. STEPHANIE EGGER
Tracy Cortez (-190) by decision
BRUNO SILVA V. TAGIR ULANBEKOV
Tagir Ulanbekov (-500) by 1st round submission
FIGHT OF THE NIGHT
GIGA CHIKADZE V. OMAR MORALES