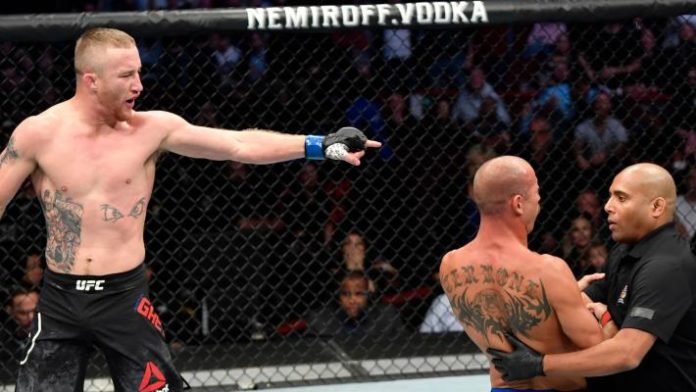 BEST WINNERS

TRISTAN CONNELLY. Connelly took this fight on 5 days notice. I thought that was going to be a big disadvantage for him. Finding out he was a lightweight going up against a big welterweight gave me doubts that Connelly would survive a round. Especially going up against one of the most unconventional strikers in MMA history in Michel Pereira. So what did Connelly do? He absolutely dominated Pereira. Made Pereira look like an amateur. Connelly landed nearly 100 more total strikes, and landed 2x as many significant strikes as Pereira did. Connelly controlled and dominated the fight from the end of the first round to the final bell at the end of the third round. Connelly made a name for himself and it was a great performance.

MISHA CIRKUNOV. Misha Cirkunov was coming in losing 3 of 4 fights, all by knockout. He needed a win in the worst way. He came out strong, swinging hard and fast trying to catch the undefeated Jimmy Crute. They each caught each other and looked like they were going to get a finish. Cirkunov was able to take Crute down and caught him in a Peruvian Necktie, the first one in light heavyweight history.

AUGUSTO SAKAI. This was Sakai's 4th UFC fight. He was coming off an unimpressive split decision win over Andrei Arlovski. I didn't think Sakai won that fight. He was going up against the veteran, well experienced Marcin Tybura. Sakai made a statement with a 1 minute knockout win. Now Sakai is 4-0 in the UFC and looks like a promising prospect. Hopefully, they don't rush him to the top and give him too much too soon.

AUSTIN HUBBARD. Austin Hubbard lost his UFC debut to Davi Ramos. Hubbard wanted to prove that he belongs in the UFC. He put on an outstanding fight against Kyle Prepolec. Hubbard was better standing up, and better on the ground. Hubbard landed 90 more strikes than Prepolec. He also landed 3 out of 5 takedowns. Hubbard was winning this fight no matter where it took place.

LOUIS SMOLKA. This was Louis Smolka's third trip to the octagon of his second stint in the UFC. He was 1-1 coming off a March loss to Matt Schnell. Smolka looked fresher and more precise than Ryan MacDonald. Smolka went to work quickly and he was able to catch MacDonald and get the finish before the first round ended.

WORST WINNER

URIAH HALL. I picked Uriah Hall to win this fight. I like Fortis MMA, and I saw this move as a big game changer for Uriah. Uriah's hunger and conditioning did look better, but he still has the same weaknesses he's had the last couple of years. Too often he let Shoeface dictate the pace of the fight, and Uriah wasn't assertive. He wasn't constantly throwing his jab, even though it was working. He is still relatively new to Fortis MMA, so maybe they can get him to fix these issues before his next fight, but I can say I was not impressed with Uriah and I thought he lost this fight.

BEST LOSER

ANTONIO SHOEFACE CARLOS JR. I did not pick Shoeface to win this fight, but when the final bell rang, I thought he had the fight locked up. He was the aggressor, he was outlanding Uriah, although I admit Uriah landed more power shots, and Uriah did knock Shoeface on his ass once or twice. Shoeface was constantly moving forward, jabbing and going for takedowns. He got 3 out of 8 takedowns attempted. Not bad while going up against Uriah Hall who does have solid takedown defense. I thought Shoeface did enough to win the fight. And if you watched the decision be announced, Shoeface and Uriah Hall agree with me on that.

DISAPPOINTMENT OF THE NIGHT

MICHEL PEREIRA. Michel Pereira came in with a lot of hype because of those videos of him flipping in the middle of fights and scoring ridiculous knockouts in smaller promotions. His UFC debut was a quick first round knockout of Danny Roberts in March. Pereira was facing off against a lightweight that took the fight on 5 days notice. Then Pereira missed weight. He was one big disappointment.

MY FIGHTER OF THE NIGHT

DONALD COWBOY CERRONE. I love Cowboy. He is one of my favorite all time fighters. I think a lot of UFC fans would say that. It's impossible to not love the guy. He will fight anyone, anywhere, any time. It is awesome, but at the same time it isn't good for him. Sometimes he takes these fights so soon that it seems impossible for him to be physically ready for the fight. That is usually when he loses. He wins a whole lot more than he loses, as you can tell by Cowboy being the UFC career leader in wins, finishes, and bonuses. He has already fought 4 times in 2019. In 4 months, he went 5 long brutal rounds in a win against Raging Al Iaquinta, he lost by doctor stoppage after the 2nd round in a brutal fight against Tony Ferguson, and then was knocked out in the first round by Justin Gaethje. I love Cowboy, and want him to fight as long as possible, I would just like him to take some more time between fights so he can be his best and work towards another shot at the title.

PERFORMANCE OF THE NIGHT

TRISTAN CONNELLY. There's not much more I can add to what I wrote above, but to top off his excellent performance, his fight against Michel Pereira won the "Fight of the Night" bonus, and since Pereira missed weight, Connelly took his share of the $100,000 bonus. A pretty good night for the Canadian.

SAVAGE OF THE NIGHT

JUSTIN GAETHJE. Want to know how much of a savage Justin Gaethje is? In his 6 UFC fights, he has won 7 performance bonuses. That is pretty damn impressive. Gaethje is a former Division I NCAA All American Wrestler, and has only attempted 1 takedown in his 6 UFC fights. He is on a 3 fight win streak, all coming by way of 1st round knockout. All 6 of his UFC fights have been finished. He has won 4 of those 6 fights. The competition he has faced has been pretty damn good too. He has faced off against Michael Johnson, Eddie Alvarez, Dustin Poirier, James Vick, Edson Barboza, and Donald Cerrone. That is a pretty tough stretch of fights. Gaethje is one of the most exciting fighters and he knows it and doesn't plan on changing his style. Gaethje looked great and his strikes seemed to have a lot more power than Cowboy's strikes. Gaethje was able to drop Cowboy and get a first round win with 42 seconds left in the first round. There are only two fights Gaethje should take after this win. The winner of Khabib v. Ferguson; or take the fight against Conor McGregor. I don't think Conor would accept a fight against Gaethje, but Conor should not be in discussion for a title shot without winning another fight. Khabib made Conor look like a little bitch. Gaethje v. Conor would be very entertaining and a great matchup of styles.

NOT FIGHT OF THE NIGHT

TODD DUFFEE v. JEFF HUGHES

FIGHT OF THE NIGHT

DONALD CERRONE v. JUSTIN GAETHJE