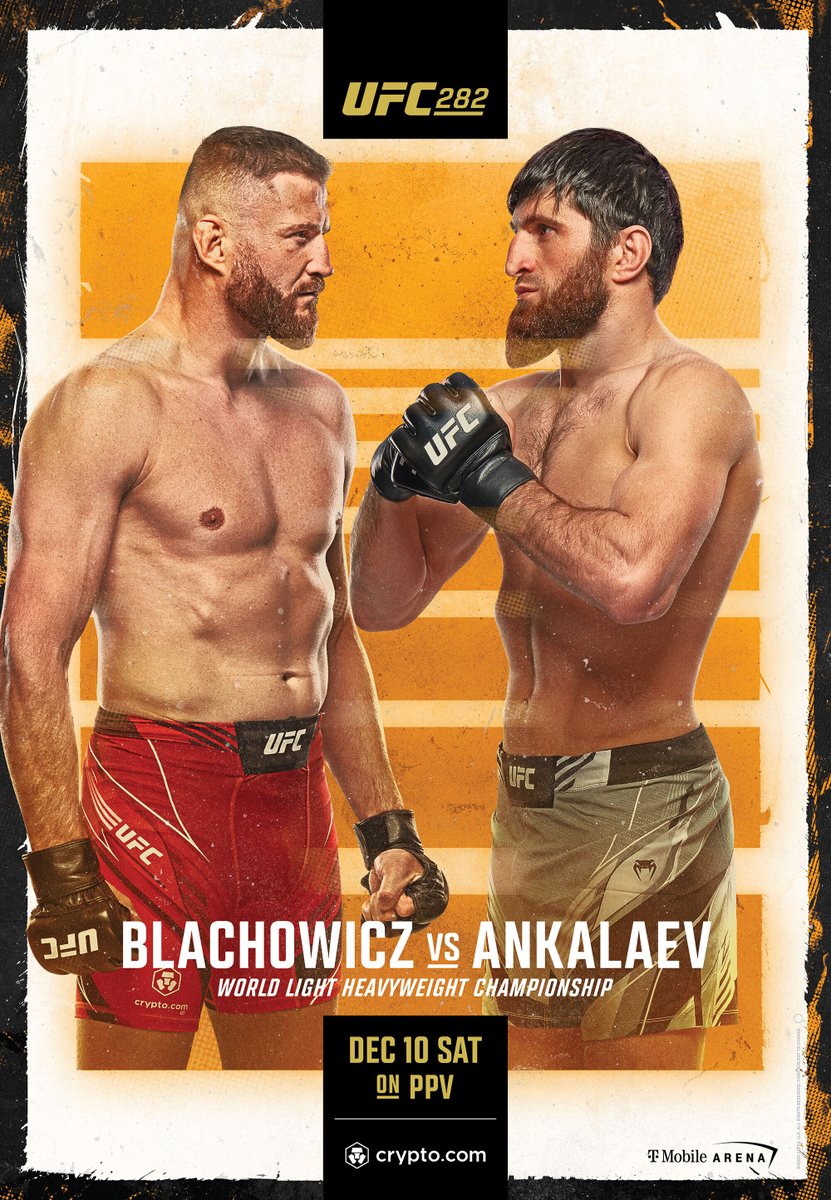 Violent night, gory night! All is qualm, all is fight! Sorry, saw the Violent Night twice in the last week and feel that this card can have the same namesake. We are on the last PPV of the year and have a pretty underrated slate ahead of us. While losing out on Glover Jiri 2 is a travesty, the rest of the card bolsters some interesting matchups, unfortunately only a couple with any title implications. Otherwise, we have a "Title" fight between Jan and Magomed for the vacant belt, Paddy's back against a very strong grappler in Jared Gooden, Ponzi is fighting a late replacement in Alex Morono which is a tad disappointing, Darren Till is back against Driscus Du Plessis which is an absolute banger, and Bryce Mitchell against Ilia Topuria for a someone's 0 has to go bout. While this card doesn't really stack up to the MSG lineup, it still should be a fun watch with some high level battles. Whatever, enough rambling, onto the picks.
Main Card
Jan Błachowicz vs. Magomed Ankalaev Light Heavyweight (Championship) Bout
This would have been such an awesome co-main leading into the Glover Jiri rematch, but alas here we are with this as the main event. Magomed has looked as good as anyone in the division in the last decade not named Jon Jones. He has the striking, he has the grappling, and he is fearless in the octagon, walking his opponents down with an unrivaled pressure. He looks nearly unbeatable right now. Jan loves to win fights as the underdog. He is 10-2 in his last 12 with him being the underdog in all of the wins but his fight against Jacare. I really want to take Jan here because of what he is able to do when the pressure is off of him, but man he looked like he was going to get worked in that Rakic fight before the injury. If Magomed wants to take this to the ground he will be able to without issue. I unfortunately see a demolition on the way in this one.
Magomed Ankalaev by 4th Round TKO (Prop Finish Line) +100 1 unit
Paddy Pimblett vs. Jared Gordon Lightweight Bout
I feel great pain after this pick. I did the same exact thing last time that I am going to do right here. I am a big Paddy fan (current Ariel beef withstanding), and think he has some of the most fun BJJ in the division and if he puts it all together he may be able to make a run. The issue is that his stand up is nothing special and his wrestling isn't spectacular. Jordan Leavitt was able to get the takedown but left himself vulnerable to get submitted. I know that Jared Gordon ended up getting manhandled by Grant Dawson, but I do not see Paddy on that level. I see Gordon winning the standup and actually keeping this standing until Paddy goes for the takedown and Gordon ends up controlling on top for a good amount of time. This will take a lot of steam out of the Paddy train.
Jared Gordon by Decision +205 1 unit
Santiago Ponzinibbio vs. Alex Morono Catchweight Bout
Fucking Robbie Lawler's injury really has us missing out on what could have been the fight of the night. I am pretty sure I have bet against Morono in every single fight he has won, so take my pick with a grain of salt. Morono always looks painfully average to start, then you realize that every single jab and straight he has thrown landed at least partially and his opponent starts wearing the damage on their face and fights the second half defensively. Ponzi won't do that, no matter how much Morono lands, he will keep pushing forward and pushing forward till Morono breaks down. Ponzi has this no problem.
Santiago Ponzinibbio by Decision -180 2 units
Darren Till vs. Dricus du Plessis Middleweight Bout
I am so happy we finally get to see Darren Chimaev fight. Till has to be my most bet on fighter that constantly disappoints me, but this time is different! Now he has been training with Khamzat and has made himself a more well rounded fighter that can maybe understand volume makes a difference. Watching him have a clear power advantage and control the octagon while only throwing 10 strikes around used to make me nauseous. Sure, he may still be that guy, but if he spent all this time with Khamzat and hasn't changed at all, it will finally be enough for me to let him go. Dricus is a very good fighter, and him winning by no means means that Darren is washed, but if he still employs his awful strategy, then that means he is washed.
Darren Till by Decision +155 1 unit
Bryce Mitchell vs. Ilia Topuria Featherweight Bout
This is the fight of the night for me. 2 incredible undefeated grapplers that could not be any more different from each other. A country boy from Arkansas vs a monster from Georgia (not the one he is familiar with) both happen to be elite in their division potentially a fight away from a title shot. I would have thought Ilia is the clear favorite here until I started looking a bit deeper. Bryce dominating Edson Barboza in his last bout is by far the most impressive performance either of these 2 have had. Ilia nearly got knocked out by Jai Herbert in the first of his last bout before finding a leg to take him down. I see this staying standing for a lot longer since their grappling cancels out and Bryce being able to piece him up from there.
Bryce Mitchell by Decision +120 1 unit
Prelims
Raul Rosas Jr. vs. Jay Perrin Bantamweight Bout
Raul Rosas Jr. by 2nd Round Submission (Prop Finish Line) +140 1 unit
Jairzinho Rozenstruik vs. Chris Daukaus Heavyweight Bout
Jairzinho Rozenstruik by 1st Round TKO -170 2 units
Edmen Shahbazyan vs. Dalcha Lungiambula Middleweight Bout
Edmen Shahbazyan by 3rd Round TKO (SGP Over 1.5 Rds) +145 1 unit
Chris Curtis vs. Joaquin Buckley Middleweight Bout
Chris Curtis by Decision +145 1 unit
Early Prelims
Billy Quarantillo vs. Alexander Hernandez Bout
Billy Quarantillo by Decision -165 1 unit
T.J. Brown vs. Erik Silva Featherweight Bout
Erik Silva by 2nd Round TKO -110 1 unit
Cameron Saaiman vs. Steven Koslow Bantamweight Bout
Steven Koslow by 1st Round Submission +295 1 unit
DraftKings Lineup:
Finally a card filled with dogs I like and close lines I feel like we can take advantage of. I almost had a whale position on Vinicius Salvador under 2.5 rounds, but that fight got scrapped so nothing over 2 units. Can see a lot of these fights ending at any moment, so I'm happy I didn't have to rely on too many method of victory bets to get the lines to be more realistic. Follow along on twitter in case I come up with any last minute parlays as the night goes on. Bet responsibly, and stick to your units, it is going to be a long night, no need to rush or chase. As always, may luck be your lady tonight!