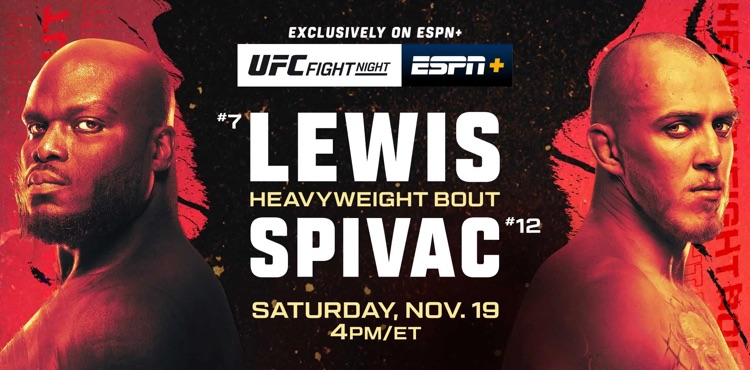 An ok fight night to hold us over till UFC 282. I like a lot of underdogs on this card, which I haven't had in a long time. A lot of young favorites that may be a bit overrated that we can take advantage of and make some good ole cash. Derrick Lewis has a good chance to get back in the win column against a very inconsistent opponent in Spivak, Ion vs Nzechukwu is just a fireworks fight, Cortes-Acosta will murder Sherman, Fialho and Salikhov both trying to get back on track to get to the top of the division, and Jack Della Maddalena gets fed a not great opponent in Danny Roberts. This should be a fun one so let's get into these picks.
Main Card
Derrick Lewis vs. Sergey Spivak Heavyweight Bout
I hate watching Sergey Spivak, he is slow and boring and not that good. His only good win was against Tai Tuivasa 3 years ago. Derrick Lewis is that dude. I wish he gave the slightest fuck about being champion because he has the 2nd best KO power in the division, but has a hard time finding that strike under the bright lights. Fortunately, this is a pretty small fight night at the Apex, no pressure on him at all and he can get to work and massacre Spivak.
Derrick Lewis by 1st Round TKO +170 1 unit
Ion Cuțelaba vs. Kennedy Nzechukwu Light Heavyweight Bout
This one I was pretty torn on. I hate Ion and his stupid face off schtick, but also think he is a more well rounded fighter than Nzechukwu and could make things very tough for him if the early KO isn't there. I see a lot of Kennedy volume early with Ion sticking in and landing shots until Nzechukwu loses some gas and Ion takes over. One of my favorite dogs on the card.
Ion Cutelaba by Decision +140 1 unit
Chase Sherman vs. Waldo Cortes-Acosta Heavyweight Bout
Chase Sherman may be the worst fighter on the roster. He was cut a little while back but made a return because of how thin the HW roster is. Cortes-Acosta should absolutely dog walk him, this is my horsecock lock of the evening. We may see a murder in the octagon.
Waldo Cortes-Acosta by 2nd Round TKO -105 2 units
André Fialho vs. Muslim Salikhov Welterweight Bout
This is a great matchup, both of these dudes are very well rounded and can win the fight anywhere. I watched both of their last fights a bunch to see where one of them has an advantage. It looks like Muslim is just a bit slower in his striking and footwork than Fialho. I see this being very even early, then Fialho will find his openings for strikes and clinches until he wears Salikhov down and begins to dominate.
Andre Fialho by Decision +100 1 unit
Jack Della Maddalena vs. Danny Roberts Welterweight Bout
This is just going to be a massacre. Danny Roberts isn't as bad as Chase Sherman, but he is no Maddalena. Expect this to end quick and gruesomely.
Jack Della Maddalena by 1st Round TKO (Prop Line) -175 2 units
Prelims
Charles Johnson vs. Zhalgas Zhumagulov Flyweight Bout
Charles Johnson by Decision -170 1 unit
Jennifer Maia vs. Maryna Moroz Flyweight Bout
Jennifer Maia by Decision +145 1 unit
Vince Morales vs. Miles Johns Bantamweight Bout
Miles Johns by Decision -170 2 units
Kevin Natividad vs. Ricky Turcios Bantamweight Bout
Kevin Natividad by Decision +135 1 unit
Vanessa Demopoulos vs. Maria Oliveira Strawweight Bout
Maria Oliveira by Decision -110 1 unit
Brady Hiestand vs. Fernie Garcia Bantamweight Bout
Brady Hiestand by Decision -175 1 unit
Natália Silva vs. Tereza Bledá Flyweight Bout
Tereza Bleda by Decision +140 1 unit
DraftKings Lineup:
In a bit of rush so no wisdom down here. Bet responsibly, stick to your units, and as always may luck be your lady tonight!