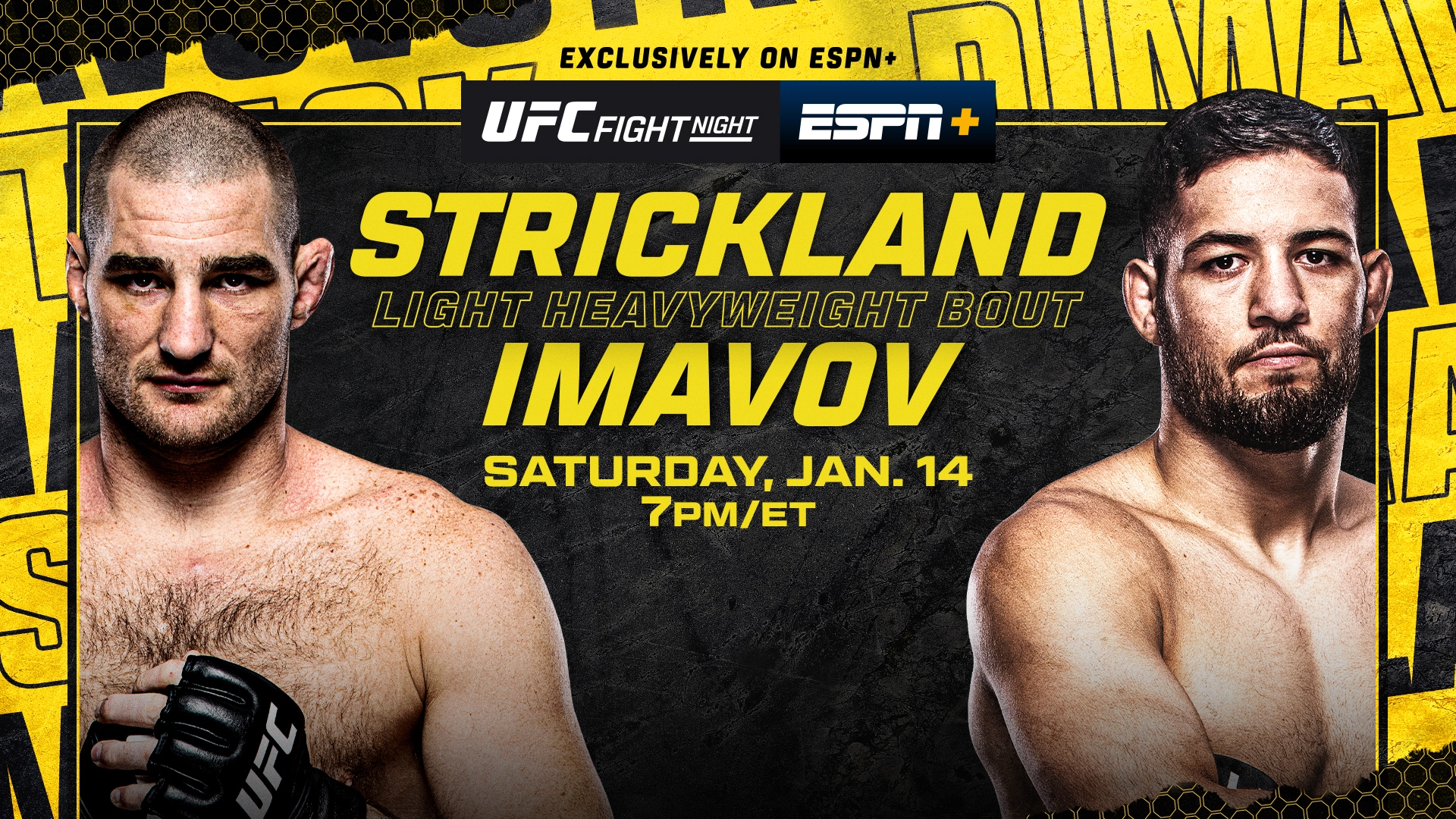 We are finally back after nearly a month of no fights. I have been getting absolutely destroyed gambling on football exclusively, I needed UFC back to help put money in my accounts again. This card feels like taking candy from a baby. Every winner is so obvious and there are only a handful of outrageous lines here, the rest are nice and close for us to take advantage, even maybe throw a few parlays in there. This card doesn't really have too many implications in terms of ranked matchups, but is a nice way to ring in the new year. Sean Strickland took a late notice opportunity against Imavov to get back into the win column, Dan Ige returns against a tough Damon Jackson, Punahele Soriano returns absolutely huge against Roman Kopylov, Ketlen Vieira is back after her robbery of Holly, and we get to see another Nurmagomedov absolutely dominate. Enough of my rambling, let's get into these picks.
Main Card
Sean Strickland vs. Nassourdine Imavov Light Heavyweight Bout
This is the most confident I have been in a pick in so long that I am terrified I am missing something. Sure Strickland only took this fight like 2 weeks ago, but he has a 10 lb advantage after weigh-ins and after watching film, I do not see how Imavov beats him. Maybe Imavov has a grappling advantage because of his last name but he rarely uses it and I doubt he was preparing it too much against Kelvin. This is going to be a jab fest from Strickland, constantly fighting at his range and walking Imavov down and landing over and over again to get the decision. Imavov doesn't have the power that Cannonier or Pereira has so Strickland will not respect his striking. This is my biggest position of the night.
Sean Strickland by Decision +115 2.5 units
Dan Ige vs. Damon Jackson Featherweight Bout
This was a pretty tough one to judge. Dan Ige is on a very tough skid right now, dropping 3 straight to some pretty good competition. The issue with Ige is that he is not particularly elite at anything. He is a very well rounded fighter who is tough to finish and that is how he has gotten this far. Damon Jackson is on a good streak right now coming off a very good win over an incredible wrestler in Pat Sabitini. Damon is going to do whatever he can to make sure this fight gets to the ground and I see him succeeding with relative ease, holding Ige down for 3 rounds to a nice decision victory.
Damon Jackson by Decision +105 1 unit
Punahele Soriano vs. Roman Kopylov Middleweight Bout
Soriano looked like an absolute monster at weigh-ins. This man's back was triple the size since the last time we saw him, which makes me think he incorporated a lot more wrestling into his training since his last bout. I really don't see how Kopylov can win this one outside of landing a lucky shot that puts him out. I have this listed as a 1 unit play for now but could change it to a 2 unit position as the night goes because I feel a demolition coming.
Punahele Soriano by 1st Round TKO -150 1 unit
Ketlen Vieira vs. Raquel Pennington Bantamweight Bout
I was so devastated after Vieira got that bullshit win over Holly that I can not in good conscience take her in a close fight. Pennington has been winning consistently no matter how much I bet against her, so now it's time to join her. Raquel's last 4 wins have been over very impressive competition, and both of these girls essentially lost to Holly. Expect a slow burn here with effective control from Pennington over all 3 rounds, stuffing anything Ketlen tries.
Raquel Pennington by Decision +100 1 unit
Umar Nurmagomedov vs. Raoni Barcelos Bantamweight Bout
What am I supposed to say about this one? Sure Barcelos had a big upset over a different Nurmagomedov back in 2019, but Umar is a different animal. He has been eviscerating his competition, getting far more finishes than Said was in his young career at this point. It was hard to find value here since he is such a big favorite, so I am just going to pray he gets Raoni's back and finds a way to finish the squirmy fuck. Wouldn't call you dumb for taking decision on this because of Barcelos' BJJ background but that isn't as fun to cheer for.
Umar Nurmagomedov by 2nd Round Submission (Prop Finish Line) +200 1 unit
Prelims
Javid Basharat vs. Mateus Mendonça Bantamweight Bout
Javid Basharat by Decision (SGP Over 1.5 Rds) -110 2 units
Abdul Razak Alhassan vs. Claudio Ribeiro Middleweight Bout
Claudio Ribeiro by 3rd Round TKO -115 1 unit
Mateusz Rębecki vs. Nick Fiore Lightweight Bout
Mateusz Rebecki by 1st Round Submission (SGP Under 1.5 Rds) -135 1 unit
Allan Nascimento vs. Carlos Hernandez Flyweight Bout
Carlos Hernandez by Decision +275 1 unit
Daniel Argueta vs. Nick Aguirre Featherweight Bout
Nick Aguirre by Decision +410 1 unit
Jimmy Flick vs. Charles Johnson Flyweight Bout
Charles Johnson by 1st Round TKO (Prop Finish Line) -135 1 unit
DraftKings Lineup:
I am so excited to be back in the lab cooking up some absolute banger picks. This feels like the longest break the UFC has ever taken, but we were just so spoiled since COVID to have weekly events when it used to be much more scattered. We need to start this year with a bang, bolster our funds on these locks, then the rest of the year is just playing with house money. Remember to stick to your units and bet responsibly, even while drunk for the NFL playoffs. As always, may luck be your lady tonight!