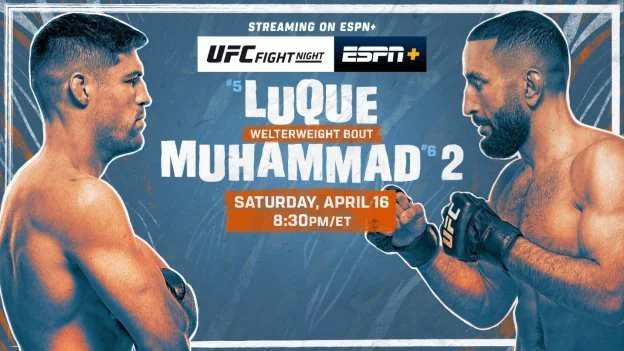 Oh boy is this card a stinker. Yay for violence and gambling and all of that, but c'mon you cannot put only 2 ranked fighters on a card. Next week's card is even worse, which is the only reason I ended up writing anything for today. I threw in a lot more underdogs today to keep things exciting, especially since the last below average card absolutely smoked me on favorites. Normally, I do a little schtick here, writing something about each of the main card fights as a little preview for my picks, that ain't happening today. Luque vs Muhammad 2 is an insanely awesome fight, both of these guys have mowed down their competition lately to lead to a rematch 6 years later, but outside of that I really do not have much to say. Let's get into these picks.
Main Card
Vicente Luque vs. Belal Muhammad Welterweight Bout
Belal Muhammad has grapple fucked his way to the top, barely threatening a finish in any fight he is in. Vicente Luque has been murdering his way to the top, massacreing everyone in his way that isn't Wonderboy. Usually I get a bit hung up on common opponents, Belal held Wonderboy down for 15 min, while Luque got out pointed by Wonderboy for 15 min. Doesn't mean shit for this fight, Belal is going to try to grapple immediately and fortunately for Luque, he has some very slick submissions. Belal is going to over extend and get choked the fuck out and win us a billion dollars. Fuck Belal, dude sucks.
Vicente Luque by 1st Round Submission (Prop Finish Line) +110 1 unit
Caio Borralho vs. Gadzhi Omargadzhiev Middleweight Bout
This is actually a pretty cool matchup between elite grapplers. Would absolutely love this as a featured prelim on a normal card, but I guess 2 unknowns get to be the runner up to the main event on this one. Hard to decide between the BJJ experts and the scary Dagis. Caio definitely has more ways to finish this one, but I do not see Gadzhi making the mistake to allow it. The way I picture it is that Gadzhi would be able to get out from bottom position if he gets taken down, where Borralho will just try for subs from the bottom and accept the position which always looks worse to the judges. Let's ride with the shitty beards.
Gadzhi Omargadzhiev by Decision -120 2 units
Miguel Baeza vs. André Fialho Welterweight Bout
Miguel Baeza is a super slick striker that has gotten unlucky in his last 2 and is up against another dangerous finisher in Andre Fialho. I almost went with Fialho as a dog here since he has mauled some people in his previous promotions, but with only one UFC fight under his belt and most of his winning streak coming in the UAE promotion, I feel that Baeza will be overwhelming for him. When Baeza fights smart he looks like he can be a top contender in this division, the issue is that sometimes he gets caught up in the slugfest and makes a mistake. I see him correcting that in this one and getting back into the win column.
Miguel Baeza by Decision -165 2 units
Mayra Bueno Silva vs. Wu Yanan Bantamweight Bout
Who gives a flying fuck about this fight. Going to put a little on Mayra Bueno Silva to win but sub just for shits and giggles.
Mayra Bueno Silva by 2nd Round Submission (Prop Line) +220 1 unit
Pat Sabatini vs. T.J. Laramie Featherweight Bout
This is probably my dumbest pick. Both of these guys are great wrestlers that can find ways to finish a fight. That being said, TJ loves to get caught, or almost get caught in a ton of submissions. He also happens to be super young. So my train of thought here is that he has learned from his mistakes to avoid the subs while also only getting better at grappling and striking. Sabatini has definitely beaten better competition, but this is also one of the first times he won't have the wrestling advantage. Let's see if TJ can do something crazy.
T.J. Laramie by Decision +375 .5 units
Mounir Lazzez vs. Ange Loosa Welterweight Bout
Not a ton of thought behind this pick. Cool that Ange Loosa is getting a chance in the UFC, but I am not entirely sure he is anything special, especially not special enough to win on extremely short notice to beat a very dangerous Mounir Lazzez. Mounir was fighting decently well against Warlley before a liver kick made him collapse. His grappling defense is strong and his striking is scary. I see this being a clinic for Lazzez.
Mounir Lazzez by 2nd Round TKO -190 3 units
Prelims
Devin Clark vs. William Knight Heavyweight Bout
William Knight by 1st Round Submission +145 1 unit
Lina Länsberg vs. Pannie Kianzad Bantamweight Bout
Lina Lansberg by Decision +340 .5 units
Drakkar Klose vs. Brandon Jenkins Lightweight Bout
Drakkar Klose by Decision (Prop Line) +140 1 unit
Rafa García vs. Jesse Ronson Lightweight Bout
Jesse Ronson by 1st Round TKO -135 1 unit
Chris Barnett vs. Martin Buday Heavyweight Bout
Martin Buday by 1st Round TKO -135 3 units
Jordan Leavitt vs. Trey Ogden Lightweight Bout
Jordan Leavitt by 2nd Round Submission +120 2 units
Istela Nunes vs. Sam Hughes Strawweight Bout
Sam Hughes by 1st Round Submission +180 .5 units
Heili Alateng vs. Kevin Croom Bantamweight Bout
Heili Alateng by Decision -180 2 units
DraftKings Lineup:
Honestly, I didn't want to write this blog in the slightest. After going through the lines for a bit earlier and going through Tapology, I changed my mind and decided I will take next week off. So that's all I have for you, bet responsibly and as always may luck be your lady tonight!