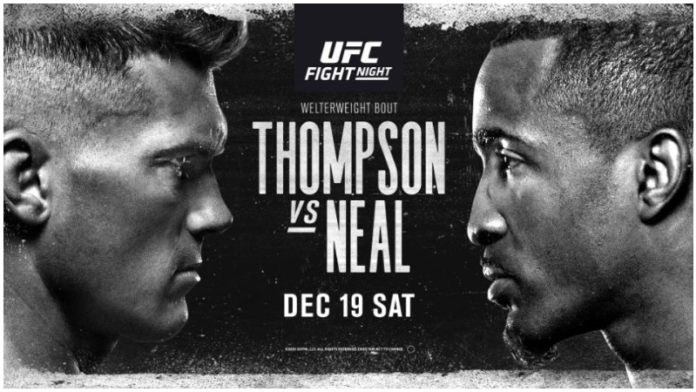 I am back on my bullshit writing for the final card of the 2020 year. As horrible as everything was this year, I have never seen more UFC cards in my entire life. I have definitely lost a lot of motivation to write these picks with a card nearly every weekend, but holy shit have I enjoyed having something to gamble on every single Saturday night. To end the year, this is a pretty fucking awesome fight night. Wonderboy vs Neal, Aldo vs Vera, KHAOS VS PEREIRA, and so much more. If you couldn't tell, I am very excited to watch Khaos vs Pereira. Well I am not wasting everyone's time, let's get into these picks.
Main Card
Stephen Thompson vs. Geoff Neal Welterweight Bout
Hard to believe that this wasn't meant to be a main event in the first place. Geoff Neal almost died like a few months ago and Wonderboy was a stupid loss away from being right back in the title picture. These are 2 guys that no one wants to fight in the division so they said fuck it lets fight each other. Geoff is a fucking killer, almost fixed Mike Perry's brain in their last fight but it just made him say the N word even more. Neal hasn't lost a fight in nearly 4 years leaving a trail of unconscious bodies in his wake.
Wonderboy's recent record doesn't look all too lovely, winning only 2 of his last 6. Don't be fooled by that number though. His fight against Till was razor close and I had him winning, was dominating Pettis until he got caught, took Woodley to a draw and lost an actual fight to him next. He stifles great strikers with his Karate stance and has incredible takedown defense to boot. Neal hasn't fought anyone of this caliber and it will show this evening. Thompson is gonna slowly wear him down till he is out of gas and takes a TKO win.
Stephen Thompson by 4th Round TKO -110 1 unit
José Aldo vs. Marlon Vera Bantamweight Bout
This is a pretty intense matchup and potentially Aldo's first win in the weight class. Marlon Vera got a big win over Suga in his last bout after losing to Song Yadong. I felt that a big part of Marlon's win was because of Suga hurting himself out there. Aldo has taken rounds in his fights but hasn't been able to close them out or get a decision. Aldo is going to come out here and show that he isn't washed up and can still compete, just maybe not for the title ever again.
Jose Aldo by Decision -155 2 units
Michel Pereira vs. Khaos Williams Welterweight Bout
Michel Pereira is the most entertaining fighter on this roster, but he has a suspect gas tank and hasn't fought anyone that is actually good (Diego stinks now). Khaos WIlliams is terror. He has crazy hands and will put you to sleep. Pereira has the BJJ advantage but doesn't have the takedowns to get the fight where he needs to be. Khaos will be too strong and too much to handle for Michel and this will be quick work.
Khaos Williams by 1st Round TKO 1 unit
Marlon Moraes vs. Rob Font Bantamweight Bout
Marlon Moraes is getting disrespected left and right by everyone. He lost to a very good Cory Sandhagen in his last bout and took Aldo to the limit. Rob Font is average at best and will not be able to bring enough to the octagon to beat an actual contender. I fully expect Moraes to have a highlight reel finish in this one.
Marlon Moraes by 2nd Round TKO -155 2 units
Marcin Tybura vs. Greg Hardy Heavyweight Bout
Marcin Tybura is my least favorite fighter on the roster. Greg Hardy is my second least favorite fighter on this roster. Tybura I hate because of his fighting style and Hardy for beating women. Unfortunately, I will show my true colors here and pick against a fighting style. I have no desire to see Tybura get a win here by humping Hardy to death. Greg is going to be too strong and push him off in the clinch and punch him into oblivion.
Greg Hardy by 3rd Round TKO -120 2 units
Prelims
Anthony Pettis vs. Alex Morono Welterweight Bout
Alex Morono by Decision +175 1 unit
Sijara Eubanks vs. Pannie Kianzad Bantamweight Bout
Pannie Kianzad by Decision +132 1 unit
Deron Winn vs. Antônio Arroyo Catchweight (195 lb) Bout
Antonio Arroyo by 3rd Round Submission -177 1 unit
Gillian Robertson vs. Taila Santos Flyweight Bout
Gillian Robertson by Decision -115 1 unit
Tafon Nchukwi vs. Jamie Pickett Middleweight Bout
Tafon Nchukwi by 2nd Round TKO -325 (Taking over 1.5 Rounds -130 instead, Pickett has only been finished once within that time frame and it was a sub)
Jimmy Flick vs. Cody Durden Flyweight Bout
Cody Durden by 1st Round TKO +130 1 unit
Christos Giagos vs. Carlton Minus Catchweight (160 lb) Bout
Carlton Minus by Decision +285 1 unit
DraftKings Lineup:
This is all I have for you this beautiful winter evening. Let's win some money together and as always, may luck be your lady tonight!