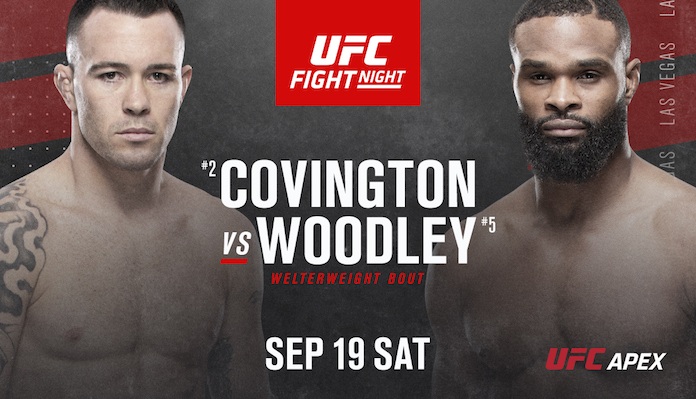 After a few weeks off I am back and ready to win money again! This is one of the best fight nights of all time and I have taken far too long to write this blog, so beware of typos and grammatical errors. There are rivalries here, friendly fights, hype trains, and Mackenzie Dern, absolutely no downside to this card. We had a few snoozers in a row during my absence, so there is no better time than now to make my triumphant return and get my book back into the green (Football and Baseball have been tearing me apart).
Tyron Woodley was on my cancelled list after his last fight, looking like he no longer wanted to even put in an effort, but now it seems like he got a little spark against the MAGA loving Colby Covington. I am really upset to see all the stuff MMA twitter has dug up on Cowboy and hope it isn't true, but most of all I hope he retires after this fight regardless of the outcome and no better retirement fight than the always entertaining Niko Price. Khamzat is an absolute wagon, I will ride his hype train into the sun and I do not care if this becomes a Conor like arrogance. Johnny Walker now tries another new gym to try to add something to his creative striking, really want him to be what we thought he was, but Spann is no picnic. Mackenzie Dern is the woman of my dreams. Kevin Holland has slowly become one of my favorite fighters on the roster now that I don't mix him up with Curtis Millender anymore. What a fucking card.
Let's get into these picks.
Main Card
Colby Covington vs Tyron Woodley Welterweight Bout
I have hated Colby Covington for a very, very long time. Since The Last Jedi came out I believe, and he spoiled the movie immediately on twitter. There is nothing more I would like to see than him getting knocked the fuck out by Tyron Cringe BLM Woodley. Tyron 5 years ago would likely splatter Colby's blood all over the canvas with a nice hook after feigning a takedown. Now though, Colby is leaps and bounds better than Tyron on the ground, and isn't far enough behind him in striking to take this loss. Colby has bad striking, that was by no means supposed to say he has good striking, and we have seen the power Woodley has in his hands when he lets them go. That being said, Tyron is completely unwilling to let them go. Tyron has looked scared in his last 2 bouts and do not think anything changes here as he gets worked to a long decision finish.
Colby Covington by Decision -365 3 units
Donald Cerrone vs Niko Price Welterweight Bout
I will be a Cowboy fan till the day he fights for way too long and accidentally says something to get him cancelled or something along those lines. I will say it now before I say much else, this will be the last fight I pick Cowboy unless he shows me a reason to pick him. Cowboy is so freaking talented and has beaten some of the best to ever fight. He also randomly doesn't show up and gets completely destroyed like he didn't train one day for the fight. Niko Price is an awesome dude and fighter and only puts on bangers. He is not the guy who will make Cowboy look stupid though. If Niko is going to win this, it will be on a random strike to catch him while getting bloody and battered. I haven't really ever seen Cowboy get caught, just bloodied and battered by better opponents. This will be the fight of the night if Cowboy wins, and the worst fight of all time if he loses. That is all, lets go Cowboy.
Donald Cerrone by 2nd Round TKO +125 1 unit
Khamzat Chimaev vs Gerald Meerschaert Middleweight Bout
OHHHHHHHHH BOY!!!!!! I will do anything for Khamzat. This man is so goddamn hungry like nothing I have ever seen before. Gerald Sleepy Eyes Meerschaert thinks he can pull off the upset but he will be absolutely manhandled and it will be art. I am already marking down Khamzat vs Maia in my calendar and am excited for his ensuing bout with Wonderboy by the end of the year. Chimaev by a million, maybe 2 more strikes landed by his opponent in this one than his last 2 combined but I am not even sure about that.
Khamzat Chimaev by 1st Round Submission -550 3 units
Johnny Walker vs Ryan Spann Light Heavyweight Bout
Johnny boy I am writing this directly to you. This is your last shot. I am betting on you here. I am putting you in my DraftKings lineup. I am putting my everything into you. Your start was a blaze of glory, unlike what we see from Khamzat at the moment. People found the holes in your game immediately and you recognized that and have switched gyms twice. This will be where you put it all together. Ryan Spann has the gas tank of a go cart, fuck him up and win me millions please.
Johnny Walker by 2nd Round TKO -135 1 unit
Mackenzie Dern vs Randa Markos Strawweight Bout
I would give up my career and hobbies and pretty much anything if Mackenzie Dern wanted me to be her house husband. I simp for her and I do not care. She is one of the best BJJ practitioners in WMMA history and will work her way back to the top, getting her eventual rematch with Ribas then have a chance to fight for that belt, which she can absolutely win if she learns to strike a bit. Markos is a great grappler and hasn't been submitted in ages, but it will only be a matter of time before Dern finds her opening and ends this one late. It will be beautiful.
Mackenzie Dern by 3rd Round Submission -200 2 units
Kevin Holland vs Darren Stewart Middleweight Bout
Kevin Holland seems to be a new man these days. Destroying his opponents and making a quick climb to stardom after Trevor Giles passed out on him minutes before their scheduled bout. His striking is top notch and his grappling is very good as well. His 2 losses in his last 10 bouts are against very good competition in Brendan Allen and 205 title challenger Thiago Santos. Darren Stewart is greatly improved and is just a great dude overall, but he does not want this smoke. None of his wins are over anyone all that impressive and his losses are pretty rough too. The Holland hype train is starting and it will create a stir in this fairly shallow weight class.
Kevin Holland by Decision -290 2 units
Prelims
Jordan Espinosa vs David Dvořák Flyweight Bout
David Dvorak by Decision -105 1 unit
Mirsad Bektić vs Damon Jackson Featherweight Bout
Mirsad Bektic by 2nd Round TKO -380 2 units
Mayra Bueno Silva vs Mara Romero Borella Flyweight Bout
Mayra Bueno Silva by Decision -250 2 units
Jessica-Rose Clark vs Sarah Alpar Bantamweight
Sarah Alpar by Decision +170 1 unit
Darrick Minner vs T.J. Laramie Featherweight Bout
TJ Laramie by 2nd Round TKO -350 1 unit
Journey Newson vs Randy Costa Bantamweight Bout
Randy Costa by Decision -105 1 unit
Andre Ewell vs Irwin Rivera Bantamweight Bout
Irwin Rivera by 2nd Round TKO +180 1 unit
Tyson Nam vs Jerome Rivera Bantamweight Bout
Jerome Rivera by Decision +155 1 unit
DraftKings Lineup:
That is all for this event. I was starting to get a stomach ache at how chalk I was picking, but I love the early dogs, a bunch of untested guys against tested guys that aren't all that great. Should be a lot of fireworks and don't be scared about how steep the line is on a lot of these fights, look for the O/Us that are juicy because they will be there. Didn't have any to put in yet because I want to see how the card starts off but I am sure there will be something out there. Let's all win some money this evening. As always, may luck be your lady tonight!