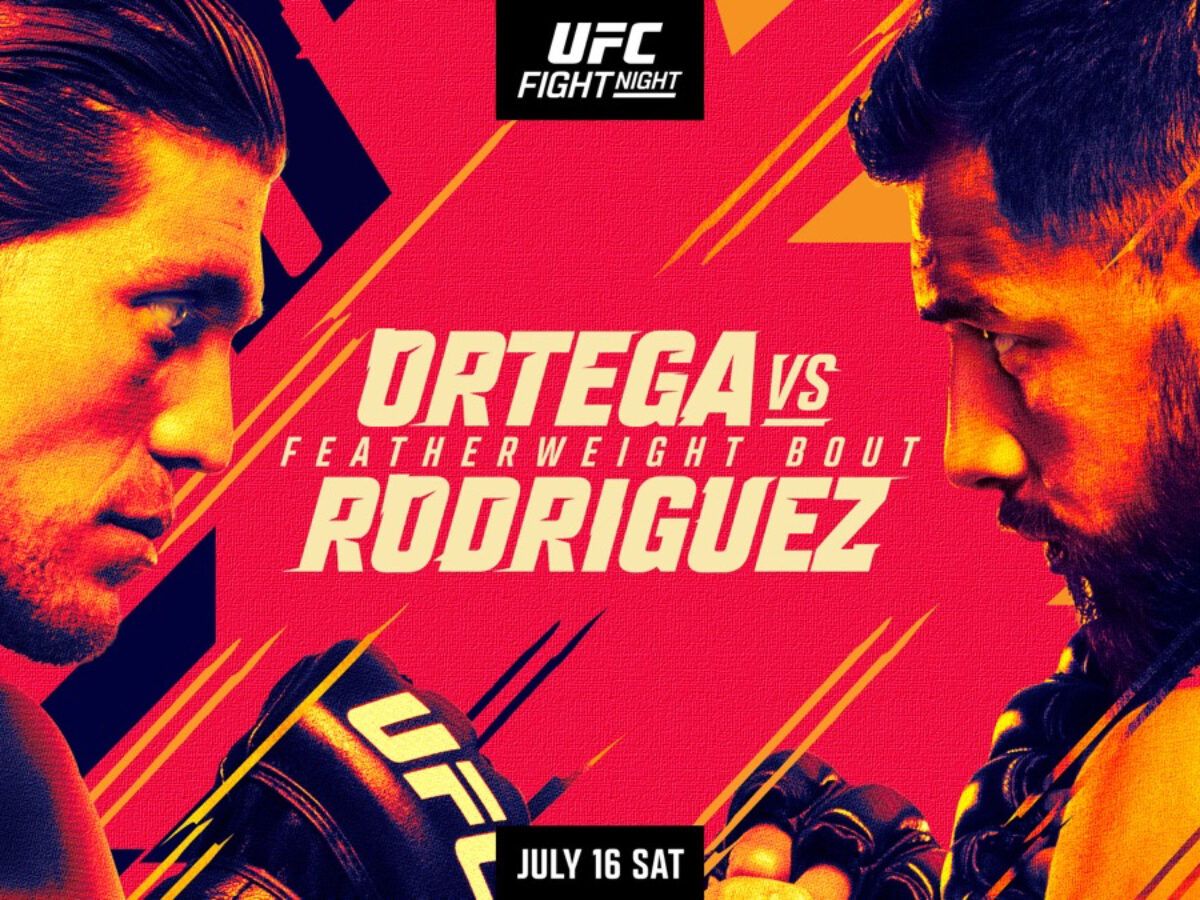 Violence on Strong Island?!?!?!?! You know I will be there front and center (more like corner) to support Long Island getting far more cards. This is actually a pretty fun card fighter wise, usually i shit on a card when there is one contender fight and barely any ranked fighters, but they snuck Miesha Tate vs Lauren Murphy on here to get another top contender bout. We get to see 2 of the most entertaining featherweights in Ortega vs Yair, the Karate Hottie vs Lemos in what should be erotic, Li Jingliang vs Muslim Salikhov is an absoulte banger, Schnell vs Su Mudaerji doesn't really move the needle for me, Burgos vs Jourdain is a fucking match made in heaven, and Ricky Simon vs Jack Shore snuck on the prelims is sneaky one of the best fights of the night. I am probably sucking this cards dick more than normal to hype myself up but who gives a shit, let's get into these picks.
Main Card
Brian Ortega vs. Yair Rodríguez Featherweight Bout
This is a pretty fucking awesome fight. Yair will not ever be in a boring fight, that dude puts it all in the octagon. He may have had one of the most frustrating wins in betting history against TKZ, but I respect the hell out of the guy for doing it. Ortega is a weird fighter, he destroys competition worse than him, but if someone is slightly better he can't compete. Fortunately, I think Ortega is an echelon higher than Rodriguez in the fight game. What Ortega did to TKZ will haunt my dreams for the rest of my life, only other person to work him like that was Volk (a lie but helps my argument). Ortega will likely keep Yair scared of grappling exchanges which will open up his striking. I expect the strikes to pile up till Ortega finds an opening to get this to the ground and choke Yair out.
Brian Ortega by 3rd Round Submission -170 2 units
Michelle Waterson vs. Amanda Lemos Strawweight Bout
This fight had me teetering back and forth a bunch. Lemos looked like she could be a future champion until her last 2 fights. I thought Angie Hill beat Lemos, and Andrade absolutely destroyed her with a standing arm triangle. Michelle Waterson has had a pretty rough go of it, losing to a lot of really tough competition. Both of these ladies have controversial wins over Angie Hill and are coming off a loss. Lemos is probably a little better, but Michelle can stand with the best of them. Taking the Karate Hottie just so I can take that underdog line and because I enjoy watching her immensely.
Michelle Waterson by Decision +255 1 unit
Li Jingliang vs. Muslim Salikhov Welterweight Bout
Thank you Dana for giving us this fight. These dudes love to put people to sleep, and I am going to profit off of it. Salikhov is getting old and slow, his last few bouts haven't impressed me, and I think he is a couple of losses away from hanging them up (absolutely insane thing to say about a dude on a 5 fight win streak). Li Jingliang is coming off a super embarrassing loss to Chamzat, but that isn't really that big of a shot to his ability. Li's fight before that was a crazy upset over Ponzi and I see there being a repeat in history. Li has devastating power and Muslim doesn't have the best defense. Muslim got rocked a few times against Trinaldo who is even older, Li should be able to get inside and just knock his head off.
Li Jingliang by 1st Round TKO +135 1 unit
Matt Schnell vs. Su Mudaerji Flyweight Bout
Why aren't I taking Matt Schnell? This is a fight that he always ends up winning. He looks meh, loses a couple in a row, and is fighting a questionable young fighter who is a weirdly big favorite. I say nay, Schnell is not very good, he is tough though and will not get knocked out by Su like the books think he will. This will be Su picking Schnell apart for 15 min until the judges give me my money.
Su Mudaerji by Decision (Prop Line) +300 1 unit
Shane Burgos vs. Charles Jourdain Featherweight Bout
Thanking Dana again for this one. I have never seen either of these dudes in a boring fight. Burgos seems like he loves pain, just stands in front of you and tries to hit you more than you hit him. Jourdain is a super underrated clean striker who is on a nice little 2 fight win streak against a couple of high level strikers. I see Jourdain keeping this close early and making me question my bet until Burgos strikes start piling up to the point that Jourdain can no longer continue. There will be blood.
Shane Burgos by 3rd Round TKO -165 1 unit
Lauren Murphy vs. Miesha Tate Flyweight Bout
I hate watching Lauren Murphy so damn much, but I love watching Miesha Tate so goddamn much. Murphy is going to try to grapple and dirty box, but Miesha is better at both of those things. This will be a lot of Miesha breaking clinches and landing strikes and reversing some takedowns and getting on top. There will be nothing sweeter than watching Miesha earn herself another title shot and put her against my other queen Valentina, this needs to happen like I need air to breathe.
Miesha Tate by Decision (Prop Line) -110 1 unit
Prelims
Dalcha Lungiambula vs. Punahele Soriano Middleweight Bout
Punahele by 1st Round Submission (Prop Finish Line) +120 1 unit
Ricky Simón vs. Jack Shore Bantamweight Bout
Jack Shore by Decision -150 3 units
Bill Algeo vs. Herbert Burns Featherweight Bout
Herbert Burns by 1st Round Submission +180 1 unit
Dustin Jacoby vs. Da Un Jung Light Heavyweight Bout
Dustin Jacoby by Decision -110 1 unit
Dwight Grant vs. Dustin Stoltzfus Middleweight Bout
Dustin Stoltzfus by Decision +100 1 unit
Jessica Penne vs. Emily Ducote Strawweight Bout
Emily Ducote by Decision -155 1 unit
Draftkings Lineup:
I have nothing left for this one. I am so goddamn excited to go to these fights, hopefully I won't lose too much money and ruin my time. I even said fuck it and got myself club access to all you can eat food. Tomorrow is my Christmas and I can't wait. Bet responsibly and always, may luck be your lady tonight!