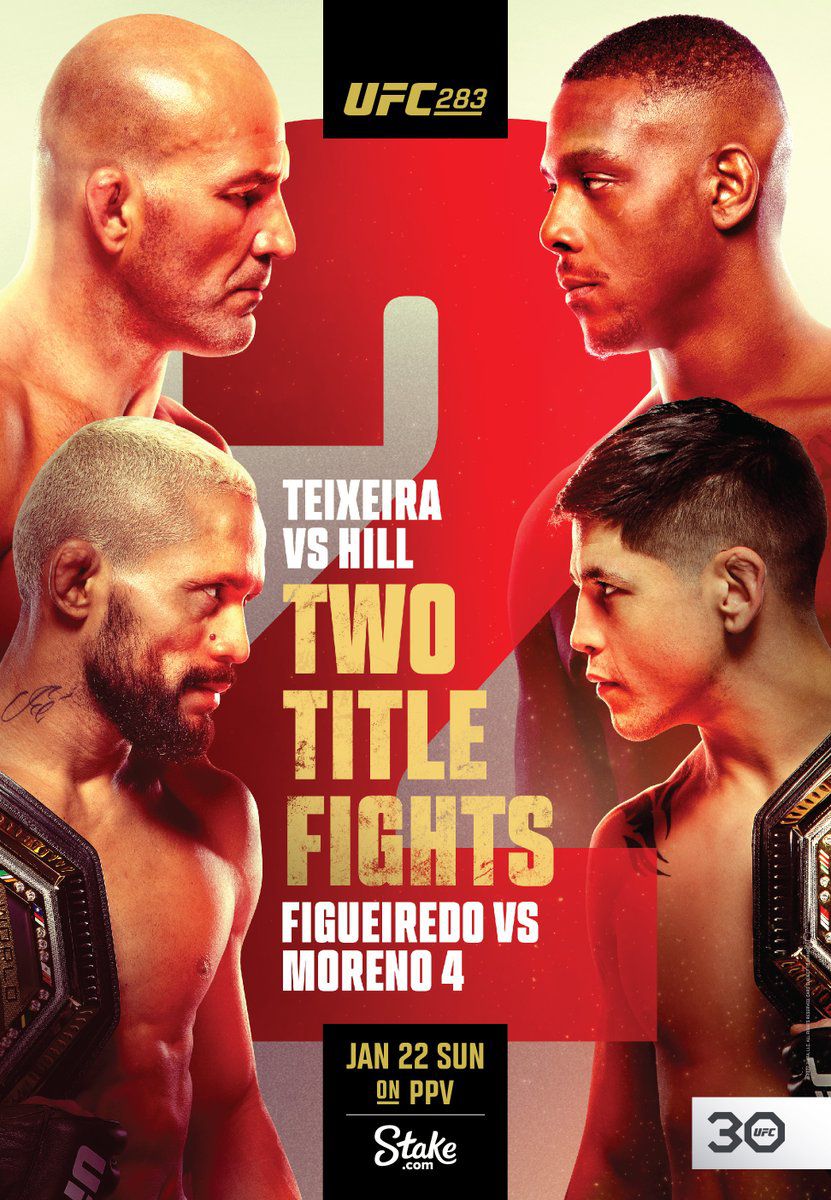 Ready for some Violence in Rio? I know I am. We have a pretty awesome card in store for the first PPV of the year. 2 title fights and a title eliminator with a bunch of other interesting matchups and prospects sprinkled in. I had to do a few method of victory bets to get the lines to be manageable but I may just end up parlaying all of them moneyline instead. Regardless I still like every pick I made for tonight. Glover vs Hill should be an amazing stylistic matchup, Figgy Moreno IV should put all questions to rest, Burns vs Magny seems like Gilbert just wants to shake the rust off, Andrade has a lot of pressure to make an exciting fight with Murphy, Paul Craig looks to bounce back against a new and improved Johnny Walker, we have Shogun's retirement fight, Robocop and Terrance Mckinney are back, this card fucks. I am a bit worried about how much I like the favorites in this one but I guess that's why they are favorites. Alright let's get into these picks.
Main Card
Glover Teixeira vs. Jamahal Hill Light Heavyweight Championship Bout
I don't think I have ever bet on Glover Teixeira before. Sure I could look through my site and find out if that's true but I'd rather just assume. Glover is 236 years old and has been in some wars, taking a ton of damage, and taking years off of his life. That being said, I love him in this fight. Sure Hill has the tools to put away Glover early, but if he can't and Glover starts winning exchanges or gets this to the ground, it's his fight to lose. I see this getting very scary early with some big shots landed then a fortunate takedown will turn the tide for Glover and we'll coast to a nice and easy cash.
Glover Teixeira by 4th Round Submission +115 1 unit
Deiveson Figueiredo vs. Brandon Moreno Flyweight Bout
I have bet on Figgy every time in this series, but this time feels different. Moreno put on a clinic against Kai Kara-France and looked like he should be the next champion. Figgy feels a little weird in the build up to this one. Very fake and constantly insulting Moreno who has already beaten him and fought him to 2 other very close decisions. Feels like he isn't taking this as seriously as he should and will make another mistake like he did in their second bout. I don't think Moreno can find the finish but I do see him getting the better in most of the exchanges and cruising to a decision win.
Brandon Moreno by Decision -125 1 unit
Gilbert Burns vs. Neil Magny Welterweight Bout
Gilbert Burns should mop the floor with Neil Magny. The only dudes Magny can beat are strikers that can't defend grappling. This has been his thing for as long as he's been in the UFC. Will lose to any top well rounded fighter, then beat a rising young prospect who doesn't have a grappling acumen. We saw how well Burns does against grappling and he is just way too strong to be held against the cage for extended periods of time. Gilbert also wants to earn another shot at Chimaev or the belt so I see him trying to make a statement in this one.
Gilbert Burns by 1st Round TKO (Prop Finish Line) -120 2 units
Jéssica Andrade vs. Lauren Murphy Flyweight Bout
Lowkey I really don't like Lauren Murphy. Her fights are so boring and she moves so athletically in the octagon it always legitimately surprises me that she is near the top of the division. Andrade on the other hand is the complete opposite. I feel awful for her, she has been the 2nd or 3 best fighter in 2 different divisions now, after putting on incredible performances to earn title shots. I see Murphy keeping this one close and staying on Andrade, but Andrade's power is going to be the difference and get the judges on her side when we get to the score cards.
Jessica Andrade by Decision (Prop Line) +150 1 unit
Paul Craig vs. Johnny Walker Light Heavyweight Bout
Man Johnny Walker may truly be back, his KO of Cutelaba was beautiful. Even with that, he has a big issue grappling, having lost a couple bouts by just being wrestlefucked into oblivion. If Craig is able to get Walker down at any point in this one, it'll be over shortly after. All Craig has to do is survive the round 1 onslaught, which we have seen him do several times until running into Volkan in his last bout.
Paul Craig by 2nd Round Submission +160 1 unit
Prelims
Maurício Rua vs. Ihor Potieria Light Heavyweight Bout
Ihor Potieria by 1st Round TKO (Prop Line) -125 2 units
Gregory Rodrigues vs. Bruno Ferreira Middleweight Bout
Gregory Rodrigues by 2nd Round TKO (Prop Line) +110 1 unit
Thiago Moisés vs. Melquizael Costa Lightweight Bout
Melquizael Costa by Decision +300 1 unit
Mounir Lazzez vs. Gabriel Bonfim Welterweight Bout
Gabriel Bonfim by 2nd Round Submission -165 1 unit
Early Prelims
Shamil Abdurakhimov vs. Jailton Almeida Heavyweight Bout
Jailton Alemieda by 1st Round Submission (Prop Line) -165 2 units
Terrance McKinney vs. Ismael Bonfim Lightweight Bout
Terrance McKinney by 1st Round TKO -125 3 units
Warlley Alves vs. Nicolas Dalby Welterweight Bout
Warlley Alves by Decision -120 1 unit
Josiane Nunes vs. Zarah Fairn Dos Santos Featherweight Bout
Josiane Nunes by 2nd Round TKO -110 1 unit
Luan Lacerda vs. Cody Stamann Bantamweight Bout
Luan Lacerda by 2nd Round Submission +300 1 unit
Saimon Oliveira vs. Daniel Marcos Bantamweight Bout
Daniel Marcos by Decision +120 1 unit
DraftKings Lineup:
I am so goddamn pumped for this card, I managed to talk all my Giant fan friends into going to a bar that will show both the game and the fights. I think we have a good shot at winning some cash in this one, the last 2 bouts of the night are going to be so close that I am a bit worried, but we should get enough value in the early fights that it won't matter. Remember to stick to your units and bet responsibly. As always, may luck be your lady tonight.