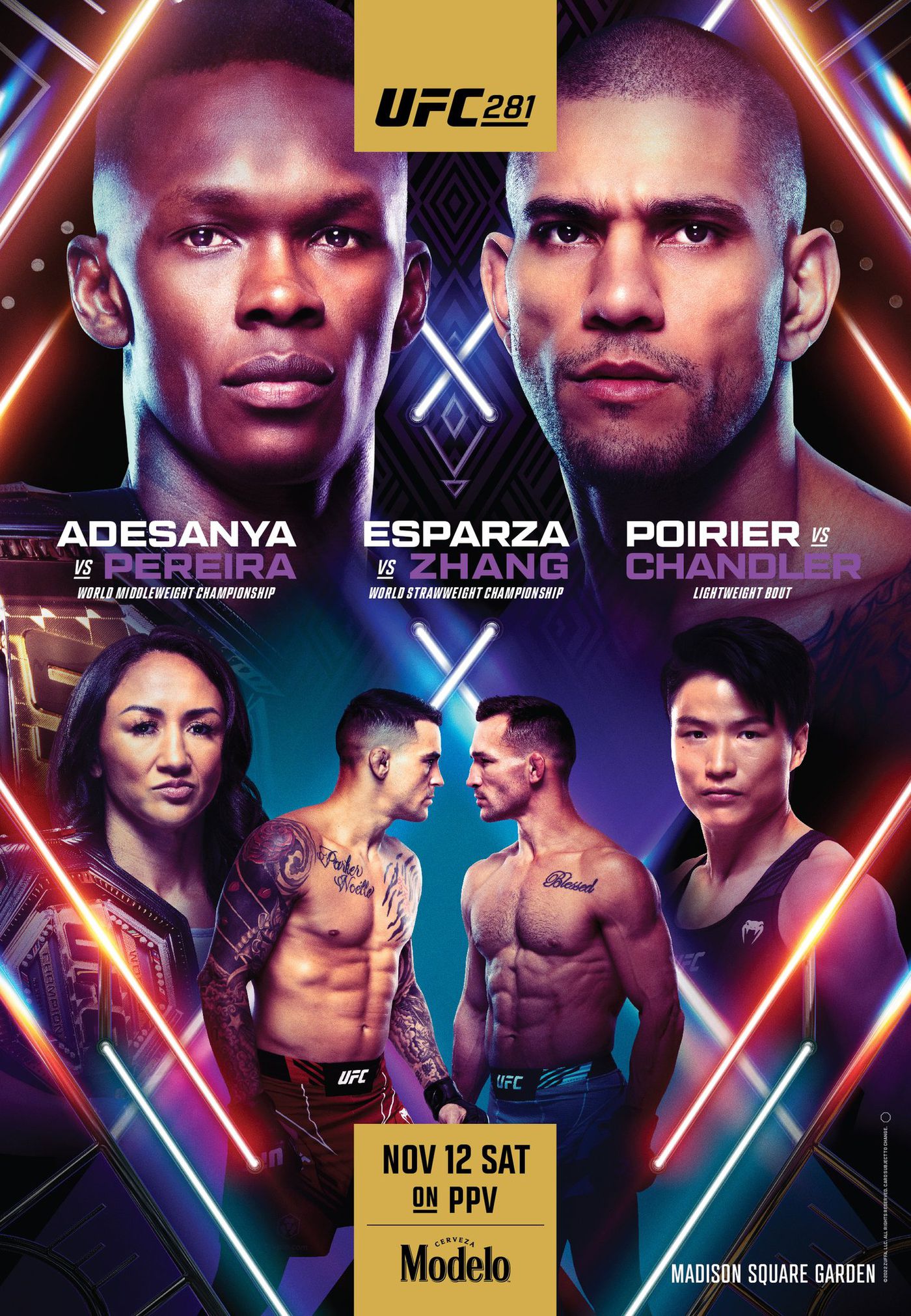 Violence in the Big Apple and not because of the crime issue getting out of hand. Fight Night at MSG returns in a triumphant way with one of the biggest grudge matches we have seen in the promotion since Nate vs Conor 2. I unfortunately could not swing the $500 tickets for nosebleed seats so I will have to watch the fights while hammered at some bar making poor betting decisions, but the energy should be incredible. I have been fantasizing about this night for ages, Izzy finally fighting a man who is a better striker than him in Pereira, Carla losing the belt to Weilli, Poirier returning to shut chandler up, Frankie Edgar's very sad retirement fight, and Hooker taking another young prospect that can set back his career. Also don't mind my early Tiger Schulmann's picks, there's a bit of bias sneaking in there.
Main Event
Israel Adesanya vs. Alex Pereira Middleweight Championship Bout
Oh boy I cannot wait to watch someone actually push forward against Izzy. Truth be told, I was a huge Izzy fan when he came into the UFC. Once he beat Bobby Knuckles I thought I would be cheering for him every fight, but some of the most boring points fighting I have ever seen in the UFC, he is one of my least favorite fighters. Look, I understand you have to beat the champ to be the champ, but you can't be walking out with an urn with your opponents name on it then run around for 25 min throwing leg kicks and jabbing. Pereira got the red carpet path right to this rematch. He beat Izzy twice in kickboxing and has showcased that devastating power in his very green MMA career. I thought that Strickland would give him some issues, but he was absolutely nothing, and Pereira will bring that devastating power to Izzy's chin. Again.
Alex Pereira by 3rd Round TKO +185 1 unit
Carla Esparza vs. Zhang Weili Strawweight Championship Bout
To round out my 2 least favorite champions, we have Carla Esparza. She is a very nice lady and a very good fighter, but if she's winning, the fight is going to be as boring as possible. Weilli is an absolute monster in every fight she has been in. I bet against her in both Rose fights and both Joanna fights, which gave me a 50% clip, but this is different. I just do not see a single way that Carla can compete in this one. The only place she may be better is grappling, but Weilli is just so much stronger than her I do not see this staying on the ground for long if at all. This will be a demolition.
Zhang Weilli 4th Round TKO (SGP Weilli and over 1.5 rds) -140 2 units
Dustin Poirier vs. Michael Chandler Lightweight Bout
The People's Main Event. These guys are pros and love to stand and bang. Chandler is a D1 wrestler that never grapples, and Dustin has some of the best boxing in the weight class. Chandler promised us a finish in this one, whether it's him or Dustin. I see this one staying close early, but Poirier is going to land those jabs and have the cleaner footwork till Chandler just can't keep up. This will be a bloodied mess very similar to the Chandler Gaethje fight.
Dustin Poirier by Decision (SGP Dustin and over 1.5 rds) +160 1 unit
Frankie Edgar vs. Chris Gutiérrez Bantamweight Bout
This fight is going to be painful. I love Frankie, I have been betting on Frankie for nearly a decade, I always have faith in him. Unfortunately, Gutierrez is such a better fighter right now that I can't see Frankie walking off into the sunset with a win. Why not throw him one of the garbage fighters on the roster? Let him just tee off on some LFA dude and go home happy. No, they put him up against one of the cleaner strikers in the weight class after having been finished in his last 2. I just can't lose any money on him again.
Chris Gutierrez by 2nd Round TKO (Prop Line) +180 1 unit
Dan Hooker vs. Claudio Puelles Lightweight Bout
Hooker has always been a fun fighter, taking it to any one he faces. The man took on Islam short notice, he isn't fraid of no one. But is he good anymore? Hard to say. He beat the crap out of Nasrat which shocked me, but Puelles will have an enormous grappling advantage in this one and the striking difference isn't going to be big enough to cover that up. I see an early grappling exchange leading to a freaky submission and me cashing out nice and early on this one.
Claudio Puelles by 1st Round Submission +130 1 unit
Prelims
Brad Riddell vs. Renato Moicano Lightweight Bout
Renato Moicano by Decision -130 1 unit
Dominick Reyes vs. Ryan Spann Light Heavyweight Bout
Dominick Reyes by 1st Round TKO (Prop Line) +110 1 unit
Molly McCann vs. Erin Blanchfield Flyweight Bout
Molly McCann by Decision +320 1 unit
Andre Petroski vs. Wellington Turman Middleweight Bout
Andre Petroski by 2nd Round Submission (Prop Finish LIne) +110 1 unit
Early Prelims
Matt Frevola vs. Ottman Azaitar Lightweight Bout
Ottman Azaitar by 1st Round TKO -155 2 units
Karolina Kowalkiewicz vs. Silvana Gómez Juárez Strawweight Bout
Karolina Kowalkiewicz by Decision -115 1 unit
Michael Trizano vs. Choi Seung-woo Featherweight Bout
Michael Trizano by Decision +150 1 unit
Julio Arce vs. Montel Jackson Bantamweight Bout
Julio Arce by Decision +175 1 unit
Carlos Ulberg vs. Nicolae Negumereanu Light Heavyweight Bout
Carlos Ulberg by 1st Round TKO -125 1 unit
DraftKings Lineup:
That is all I have for you on this beautiful day of fights. This is the second year in a row with an MSG card that I can't make it to, it hurts my insides, but the amount I saved by not buying a ticket I can put directly into DraftKings to double. Remember, stick to your units no matter what and gamble responsibly. As always, may luck be your lady tonight!