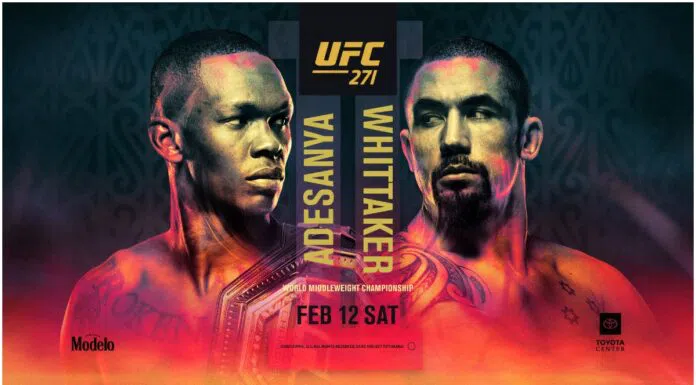 A good card! Feel like it has been a while since Dana has really hit the nail on the head with one of his PPVs but this one fucks. We have an enormous middleweight title rematch, a heavyweight banger, a top middleweight contender match, and a couple of lightweight bangers. I had an atrocious betting night last Saturday and refuse to let that happen again. I have a good feel for this card, we have a few close lines and underdogs that I love along with a few method of victory bets that I don't feel terrible about. This is poised to be a very eventful night with some beautiful violence, let's get into these picks.
Main Card
Israel Adesanya vs. Robert Whittaker Middleweight Championship Bout
I have been waiting for this rematch for a while. I am an absolutely enormous Bobby Knuckles fan. The dude just fights like he is in a movie, such clean striking with real power behind it. He has been on a tear since losing the first tilt, beating 3 contenders (I will always call Kelvin a contender) with relative ease. The only issue is that he is the second best fighter at 185, with Izzy being number 1. As amazing as Whittaker has looked, Izzy has only looked better. This is one of the very few times I am betting against my heart, I just see no way that Whittaker can win this.
Israel Adesanya by Decision (Prop Line) +150 1 unit
Derrick Lewis vs. Tai Tuivasa Heavyweight Bout
I almost hate Dana for putting this one together. I love both of these men. Derrick Lewis is so goddamn good when a fight has no stakes and it's only 3 rounds. Tai Tuivasa has looked great in his last few bouts winning a couple as the underdog. I do not see this one making it out of the first. I also do not see any world where Tai is able to knock out the Black Beast. This should be an adrenaline pumping quick cash.
Derrick Lewis by 1st Round TKO -195 3 units
Jared Cannonier vs. Derek Brunson Middleweight Bout
This is a fight that MMA was made for. Pure striker vs pure wrestler. Jared Cannonier at 185 has been a completely new animal. The man has been crushing his opposition that isn't in tonight's main event. He looks crazy strong and has great cardio at 185, and looks to be at the very top of the division. Derek Brunson once looked like a journeyman stepping stone at 185 but after pulling off 5 straight wins, most recently over a very good Darren Till, he looks like an absolute menace. Every part of me thinks Cannonier wins this in a brutal fashion, but I have thought that for pretty much everyone who Brunson has beaten in this streak. So I am riding with Brunson to not get disappointed again.
Derek Brunson by Decision +135 1 unit
Alexander Hernandez vs. Renato Moicano Lightweight Bout
Alexander Hernandez once looked like the future of the division before Cowboy beat the breaks off of him. Personally, I have never really liked the dude. He has a cocky attitude for a dude who is pretty one dimensional as a fighter. Maybe it's just because he disrespected Cowboy, who knows, but fuck him. Moicano has always looked like he is almost a top fighter, just always falling short when facing a contender. He is now at 155 and looking to find a way back to the top after dropping his last bout to Fiziev. I think that Moicano is able to tire Hernandez out with some distance striking and clinch exchanges and takes this on points.
Renato Moicano by Decision -155 1 unit
Bobby Green vs. Nasrat Haqparast Lightweight Bout
Every few months we must ask ourselves a very important question, is Bobby Green actually good? Has he only beaten average at best fighters? Is his biggest feat winning a round against Fiziev? Well today I will answer the question for you, no he is not actually that good. He has solid power but his striking is nowhere near Nasrat's. Nasrat is going to put on a clinic like Fiziev did in the first 2 rounds until he puts Bobby to sleep.
Nasrat Haqparast by 2nd Round TKO +120 1 unit
Prelims
Andrei Arlovski vs. Jared Vanderaa Heavyweight Bout
Andrei Arlovski by Decision -145 2 units
Roxanne Modafferi vs. Casey O'Neill Flyweight Bout
Casey O'Neill by Decision (Prop Line) -110 2 units
Kyler Phillips vs. Marcelo Rojo Bantamweight Bout
Kyler Phillips by 2nd Round TKO (Prop Finish Line) -150 1 unit
Carlos Ulberg vs. Fabio Cherant Light Heavyweight Bout
Carlos Ulberg by 1st Round TKO (Prop Line) -125 1 unit
Early Prelims
Leomana Martinez vs. Ronnie Lawrence Bantamweight Bout
Ronnie Lawrence by Decision (Prop Line) +110 1 unit
A.J. Dobson vs. Jacob Malkoun Middleweight Bout
A.J. Dobson by 3rd Round TKO -115 1 unit
Douglas Silva de Andrade vs. Sergey Morozov Bantamweight Bout
Sergey Morozov by Decision (Prop Line) +100 1 unit
Jeremiah Wells vs. Blood Diamond Welterweight Bout
Blood Diamond by 2nd Round TKO +195
William Knight vs. Maxim Grishin Heavyweight Bout
William Knight by Decision +145 1 unit
DraftKings Lineup
Parlay
I am liking getting back into the parlay game. I took a long break from them because they always lose but sometimes it's nice not having to take a method of victory because some dude is -305. Otherwise, I actually am a huge fan of my method of victory picks tonight, usually they feel like they are just out of necessity. Let's turn our luck around this card and start a trend of winning a ton of money. Bet responsibly, and as always may luck be your lady tonight!