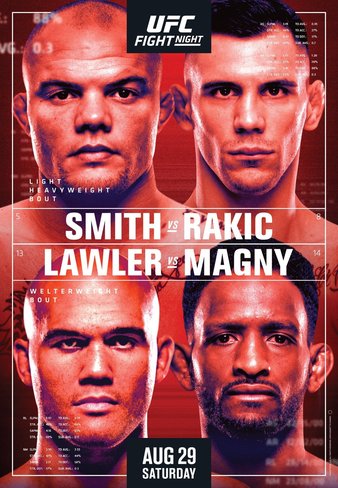 MAIN CARD
ANTHONY SMITH V. ALEKSANDAR RAKIC
This will be a violent main event that most likely won't go to the judges. There is not much more we can ask for. Even better, it's a 3 round main event. I'm not going to lie, I hate 5 round main events that aren't for the title. Title fights are the only fights that should be 5 rounds. If you want to get rid of interim titles, and go the way of professional wrestling and make #1 contender fights and have them be 5 round fights, I'm cool with that, but that's a different story. These guys have a combined 62 professional fights and only 7 of those have gone to decision. That is an absurd finishing percentage.
This is an interesting matchup at an interesting time. Both of these guys are coming off of losses. But both of these guys are still in the top half of the light heavyweight division and the light heavyweight division has just opened up with the vacancy of the championship by the GOAT Jon Jones. The vacant title fight has been booked between Dominick Reyes v. Jan Blachowicz, but the winner here could make an argument to fight the winner or get a step away from a title fight.
If Anthony Smith wins here, he might need another win to get a title fight. He has lost 2 out of his last 3 fights and might need to get in the win column more than once to get back to a title shot. His last fight was very tough to watch. The first round was one of the best rounds I've ever seen him have. The first half of the second round was looking like he was going to continue his domination. But then he gassed out and Glover Teixeira took over and laid on a beating until he got the finish in the 5th round. Smith is a pressure fighter with solid grappling skills. He likes to push forward and throw strike after strike. If the fight goes to the ground, he is comfortable and works well towards submissions. He is scrappy and very tough. His gas tank is usually pretty good, but he burnt out quickly in the last fight and you have to wonder if training in the age of coronavirus affected his gas tank. He claims he just threw too many strikes in the first round because he could hear his coaches too well, but that seemed like a weak argument.
Aleksandar Rakic came onto the scene in 2017. He started his UFC career 4-0. After two decision wins, he faced Devin Clark and got a big TKO win. Then against his biggest name Jimi Manuwa, he delivered a devastating 42 second head kick KO win that sent Manuwa packing into retirement. His next fight was against Volkan Oezdemir, a fight that a win could have sent him to a title shot or a title fight eliminator. He ended up losing a close split decision. Rakic is one of those wrestlers that has insane power. He is an explosive striker that leads to crazy power. He has fallen in love with that power and goes for the knockout. But he hasn't fought MMA long enough to completely abandon his wrestling background yet. Then again, he might not want to let this fight go to a decision.
I have a feeling both guys are going to come out very aggressively and try to get a win here. They know an impressive win can get them close to a title shot. Rakic is the better athlete. Smith is more experienced. I imagine Smith will prefer this fight stay in the middle of the octagon. Rakic might try to take this down to the mat at some point. Smith isn't a bad grappler by any sense, so he won't be an unwilling grappler. Smith is dangerous on the mat. Especially if he winds up on his back. I like this matchup. I might be crazy, but I am getting Brunson v. Shahbazyan vibes from this. I think people are overlooking Smith's experience and talent for the hype of Rakic. Rakic might very well destroy Smith, but Smith is very talented and has proven it before. Either way, I am excited for this main event and it should be a banger.
Anthony Smith (+220) by 1st round TKO
ROBBIE LAWLER V. NEIL MAGNY
I love this matchup. "Ruthless" is a great nickname for Robbie Lawler, but after hearing the nickname "The Queen of Violence" for Ariane Lipski, I thought "The King of Violence" was more apt for Lawler. He is violence personified when it comes to the octagon. His fight against Rory MacDonald was epically awesome. It probably shortened his career, but it showed his mettle and heart. He is one of the best welterweights in UFC history but has been on a tough stretch in his career. But as we all know, time is undefeated and Lawler is 38 years old. I know the loss to Askren was controversial, but he lost that fight, I don't think he really had much of an argument. It did look like his hand hit the mat and he was out cold. Eitherway, he is still a very dangerous fighter. He is going up against Neil Magny, who is 2-0 in 2020.
Magny has been one of the guys taking advantage of the corona era of UFC. This is his 3rd fight since March. Magny is making up for his 2 year suspension for tainted supplements. Magny has been in the UFC for a long time and is 16-6 in the UFC. This is his 4th fight against a former UFC champion. He is 2-1 so far against former champions. Magny isn't as violent as Lawler, but Magny is a volume striker. He has insane reach for his height. He likes to keep his opponents at a distance and pick them apart.
I love this fight, but I think it is a bad matchup for Lawler. It is going to be a fun fight, but I think we're going to see Lawler charge forward to get inside of Magny's reach and Magny just picks Lawler apart. Magny has a 6 inch reach advantage. Volume strikers have been the downfall of the aged Lawler. This is a bad matchup for him, but a good matchup for our entertainment.
Neil Magny (-250) by decision
JI YEON KIM V. ALEXA GRASSO
Ji Yeon Kim (+220) by decision
RICARDO LAMAS V. BILL ALGEO
Ricardo Lamas (-300) by decision
PRELIMS
MAKI PITOLO V. IMPA KASANGANAY
Maki Pitolo (+110) by 1st round TKO
ALESSIO DI CHIRICO V. ZAK CUMMINGS
Zak Cummings (-105) by 2nd round submission
ALEX CACERES V. AUSTIN SPRINGER
Alex Caceres (-220) by decision
SEAN BRADY V. CHRISTIAN AGUILERA
Sean Brady (-425) by decision
POLYANA VIANA V. EMILY WHITMIRE
Emily Whitmire (-135) by decision
MALLORY MARTIN V. HANNAH CIFERS
Mallory Martin (-300) by decision
FIGHT OF THE NIGHT
NEIL MAGNY V. ROBBIE LAWLER