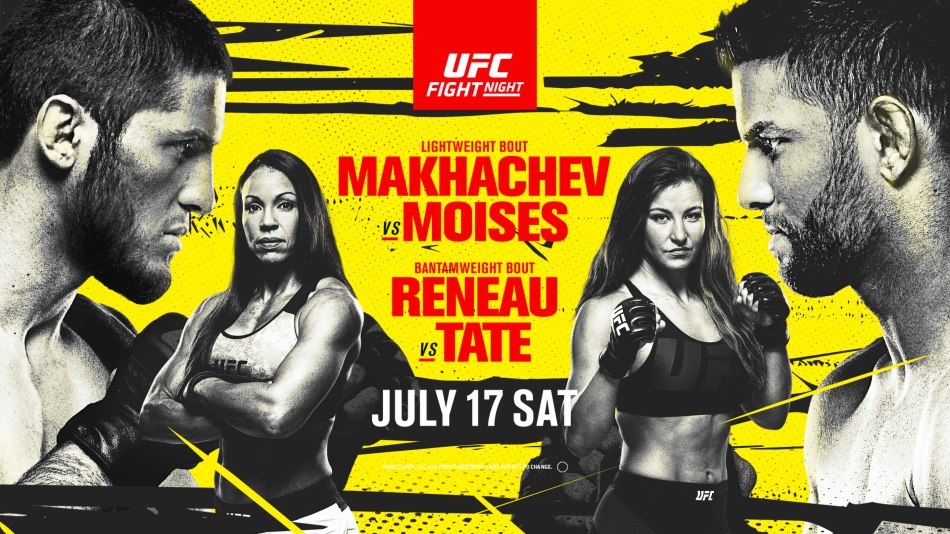 MAIN CARD
ISLAM MAKHACHEV V. THIAGO MOISES
The heir apparent to Khabib Nurmagomedov's title of King of Russia, Islam Makhachev is making a quick turn around after putting Drew Dober to sleep. Islam is probably just happy someone is willing to fight him. It seems he has trouble finding people willing to fight him. I don't blame him, the guy is terrifying. He is Khabib light as an athlete and wrestler, but his striking is better. Dober was Islam's first ranked opponent, and Islam handled him easily. Moises is a step back in competition, but Islam must want to fight as soon as possible. We know how Islam is going to handle this fight. He is going to want to smash him. His style is nearly identical to Khabib's, with the exception of his willingness to stay on his feet. This leads to a more systematic approach and longer fights. Khabib got quicker takedowns because he wasn't as comfortable on the feet. Islam seems more comfortable playing with his opponents on the feet because he can stand and bang.
Thiago Moises is an up and coming fighter that is pretty good everywhere. His grappling base is Brazilian Jiu-Jitsu and it is strong. He has some solid wrestling and his striking is pretty good too. He has some power in his hands and his striking fundamentals are not bad. Moises knows that a win over Islam would be huge and would be a big boost to his career. I love that he took this fight. It is a no lose situation for him. He does matchup reasonably well against Islam and can make this a competitive fight. This should be a good fight.
That being said, I like Islam to win this, but since the odds on him are insanely high, I also like the under here.
Islam Makhachev (-700) by 2nd round submission
MARION RENEAU V. MIESHA TATE
Five years ago and there's no doubt I would be picking Cupcake Miesha Tate without much thought. But she retired after back to back losses to the future GOAT Amanda Nunes and Raquel Pennington, and now some thought has to go into picking this fight. It's always hard when someone is coming off a long layoff, and now Miesha is coming back off of a 5 year layoff. This is a grappler v. striker matchup. Reneau's striking is good but if she gets taken down, she has serious problems getting back up to her feet. In her career, Miesha has gotten a lot of takedowns and her wrestling has always been solid and it is her fighting base.
This fight will come down to if Miesha's skills have deteriorated in her time off. Miesha being a favorite in this fight made this a tougher pick for me. I don't usually like picking people coming off long layoffs, but in the end I am not a fan of this matchup for Reneau. Reneau has never been finished, so the over and Tate by decision won't be bad plays either. I guess it wasn't that hard of a pick for me.
Miesha Tate (-170) by decision
JEREMY STEPHENS V. MATEUSZ GAMROT
Jeremy Stephens is making his return to lightweight after a decent run at featherweight and he is stepping in against a prospect in Mateusz Gamrot who is trying to crack into the rankings of a stacked lightweight division. This is a fight that will either be extremely entertaining or extremely disappointing. I am optimistic. Stephens is an action brawler. He likes to move forward and brawl. That has always been his style. He is vicious and has power. At least he did when he moved down to featherweight. Will it translate up to lightweight? He is going up against Gamrot, a former KSW champion that has used his wrestling to dominate his previous opponents. His UFC tenure so far has been ok, but he hasn't faced anyone at Stephens' level yet. He is coming off a big knockout of Scott Holtzman and is looking for a big follow up. Gamrot, like all wrestlers also has power in his hands and he tends to rely on it to get in for takedowns or use it when he can't get takedowns. Stephens' takedown defense is solid on some nights.
This fight will come down to how good Stephens' takedown defense is during this fight. If Stephens can fend off the takedowns and keep this on the feet, I think he has the advantage. Gamrot will try to take this down to the mat and that will put him in danger as he has to keep moving forward into range of Stephens' hands. I am hoping this fight stays on the feet as Gamrot's ground game hasn't always been entertaining, but if Gamrot does get it to the ground, he is very good at controlling his opponents. I think Stephens has the ability to keep it on the feet. I like Stephens and the over.
Jeremy Stephens (+200) by decision
RODOLFO VIEIRA V. DUSTIN STOLTZFUS
Rodolfo Vieira is coming off one of the most disappointing losses in UFC history. He is one of the most hyped grapplers and he was submitted in his last fight. He has terrible cardio. It seems if you can survive the first couple of minutes, you are safe. Anthony Hernandez to win by submission in his last fight had +1000 odds, and he pulled it off in the second round. Vieira was gassed halfway through the first round and couldn't do anything. You have to hope he has fixed those issues by now. Stoltzfus lost his debut against Kyle Daukaus in his debut. He showed some decent skills on the feet and on the mat. That could be a good sign for him. His cardio is decent. But he has never faced a grappler at the level of Vieira. I am not ready to write off Vieira and his cardio yet, but I also think the UFC is giving him a favorable matchup here.
Rodolfo Vieira (-215) by 1st round submission
GABRIEL BENITEZ V. BILLY QUARANTILLO
This has entertainment written all over it. Both guys' resume has entertaining fights all over it. Quarantillo is a brawler that uses his standup game to work towards takedowns and his wrestling to control his opponents. Benitez is a brawler that utilizes vicious leg kicks to control distance and keep his opponents far away and avoid takedowns. Benitez is a solid all around fighter. Quarantillo is going to have to walk through those to get the takedowns. This should be a fun fight. If Quarantillo can impose his will, it's his fight to lose.
Billy Quarantillo (+130) by decision
PRELIMS
DANIEL RODRIGUEZ V. PRESTON PARSONS
Daniel Rodriguez (-350) by 3rd round TKO
AMANDA LEMOS V. MONTSERRAT RUIZ
Amanda Lemos (-600) by 1st round TKO
KHALID TAHA V. SERGEY MOROZOV
Sergey Morozov (+105) by decision
FRANCISCO FIGUEIREDO V. MALCOLM GORDON
Francisco Figueiredo (-290) by 3rd round TKO
ALAN BAUDOT V. RODRIGO NASCIMENTO FERREIRA
Rodrigo Nascimento (-370) by 1st round submission
FIGHT OF THE NIGHT
JEREMY STEPHENS V.MATEUSZ GAMROT