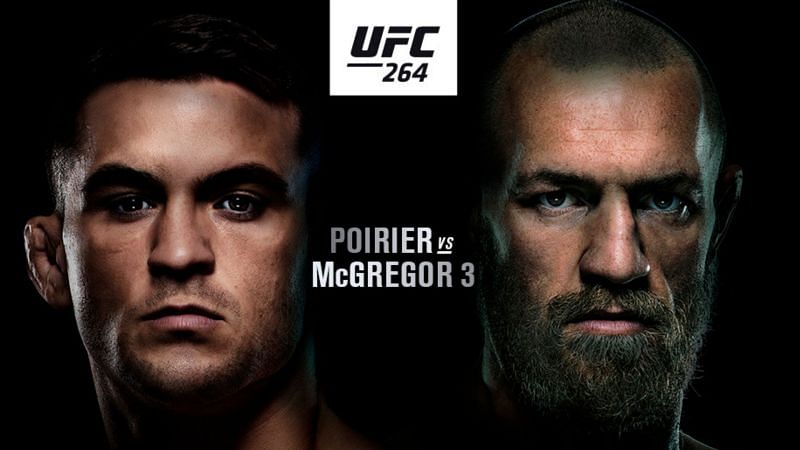 Well, UFC 264 is here and that means it is Conor fight night. Conor always brings the show and I am sure tonight will be a spectacle. Conor's fights are never boring and I am sure he will not disappoint tonight. For a PPV with no title fights, this card is pretty stacked with solid fights. The people's main event, and the fight that should be on the main card that I think will deliver fireworks is Niko Price v. Michel Pereira. That should be awesome, which means that I am going to jinx it and it will probably suck. Either way, I am excited for these fights. And while there is no title fight on this card, Dustin Poirier is an awesome guy and I am glad he is getting an awesome payday; and after he beats Conor, he should get another crack at the title and I am excited for that fight.
MAIN CARD
DUSTIN POIRIER V. CONOR MCGREGOR
I haven't looked it up, but this has to be the quickest turn around in Conor's career. Maybe the turn around between the Nate I and Nate II fights were quicker, or fights earlier in his career, but this is a pretty quick turn around. I almost said that the quick turn around is irrelevant, but it is pretty relevant. Did Conor give himself enough time to make the changes necessary to get a different outcome in this fight? Conor looked pretty good in the first round of the last fight, it was closer than people like to think, but Poirier's leg kicks had a big effect on Conor. Then the second round came and Poirier turned it on and put Conor away quickly. Does Conor have a gameplan for the leg kicks this time around? I wonder if Poirier even throws a leg kick or if he just fucks with Conor and doesn't throw any. That would be next level mind games after the last fight. I can see Poirier try to wrestle Conor and get a ground and pound win or submission win. Conor has made public statements about if Poirier goes for a takedown, "he is a dusty bitch." Conor is probably scared of being taken down. We all know Conor's gas tank isn't great.If Poirier gets out of the first round, the fight is pretty much his to win.
Conor has shocked us before with crazy performances. He has precision striking that is insanely accurate. He can put anyone to sleep in a moment. It just takes one shot. It wouldn't be surprising if he does it again. That being said, I think this fight plays out like the last one. Poirier's chin is solid. He can take a beating and survive. He has shown it quite a bit since moving up to lightweight. I think he can weather the early storm and batter Conor whether he does it on the feet or gets a takedown or two and does it on the ground is anyone's guess. I think he gets a late finish. If you want to get better odds, I've seen Poirier by submission going for +650.
Dustin Poirier (-135) by 3rd round submission
GILBERT BURNS V. STEPHEN THOMPSON
Oh boy, another great fight of top contenders, granted both of these guys are legitimate top contenders in the welterweight division, whereas Conor is a paper top contender. Gilbert is looking to bounce back from that tough loss to Usman for the welterweight title. Wonderboy is looking to continue his winning streak after back to back wins over Vicente Luque and Geoff Neal. Adding Gilbert to that list could put him in line to get the next title shot. Usman has cleared out the division on his way to the title, and Wonderboy would be an intriguing matchup. I don't think it would sell many PPV's but Usman doesn't sell that many PPV's anyway. I really like both of these guys so it's going to be tough to see one of these guys lose, but this fight should be pretty entertaining.
Gilbert is a BJJ superstar with strong wrestling and explosive power in his hands. He has fallen into the trap that many grapplers have fallen into when they find power in their hands and have become reliant on it and may stay on the feet longer than they should. His standup game is good though and not as rudimentary as many BJJ grapplers.
But that doesn't really matter when he is going up against one of the best strikers in welterweight, and maybe UFC history, in Wonderboy Thompson. The karate specialist is a master of angles. His strikes come from everywhere. He has that weird, wide stance and he just throws punches and kicks from everywhere. His distance management is incredible. His jab will keep you far, and his kicks are terrifying. He has only been knocked out once, and it was a fluke superman punch by Anthony Pettis in a fight he was dominating.
Wonderboy is getting up there in age, so this could be the fight that he finally shows his age. Gilbert is going to have the speed advantage, and the wrestling/grappling advantage. Hell, Gilbert might even have a power advantage. But Wonderboy is a smarter and better striker. He is better at keeping distance and pacing. Gilbert is a pressure fighter that likes to move forward with strikes and work towards a takedown. I think Wonderboy picks him apart while Gilbert moves forward. A Wonderboy knockout might even be possible, but I think this will be a brawling decision like Wonderboy's last couple of fights.
Stephen Thompson (-165) by decision
TAI TUIVASA V. GREG HARDY
The heavyweight banger of the card. Greg Hardy gets a shot at a decent heavyweight, and we all get to hope we see him get his head knocked off his shoulders. Hardy is coming off a TKO loss to Marcin Tybura. Hardy seems to go on two fight winning streaks against meh talent and then getting a decent test, then losing. This is a second straight decent test though so I don't know what pattern to follow. Tai Tuivasa is riding a two fight winning streak over Stefan Stuve and Harry Hunsucker, and is looking for his third straight win. It would be his second three fight winning streak, which was followed by a three fight losing streak, granted that was to Junior dos Santos, Blagoy Ivanov, and Sergey Spivak. It was too fast for Tuivasa. This is a good matchup for Tuivasa.
This is an interesting matchup. Tuivasa is the more experienced fighter. I think Hardy has a slightly better gas tank. Tuivasa has more power. If it gets out of the first round, I think it's Hardy's fight to win. Tuivasa is the more dangerous fighter.
Tai Tuivasa (-135) by 1st round TKO
IRENE ALDANA V. YANA KUNITSKAYA
This is a tough one to call. I was definitely leaning Irene Aldana, but she missed weight and that throws a wrench into how I would have thought she was going to win this fight. I don't know what caused her to miss weight, but whenever someone misses weight, you know there is something wrong that will probably hurt them in the fight.
Aldana is a striker with decent grappling. She will try to keep this fight at a distance. She can fight from the clinch, but I don't know if she will try to do that since Kunitskaya is a grappler and likes to take the fight to the ground and grind out wins. That will be her gameplan here. If Kunitskaya can get this to the ground, it's her fight to win. With Aldana missing weight, I think Kunitskaya will go for an early takedown and try to drain Aldana's energy from the start.
Yana Kunitskaya (-120) by decision
SEAN O'MALLEY V. KRIS MOUTINHO
Well, this is not as difficult. Moutinho was picked up off the street and is an insane underdog. So if you want to throw money on him for fun, go for it. O'Malley is a big favorite, so it doesn't make sense to throw money on him unless it's a parlay or a prop bet. I don't know anything about Moutinho, but I can't imagine the UFC would pick him if they thought he had a shot at beating O'Malley. Many UFC fighters spoke up when Smolka dropped out, and the UFC picked Moutinho, so they see something in him that O'Malley can take advantage of.
O'Malley already has a loss on his record so they won't want him to lose again, so I am looking for him to get an easier opponent. Smolka was a flyweight that moved up to bantamweight, so he already had an easier opponent. I think O'Malley is going to walk right through this guy.
Sean O'Malley (-1000) by 1st round TKO
PRELIMS
CARLOS CONDIT V. MAX GRIFFIN
This should be an entertaining fight. Condit is on a hot streak and looking for another title run. I don't think he will ever get one, but he is still having entertaining fights. He should look for legends fights. That is probably where he is better suited at this point in his career. Griffin is on a two fight win streak and this would be the biggest win of his career. He is an action fighter and I think this fight will provide fireworks. The last two prelims will do a great job selling this PPV. I am looking for both of these guys to stand in the octagon and trade shots in the pocket. These guys have a combined 24 KO/TKOs but have only been knocked out once each. This should be a brawl. This is a great matchup.
Max Griffin (-185) by decision
NIKO PRICE V. MICHEL PEREIRA
This fight gets my blood flowing. Niko is one of my favorite fighters on the roster. Michel Pereira is one of those guys that is pretty entertaining himself. He has matured and stopped doing his weird flips, but it hasn't meant an end to his entertaining fights. He started using his grappling more and it has paid off. His BJJ is excellent. He is a very large welterweight and can impose his will on most of these welterweights. But Pereira's gas tank isn't great. As the fight goes on, he definitely tires out.
Niko is a striker that has a weird style. His style is to throw anything he can to get a finish. His fights are always entertaining and that is his main goal. He wants to put on a show. He has yet to do anything else. I think only one of his fights has ever gone to decision. Niko has had a finish by an upkick, he has a finish by hammer fists from the bottom position. The guy is just awkward and will throw anything from anywhere. It makes him a fan favorite and impossible to not like.
This fight depends on which Pereira we get. Do we get the measured Pereira that tries to grapple and impose his will on Niko. Or does he fall into Niko's trap of trying to stand and trade? It will be an interesting fight and this is my pick for fight of the night. I think this will be a great fight.
Niko Price (+150) by 3rd round TKO
RYAN HALL V. ILIA TOPURIA
The return of the Wizard Ryan Hall faces off against the hot prospect Ilia Topuria. This is a battle of guys no one wants to fight. This should be a great matchup for fans that like grapplers. Ryan Hall is a BJJ specialist. Topuria is a wrestler. Topuria's striking is more explosive and powerful. Hall's is more technical and he said he has added some wrinkles to it. Hall's nickname is the Wizard because of his propensity to catch weird submissions. I think Topuria will move forward and not be intimidated to grapple with Hall. Which I think will be his downfall as Hall will catch him with a weird submission.
Ryan Hall (+190) by 1st round submission
TREVIN GILES V. DRICUS DU PLESSIS
Dricus Du Plessis (-120) by 3rd round TKO
JENNIFER MAIA V. JESSICA EYE
Jennifer Maia (-200) by decision
OMARI AKHMEDOV V. BRAD TAVARES
Omari Akhmedov (+135) by decision
ZHALGAS ZHUMAGULOV V. JEROME RIVERA
Zhalgas Zhumagulov (-285) by decision
YAOZONG HU V. ALEN AMEDOVSKI
Alen Amedovski (-130) by 1st round TKO
FIGHT OF THE NIGHT
NIKO PRICE V. MICHEL PEREIRA